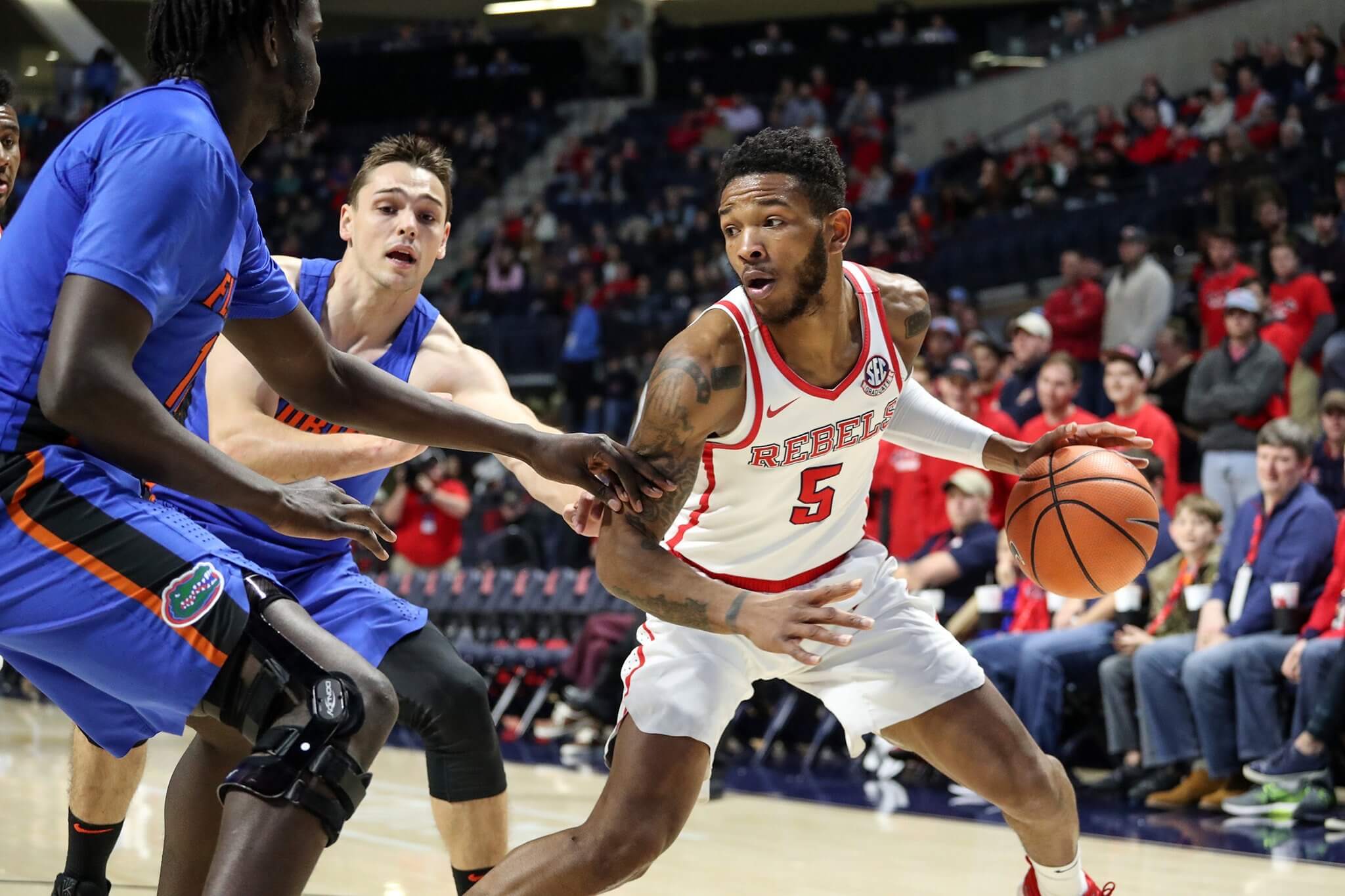 It was 29 degrees outside with a solid coating of snow on the ground in Oxford as the Gators tipped off against the Rebels. But Florida was even colder.
Thanks to a combination of horrible officiating and even worse shooting, the Gators have their first conference loss of the season. Florida shot 37% from the field, got outrebounded by a 44-35 margin and turned it over ten times in a 78-72 loss to a previously 9-7 Mississippi team. The loss snaps a six game winning streak for the Gators, and reduces them to 4-1 in the SEC.
The Gators started this game fast, hitting some early shots and locking down on defense to build a 17-10 lead eight minutes in. But then Ole Miss adjusted to a 3-2 zone and Florida never found a counter to it, scoring just 53 points over the remaining 32:05 of game action.
Making matters worse was that the officials never failed to capitalize on opportunities to hurt Florida with some egregiously missed calls. The worst of them was when the ref ruled Jalen Hudson stepped out of bounds on a baseline drive; not only did he not step on the line, his foot was a solid four inches away from it at its closest point. That would have given Florida a three point lead with eight minutes to go.
Buoyed by the gift, Ole Miss launched a 15-7 run over the next four minutes to go up by five, and the officiating blunders continued. Among the occurrences of those next four minutes:
-Kevarrius Hayes was hammered on the arm in mid-flight for a dunk. No foul was called, and Ole Miss got the rebound.
-Keith Stone was called for a potential flagrant foul while swinging the ball around with his arms. To their credit, the officials reversed that one with the help of replay.
-Jalen Hudson was then called for a charge because the defender was "outside the restricted area." He was not.
Despite the lopsided odds, Florida was still only down 74-70 with a minute to go and had a chance to cut it to two. But Chris Chiozza missed a layup and Ole Miss tracked down the rebound. The Rebels then turned it right back over, but then the refs called an iffy charge on Stone that should have been no surprise at that point and that basically ended the game.
As horrid as the refereeing was, though, Florida ultimately lost this game because they couldn't hit enough shots. It's a theme that we thought (hoped, really) this team had left behind in the 2017 portion of the season, but now that it's reared its ugly head again it's about time to accept this team being bipolar as the reality.
Even more concerning is that we're nearing the point in time where John Egbunu was initially expected to return. Egbunu getting fitted for a knee brace this week was a good sign, but the fact that he's still not close to being able to step onto the floor makes me wonder if they'll get him back, not when. It may soon be time to accept that the team we saw today was the team the Gators will have for the remainder of the year, as even if Egbunu does step onto the floor this year it isn't likely that he'll be able to instantly return to last year's form.
Then again, Florida can erase the problem of not having him- and the officiating being as one-sided as it was today- by simply shooting the lights out. But today served as a reminder that we should only hope that they do as opposed to expect them to.