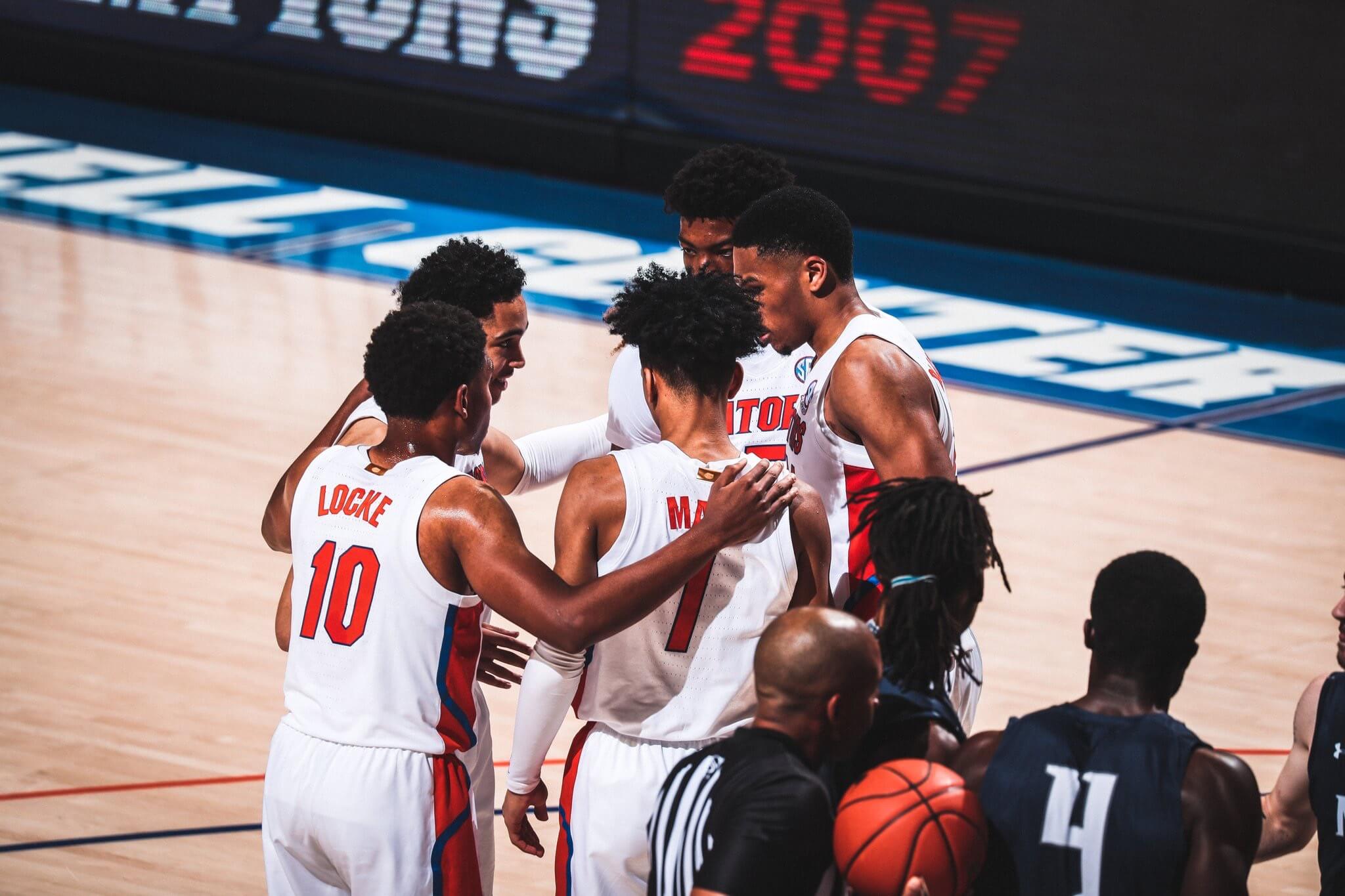 Midway through the first half of the first game of his second season in Gainesville, sophomore Andrew Nembhard decided it was time to lead by example. So he did- and lead Florida away from the opposing North Florida Ospreys to tip off one of the Gators' most anticipated seasons in a long time.
With the Gators nursing a 14-10 lead over the Ospreys with just under nine minutes to go in the half, Nembhard casually jogged up the floor with the ball before suddenly stopping and lofting a long alley-oop pass to freshman Omar Payne, who slammed it home. Moments later, Kerry Blackshear Jr. stepped in front of a pass and set up a two-on-one with Nembhard. Blackshear quickly got the ball to Nembhard, who took it to the free throw line before flicking it back over to Blackshear for a mammoth slam dunk. That little sequence created a 16-0 Florida run in a game that was never again in doubt, and that the Gators would win by the final score of 74-59.
Nembhard didn't do a whole lot else, but he didn't have to. His teammates more than picked up the slack.
Blackshear, the Virginia Tech transfer, dominated in his Gator debut, picking up 20 points and 10 rebounds for a double-double. Locke also thrived in his first game in a bigger role, chipping in fourteen points of his own. And freshman Tre Mann enjoyed a solid outing in his first collegiate start, adding eleven pound and collecting four rebounds. 
The Gators did the little things, too. The entire team defended well other than giving up a few open threes, players were frequently diving for loose balls even as the lead exceeded 20, everyone stayed out of foul trouble, and the big guys that Florida has been sorely lacking in recent years made their presence known down low.
But the Gators also weren't overly impressive. Florida missed its first eight shots from the floor, turned the ball over ten times on the evening and let the Ospreys back into the game; what was a 49-25 lead with 16:40 remaining quickly shrunk to a 52-37 advantage within four minutes as Florida went cold and UNF hit a few shots from the outside.
Next up for Florida: a rebuilding FSU program that's a shell of what it has been the last few seasons, but one that's beaten Florida five straight times and is appreciably more talented than the UNF team the Gators played tonight. 
The other side of that coin, of course, is that Florida didn't even come close to playing to its potential tonight, so the excitement of knowing that this team is only going to get better is starting to feel real. And though of course Florida has plenty of room to grow, learn and develop, the bottom line is that they'll be doing so following a season opening win.