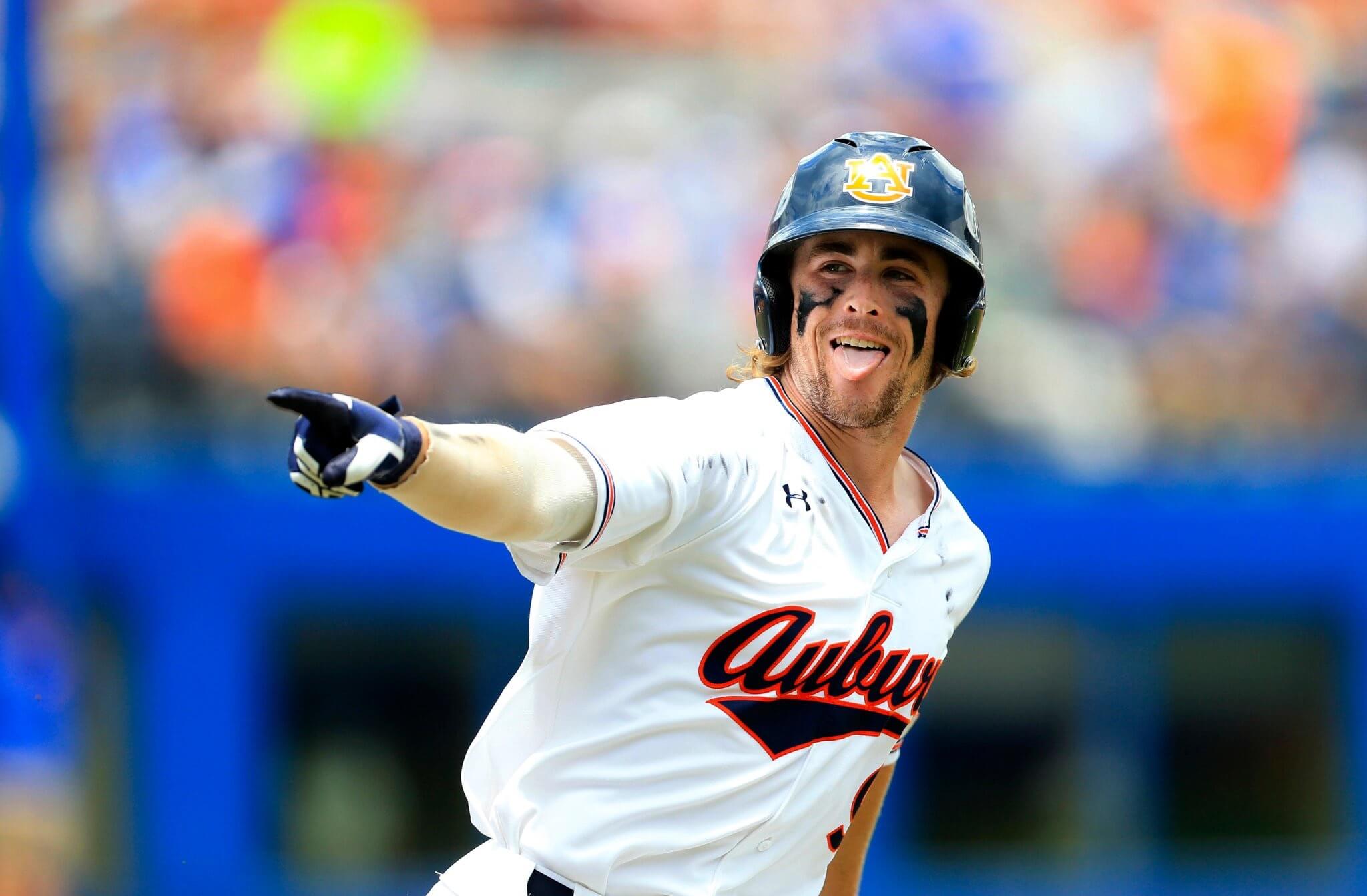 Yesterday, Florida teed off on Auburn's No. 1 MLB Draft pick Casey Mize to the tune of an 8-2 win. The victory put the Gators one win away from the College World Series in Omaha.
24 hours later, and Florida remains one win away from Omaha, but suddenly a whole lot less confident about their prospects of getting that win after an ugly offensive performance that was more reminiscent of the past few weeks than their dominance of the Tigers in Game One.
Florida wasted a phenomenal pitching performance from Jackson Kowar by going 0-8 with runners in scoring position and could only muster two runs in a 3-2 walkoff loss to Auburn in Game Two. Now, the entire season rides on what happens late tomorrow night in Game Three (8:00pm, ESPN). Florida will likely use Jack Leftwich or Tommy Mace in Game Three, while Auburn will go with senior Andrew Mitchell.
The Gators scored first today on a Nelson Maldonado double down the line that scored Blake Reese. Auburn immediately countered in the bottom half of the fourth on a Steven Williams homer, though, one of the few mistakes Kowar made in an otherwise outstanding seven inning outing. The Tigers added another run on a double in the eighth inning, which Austin Langworthy replied to with a solo homer down the right field line to tie the game. But Michael Byrne promptly walked leadoff hitter Brendan Venter and moments later surrendered a blast into the gap from Luke Jarvis to score him and walk it off. The ending was somewhat reminiscent of the Gators' Game Two loss to Wake Forest in last year's Super Regional, when Byrne- by all objective metrics the best closer in Gator baseball history- surrendered a walk off homer to Ben Breazeale.
Florida has lost each of the last four games Kowar has started, but this one was not his fault. The Gators stranded six runners on the day- which doesn't even account for three more wiped out on double plays in- and could not record a single hit with runners in scoring position in eight attempts to do so. Florida appeared far more flustered against freshman Tanner Burns than they did against Mize yesterday, as Burns frequently pitched to soft and harmless contact.
And so, for the third straight year, Florida's entire season will come down to a Game Three in the Super Regionals. To their credit, the Gators did blank FSU and Wake Forest 7-0 and 3-0, respectively, in the previous two, and further to their credit, Florida also fought off elimination in the 2017 Regionals against Bethune Cookman, 2017 World Series against Texas Christian and in this year's Regional against Florida Atlantic. So it's certainly not the first time this group has had their backs slammed against a wall, and if any team can be trusted to wiggle out of this precarious situation, it's this one.
But the more the Gators play with fire, the more likely they are to get burned. Be assured: at some point, there will come a time where Florida blows a chance to put an opponent away in its first try to force a situation where the winner moves on and the loser is eliminated, and lose that elimination game. The Gators simply will not survive by placing themselves in elimination scenarios too much longer, as their streak of four straight NCAA Tournament wins while facing elimination is not the type of streak that is good to keep providing more chances to extend. One of these days, living too close to the edge will cost them their season.
Let's just hope that day isn't tomorrow.