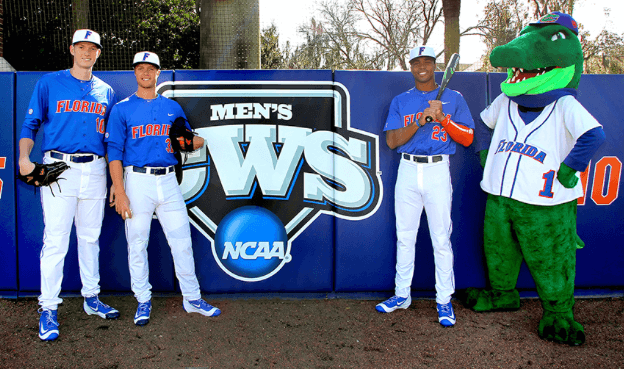 No wonder Florida's the #1 team in the country.
The Gators saw five of their players get selected in the first 64 picks of last night's MLB Draft. No other school had as many picks in the first two rounds, and only Louisville came close with four.
AJ Puk was the first to go, being taken at #6 overall by the Oakland Athletics. Many thought he would be the #1 overall pick, but inconsistency- meaning a subpar outing against Connecticut in last week's Gainesville Regional- dropped him out of the top five. Joke's on the five teams that passed on him, though, because Puk's stuff is just evil. He combines a ~96 mph heater with a biting slider that can literally knock hitters off their feet. The one concern about Puk is that he never rarely pitched deep into games, but that's more Kevin O'Sullivan being careful with his pitcher and refusing to overwork him than anything else. If Puk can bring the same intensity to every pitch in ever start that he brings to 80% of them, he could be in the Hall of Fame when it's all said and done. No exaggeration.
Dane Dunning went next. You may now pause to laugh in amazement: this is Florida's fourth best starter, being taken in the first round of the MLB Draft. The Washington Nationals selected Dunning #29 overall, and per reports, have said that they'll develop Dunning as a starter. Because of the insane quality and quantity of pitchers on the Gators' staff, Dunning was relegated to a midweek starter and long reliever role. But like Puk, Dunning has a phenomenal arsenal of pitches at his disposal. And while perhaps not quite as nasty as Puk's, Dunning compensates for that by having a third weapon pitch: a change up that's nearly impossible to detect coming out of his hand. The Nats found themselves a star.
The Athletics then decided that since they'd already drafted one of Florida's co-best pitchers, they might as well take the other one. Thus, Logan Shore became an Athletic with the 47th overall pick. The stuff is noticeably less eye-popping than Puk's, but damn it if this guy can't control every pitch's location down to the nanometer. His fastball may only be about 93 mph, but if he can paint the corner again and again, who cares? Not to mention that it looks the same as his 84 mph change up. There's a reason Shore, not Puk, is Florida's number one starter, and it's because his pinpoint location trumps pure fire and filthy breaking balls. He's more MLB ready right now than either Puk or Dunning, but was picked later because those two have more room to grow.
Immediately after Shore went to Oakland, Buddy Reed was snatched up by the San Diego Padres at #48. Analysis of Reed is fairly simple: the dude can fly. That's useful in the outfield, where his range exceeds those of many current Major Leaguers, on the base paths, and at the plate, where bunting for a hit is a legitimate possibility. But play in on him at your own risk, because Reed also has a lightning bat. While not the game's biggest home run hitter, Reed does have gap to gap power, and gappers off his bat can easily turn into triples or even inside the park homers. His swing is slightly unorthodox, but that's coachable in the pros. Oh, and did I mention he has an RPG for an arm?
Rounding out the Gators' five selections was their cleanup hitter, Sir Peter Alonso, who went at #64 to the New York Mets. Some of his homers from last week's Regional are probably still traveling. Despite missing a month with a broken hand, Alonso still leads the team with 12 homers in just 53 games played. Sure, go ahead and attribute that to the metal bats rather than the wood used in the pros, but that has nothing to do with the way he's able to barrel up on pitches in a variety of locations. And he's not just a homer guy, either; his .368 average leads the team. If he can make the adjustment to the wooden bats, he'll be in the Mets' lineup within one calendar year.
Each of these guys will undoubtedly make waves in the pro game. They each bring something unique to the table, which was why they were all drafted in the first two rounds. But they have business to take care of in the more immediate future, namely beating FSU and then winning a national championship. After all, what better way to validate being picked so high than by bringing a national championship ring to their new homes?