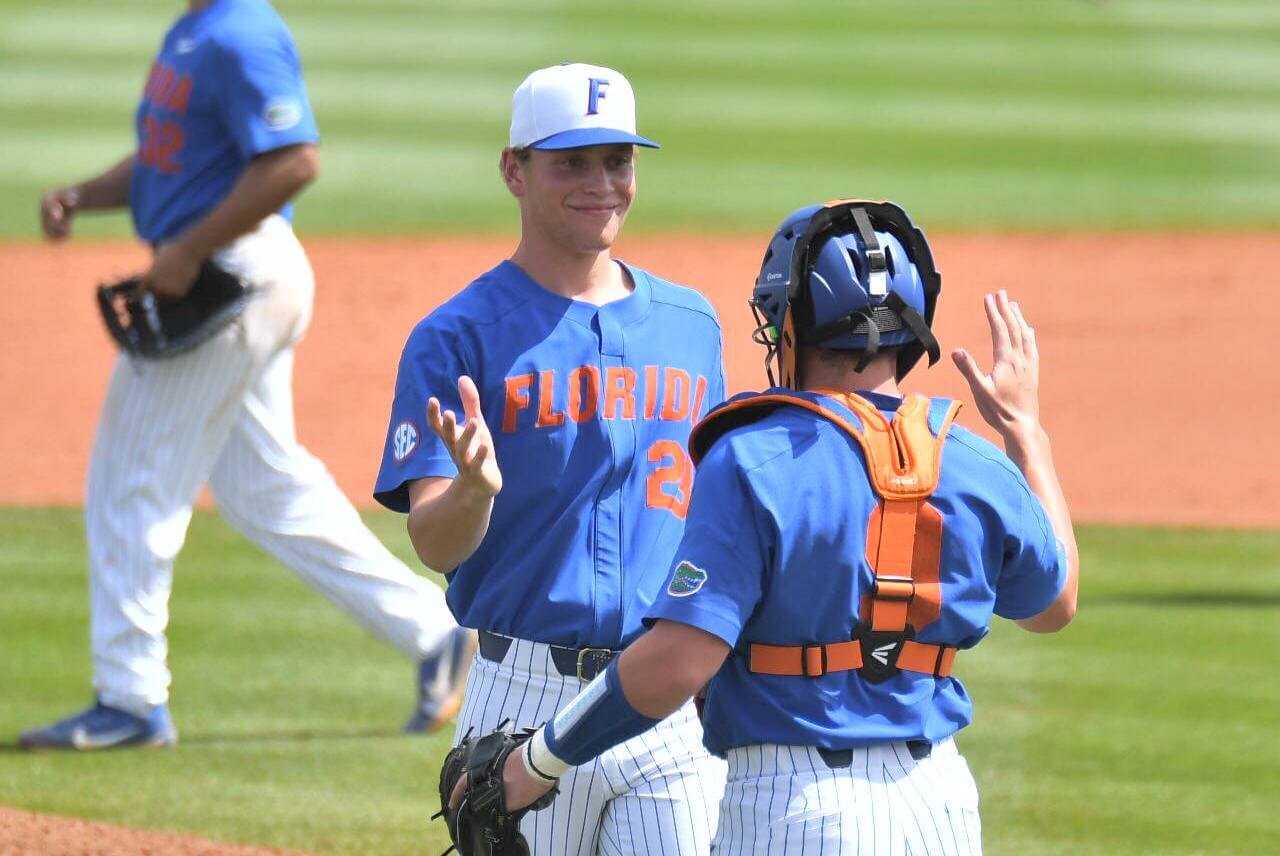 Florida's baseball team hasn't lost a step since winning the national title with a two game sweep over LSU last June. If anything, they've gained one- an offense.
And if what they've done so far is any indication, this offense is going to make this Gator team a more formidable one in Omaha than the one that won it all a year ago.
In the past week, the Gators have secured the season series over both FSU and Vanderbilt, and in fact bludgeoned the Commodores by a combined score of 26-8. Not only are both the Noles and Dores top ten teams (well, at least Vanderbilt was before Florida got through with them) but both have been touted as trendy dark horse national championship picks. And the Gators just smothered both of them.
Austin Langworthy's RBI single was all the Gators would need in their series clinching 1-0 win over FSU on Tuesday, while the young pitchers (which the past few years can also lead you to read that as: Florida's future star pitchers) kept the Noles off the scoreboard for all nine innings. Jack Leftwich got the win in that one, pitching five innings of one hit shutout ball. Jordan Butler then stepped in and pitched two flawless innings before turning it over to Michael Byrne, who nailed down his school-record tying 25th career save.
Florida's pitchers weren't quite as dominant during the weekend series against Vanderbilt if you just looked at the scores, but they really didn't need to be. They just did their jobs and gladly took a backseat to the explosive Gator offense.
The Gators held a 2-1 seventh inning lead over Vandy on Friday when the Florida bats suddenly went nuts. First, Deacon Liput doubled home Keenan Bell to make it 3-1, and he scored moments later when Nelson Maldonado singled him home. Jonathan India then took care of Maldonado with one of two homers he hit on the weekend, after which Wil Dalton added the Gators' fifth run of the seventh by reaching and scoring on a wild pitch. Though Vandy would launch a feeble last ditch rally, Byrne came in again and closed the door for his record breaking 26th career save. Florida also added another insurance run in the eighth to make the final 8-4.
Believe it or not, that was as close as 8th ranked Vanderbilt ever got to winning a game. Florida wasted no time breaking away in game two on Saturday with a JJ Schwarz two RBI single in the first and then a sac fly from Maldonado in the second. For good measure, the Gators exploded for another seventh inning merry go round, batting around to the tune of seven runs on six hits and a walk. The carnage was punctuated by a three run blast from Keenan Bell that cleared the right center field fence and made it 9-1. Each team would add one more to make the final score 10-2.
The Gators KO'ed Vanderbilt even quicker on Sunday. Florida scored four runs in the first inning on back back doubles from Wil Dalton (who had two runners on) and Austin Langworthy and then an RBI single from Blake Reese. From there, the game basically became a home run derby as Dalton, India and Bell each crushed round trippers in the third, fourth and fifth innings respectively. Vanderbilt could only muster one, a two run shot from Ethan Paul. And thus, Florida won 8-2.
This Florida team is very different from the one we saw a year ago, and almost all the differences are positives. It hurts to have lost Alex Faedo to the pros, but Brady Singer has certainly filled his shoes as the Friday night starter, as Jackson Kowar has filled his shoes as the Saturday starter. And the glimpse of the future we got to see from Tyler Dyson in last year's World Series was more than just a tease; Dyson is for real, and with a little more work, will become a force to be reckoned with.
But the real danger of this team is the deadly array of weapons they have at the plate. Florida has already swatted 46 homers midway through the season; by comparison, they hit 53 all of last year. And all the numbers- batting average, slugging percentage, on base percentage, extra base hits and RBI- are up from last year, too.
The Gators basically won it all last year with A+ pitching, A+ defense and C hitting. The talk all year was just how good the Gators could be if they developed an offense. After winning the national title last year without one, now they have that offense. And if they keep displaying it as frequently as they did this weekend, there's not a team in the country that will take them down.