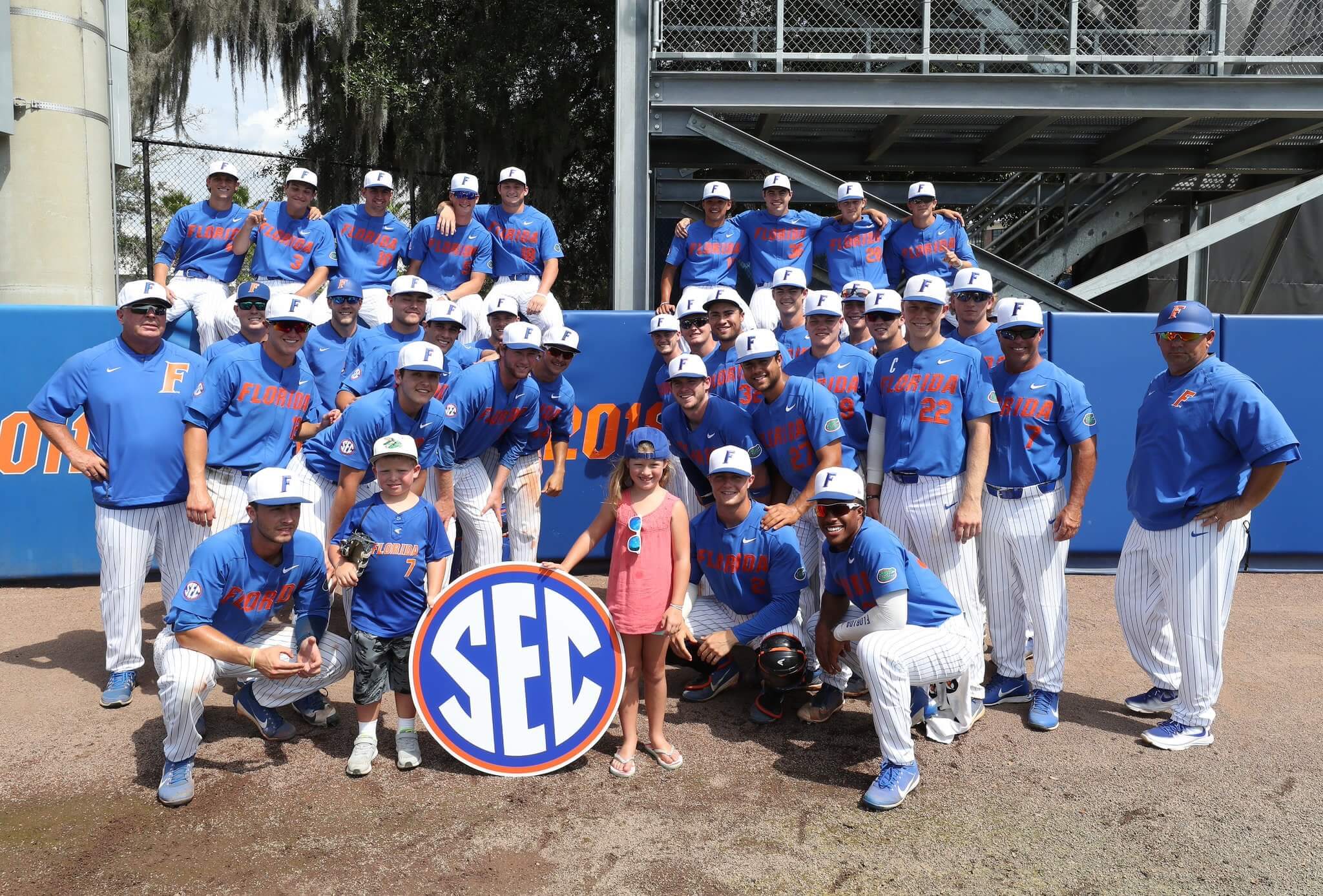 By beating Georgia two out of three times this past weekend, Kevin O'Sullivan's Gator baseball club did what just about everybody thought they'd do in the SEC: finish first.
Now, though, the Gators turn their attention to the prize everybody is really looking for.
The Friday night win was one to be admired, for sure. Brady Singer, who had not done this in his entire career, served up a grand slam to stake Georgia a 5-3 lead in the sixth. Though Florida would tie the game at five apiece, closer Michael Byrne would give up an unearned run on a passed ball following a walk to make it 6-5 Georgia in the ninth. And throughout the evening, Gator baserunners would run themselves right into outs and kill rallies before they got started. But Florida rallied back in the ninth and won the ballgame on singles from Keenan Bell and Nick Horvath, a HBP on Deacon Liput and then sac flies from Nelson Maldonado and Wil Dalton.
And then, one win away from clinching the SEC Title, Florida wasted no time eliminating any semblance of doubt that they would indeed do so on Saturday. Homers from JJ Schwarz, Jonathan India, Nelson Maldonado and Blake Reese- the latter of whom launched his with the bases loaded- put the Bulldogs away well before they had a chance to fight back.
Florida then lost the series finale 4-1, as has become customary for them this season when given the opportunity to complete a sweep, and that's annoying for two reasons: one, it means Florida still doesn't have a reliable third starter in a postseason format where you need three, and two, their bats went absolutely silent in the finale, which not even All-American pitching can always overwrite.
Of course, nobody is going to remember this team's inability to complete three game sweeps over opponents in the regular season if this team wins another national championship. However, without knowing how this team's story ends, their consistent failure to do so certainly warrants some concern- not pessimism or doubt, necessarily, but some concern- about what this team is destined to do. More worrisome is that the series finale losses are often due to a lack of hitting as much as a lack of good pitching, if not more so. The Gators were shut out in the finale against a Miami team that isn't going to make the NCAA Tournament for the second straight year, and could only muster 2, 3, 4 and 1 run in series finale losses to Kentucky, Texas A&M, Tennessee and Georgia, respectively, each of which is well below their season average of 7.64 runs scored per game.
Can this issue of finishing off a weekend as well as they start it be fixed? Yes. Will it? Probably. Will Florida win a national championship this year? They have as good a chance as anybody and should be the favorite to.
So hopefully this problem gets buried in the "irrelevant" file of the 2018 Gator baseball season with this team celebrating the ultimate achievement next month. If it doesn't, though, it's likely to do more than just rear its ugly head again, and what's become an irritating habit from the best team in the nation might just be what hinders it from celebrating what paper says it should.