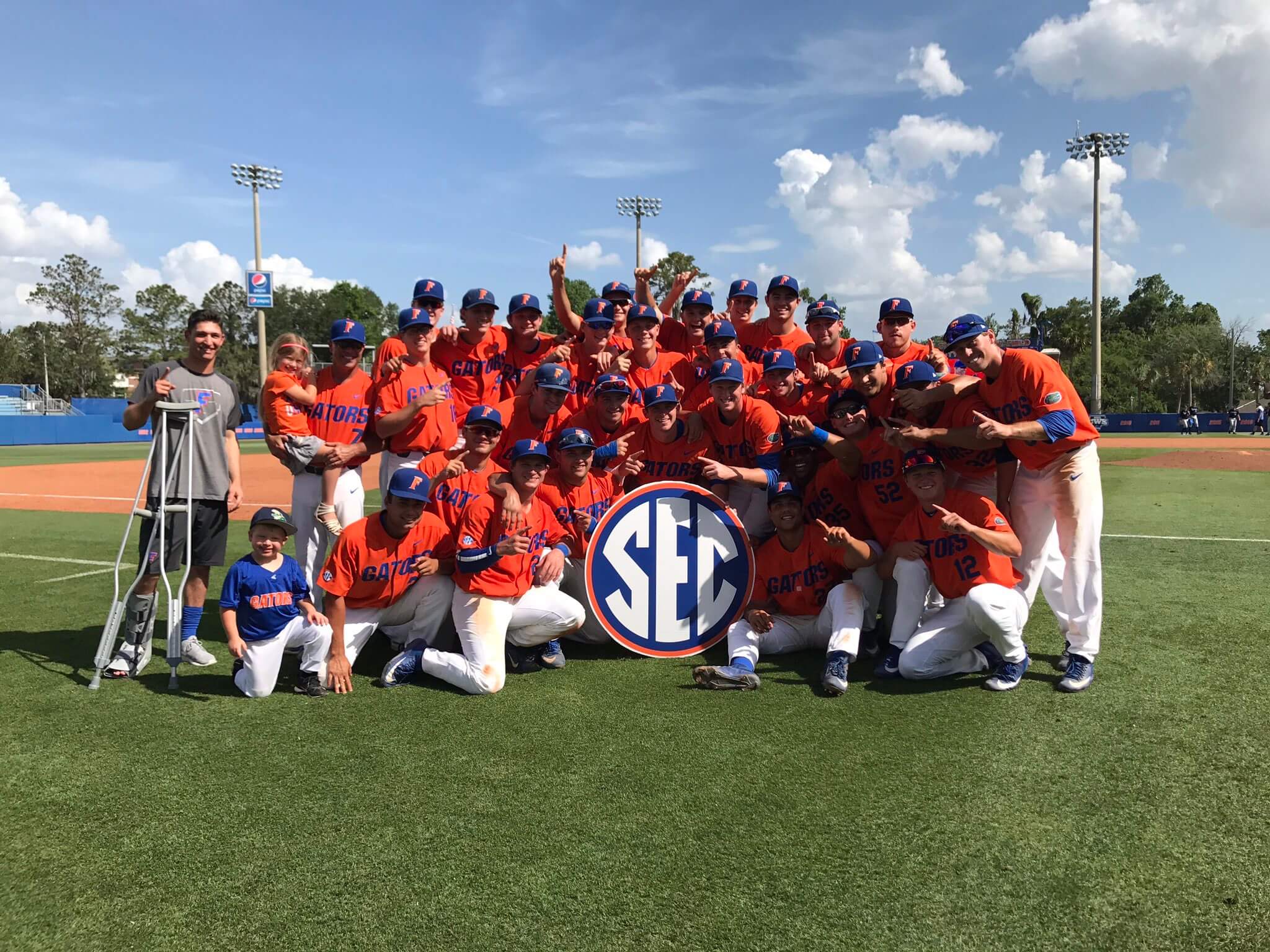 Florida's baseball team is so used to adversity, it almost seems as though they prefer it.
And their latest triumph in the face of it earned them a trophy- hopefully not the last one they receive this year.
The Gators blew an early 3-0 lead in the season finale series opener against Kentucky en route to a lopsided 12-4 loss, snapping a streak of ten straight wins against SEC opponents and leaving many wondering about whether the team was indeed ready for a championship run. After all, Florida's aforementioned win streak came against unranked opponents. But the Gators bounced right back and returned the favor in the second game with a 14-3 thumping of the Cats and then claimed the series with a 6-4 victory in the finale.
By winning that series, the Gators clinched the SEC Championship. It's the 14th SEC Title in Gator baseball history, which is tied with Alabama for second most all time behind LSU's 17.
But that's not the trophy this squad wants. The Gators' recent hot streak has refueled talk of a national championship, something that has eluded this program since its inception over a century ago despite coming tantalizingly close several times since the turn of the millennium. Is this the year they finally do it?
It's difficult to answer that definitively, because Florida seems poised to do it every year and never does. They've always got future MLB pitchers, they've always got the explosive potential in the lineup, and they've always got experience. And after flaming out last year despite being the #1 overall seed, the dominant feeling was that the Gators would never have it set up this perfectly again, and that they had the best shot to win a title that they ever would have and couldn't get it done. So it's fair to ask, "why should this team be different?"
Once upon a time, this squad down in the dust and left to wonder if they were even going to reach the postseason after getting swept by Auburn in the SEC opener. Not since 2009 had the Gators been swept in a series opener. Things didn't get much better in ensuing weeks, either, as Florida found itself at 5-6 after losing a series to a Tennessee team that finished second to last in the SEC. The unquestioned star of the offense heading into the season, JJ Schwarz, was mired in a miserable slump, and Deacon Liput and Jonathan India both took major steps back after wildly successful freshman campaigns, and all three applied further damage to the situation by violating team rules and getting suspended for the series clinching loss to the Vols. To sum up the myriad of criticism from fans during the early half of the season, things didn't look good.
But then something happened on the night of April 11th, the night the Gators traveled to Tallahassee and scored ten runs in a sweep-securing victory over FSU. The team started to hit, and the team started to win. The patience preached by some began to pay off and believed en masse. Schwarz broke out of his slump and cranked seven homers in the span of three weeks, and perhaps more notably, every single starter in the Gators' lineup has seen his average improve from that point to now. The results have reflected it, too; Florida is a remarkable 20-4 since Tennessee clinched the series against them, have not lost a series since and swept three of the remaining six SEC opponents on their slate.
Now they're SEC champions for the fourteenth time in program history.
As iterated above, and in almost every other big picture article about Gator baseball through the years, though, it's getting extremely frustrating for fans to continue to believe a championship is coming just because of an impressive regular season. Kevin O'Sullivan has had seven of his ten teams get top eight seeds, the benefits reaped from a stellar regular season, and has not taken one of them to the ultimate glory. With each so-close-but-so-far failure, he's left to search harder and harder for answers, and a winning formula- which he undoubtedly has some of the ingredients for (namely, a perennially ridiculous pitching staff).
Maybe the formula requires something that he's just not capable of giving them. Maybe the formula for winning a national title is more mental than physical. Maybe the formula just calls for a team getting knocked down again and again, as the current juniors and seniors have twice and the current sophomores have once before the anguishing first half of the 2017 season.
Maybe this time, this team's adversity-filled journey from February to June will have equipped them with what they need to win it all. Maybe they really do prefer it. And maybe it just took getting knocked down one more time for them to be the last team standing.