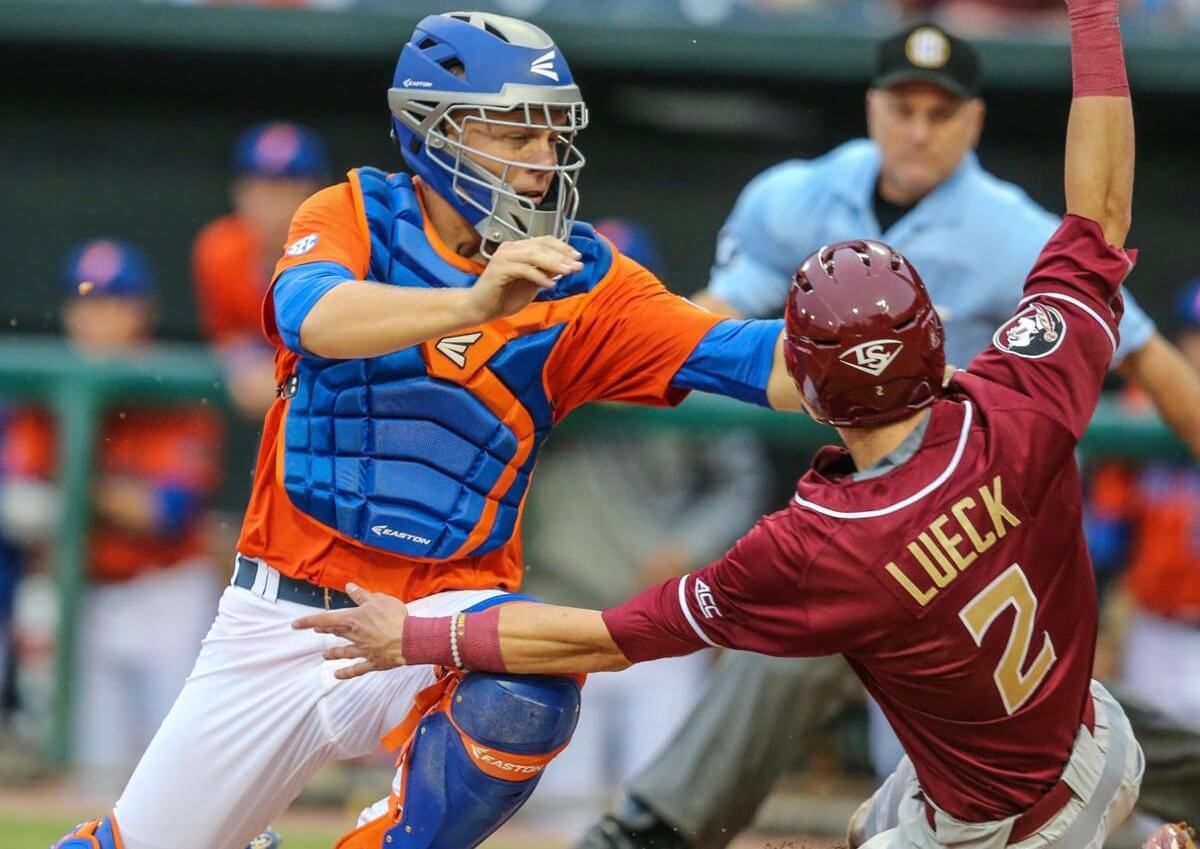 Growing up an FSU fan, JJ Schwarz surely never imagined suiting up for rival Florida, let alone inflicting as much damage to his childhood team as he did- i.e. enough damage that the mere mention of his name would be enough to make an FSU baseball fan shudder.
But inflict damage upon FSU he has, most notably with three homers in the 2015 Super Regionals and a grand slam in the 2016 Super Regionals that served as the knockout blow. And so it should have come as no surprise that he capped that career to remember against FSU with one final round tripper, one that sealed the Seminoles' fate as three time losers to Florida this season, this one coming by a 6-3 margin in Tallahassee.
Schwarz, though, had plenty of help last night. Tallahassee native Blake Reese did some damage of his own to his hometown team with an RBI single. Austin Langworthy gave Florida the lead for keeps with an RBI single to left in the fourth, and a few innings later blasted a double into the gap to plate another one. And Florida's young pitching staff gave up a pair of solo homers, but other than that did a great job of limiting the damage. Fittingly enough, Michael Byrne came on in the end and slammed the door for his school record 28th career save.
Though not a blowout, the game never really felt to be in jeopardy, not even when FSU briefly grabbed a 1-0 lead in the second inning. This Florida team has developed an unspoken trust with me that more often than not, they're going to win games that they should. Other than a meaningless midweek series against the national champion UCF Knights in which their young pitchers were tested in the always perilous trial-by-fire scenario, they haven't lost a single series all season. Beat your opponents two out of three times and you are guaranteed to win a national championship thanks to the double elimination format of the NCAA Tournament. Florida can lose a game here and there between now and the final game of the CWS Championship, and almost certainly will so it's not technically fair to call them unbeatable, but in setup where you have to defeat them twice to knock them out, they appear to be whatever word you want to create on the spot to mean "two out of three unbeatable."
So while Schwarz and the Gators have owned FSU on the baseball diamond to an extent that FSU basketball and football teams can only dream of- Florida has now won eight straight and thirteen of the last fourteen- this year's Gator baseball team is more than just a stray bragging right against FSU at a time where those are very hard to come by. This year's Gator baseball team is leaps and bounds better than last year's team, and when you recall that that team won the national championship, that's a rather frightening thought. This team is so damned good in every facet of the game, it's almost fair to wonder if they're capable of maintaining this level of play for the duration of the season or if they're bound for another Omaha disappointment like the ten Gator teams to reach the game's grandest stage before last year's team.
Or maybe last year's team broke that curse. Maybe this year's team being better than that team is not an indication to worry about failure to live up to the expectations rather than exceeding them like last year's team, but instead an indication that another sweet ride is coming. And maybe we should sit back and enjoy that ride while it lasts.