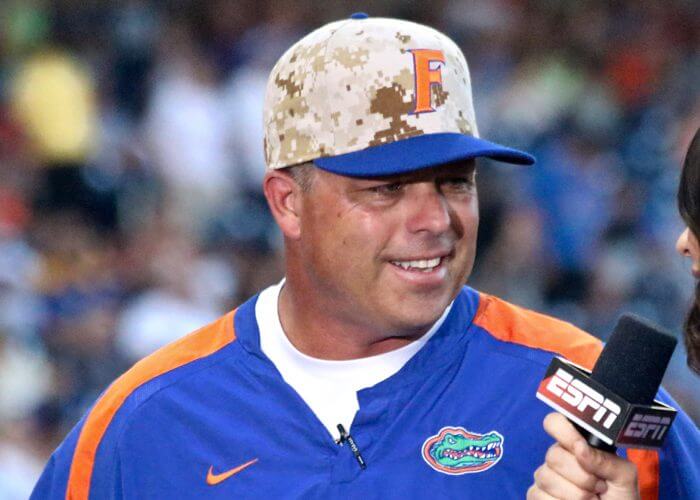 It's some world we live in where the Gator baseball team winning two out of three games on the road as opposed to all three is cause for concern. But with this team not really providing much else to be concerned about, the whole season almost feels too good to be true.
And maybe it is- because for all its strengths, this team has one major weakness that needs to be addressed.
Florida slaughtered Texas A&M 9-0 on Friday night and then again by a 6-1 margin on Saturday to again do what they've done literally every weekend this year- win the series. A 2-0 lead in the finale evaporated quickly, though, and A&M salvaged that last game with a 7-3 win. In doing so, the Aggies exposed the Gators' lone flaw: a lack of a dependable third starting pitcher.
Think about it. You need three starting pitchers to win a national championship. You have to play at least three games in the Regional round and College World Series pool play, and very well may need to play three games to advance out of the Super Regional round (which Florida has done each of the past two years) and clear the final hurdle in the CWS Finals. And until that piece of the puzzle gets solved, this team remains vulnerable. A team nobody wants to face? Yes. The favorite to win it all again? Probably. But vulnerable nonetheless.
We know this team can hit. That was a major issue last year, but has morphed into a strength this year. Florida also has two surefire Major League pitchers in Brady Singer and Jackson Kowar, and they have the best closer in school history in Michael Byrne. But behind them? Things get a little murky and uncertain.
Sophomore Tyler Dyson has an extremely bright future as a pitcher in Gainesville, but has had very mixed results so far this year as a starter. The same can be said for freshmen Jack Leftwich and Jordan Butler, although they don't have College World Series experience on their resume. And sure; the use of mixed correctly implies that there have been some very good efforts in there, like a combined three hit shutout against FSU from those two freshmen and Byrne. But there have also been days that went significantly less smoothly- and in a postseason as unpredictable as college baseball, those can't be simply ignored.
While each brings talent, good "stuff" and high potentials, the time is starting to run out on Kevin O'Sullivan to figure out who that third starter is going to be. The Gators have only two more regular season series on the schedule. Then comes the SEC Tournament. And then comes the real tournament, where things actually matter. That means O'Sullivan has two more series finales to audition potential third starters down the road, and the SEC Tournament will provide another one or two. And that's it. At that point, decisions need to be made here.
Now, the ultimate big picture. Is any of this cause for concern? The answer is probably not, but it's most definitely something to keep an eye on. For all the fans (not unreasonably) caterwauling about the lack of an offense last year, Florida has a really good one this year, one that can usually outslug the opponent and sometimes pick up a pitcher having a bad day. So in some ways, that makes up for a lack of a concrete third starter- and may even be preferable to the "three great starters but an inconsistent offense" situation last season.
But again: this Gator team is so damned good in every area of the game that it almost feels like it's too good to be true. Paper says this team should win it all, but paper is very frequently wrong. And having seen so many things go wrong in Omaha before last season, it's worth flagging the warning sign before we get there.