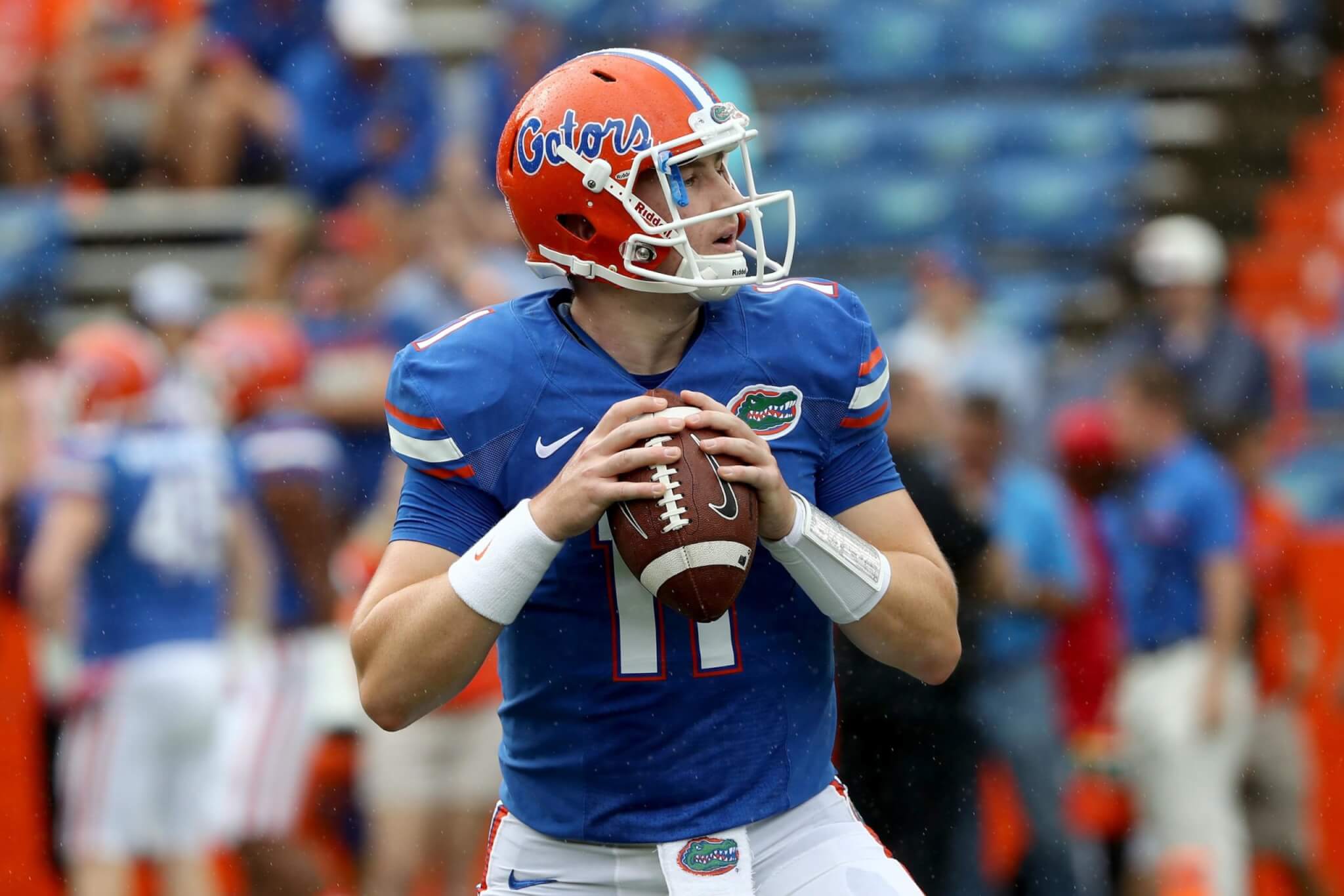 Nine games into a season, most college football teams know their identities. They know their strengths, their weaknesses, and they know what sort of postseason goals they're chasing. And they know who their quarterback is.
Most college football teams, but not Florida- although they should now.
I've defended Mullen as an offensive genius who knows how to connect with his quarterbacks better than most since Urban Meyer, dearly departed, stepped down following the 2010 season. I've wanted him to coach my Gators for nearly a decade now. And I still do- more than ever, actually- because he's proven that the reputation he's built can translate into something even bigger in Gainesville.
But after that Missouri debacle, we've reached the point where every subsequent game in which Mullen trots out Feleipe Franks as his quarterback would inflict a tremendous measure of damage upon that reputation, as that move would directly go against all the claims of how brilliant he is with dealing with his quarterback position. Because there is no longer a rational excuse to play Franks for as much as a single additional meaningful snap- a new development following a gruesome performance in which he went 9-22 for 84 yards, and was actually worse than those mere stats indicated against a below average Missouri defense.
Three full seasons in Gainesville, 20 games of live action, and not only has the sum total of Franks' career has netted far more negatives than positives, but his most recent performance was his second worst (after last year's FSU game). We're done with the mental gymnastics exercises of self-delusion that "he's shown improvement!" and the like. Horseshit, because no he hasn't: here we are in November of 2018, and he's still missing the same easy throws and making the same bad decisions that forced Jim McElwain to redshirt him in 2016. We as a fanbase deluded ourselves into thinking that Mullen could magically turn him into a competent SEC quarterback, and now the curtain has been lifted and he's been exposed as the same ineffective quarterback he always was. The only difference is, now the team around him is better, so when he flounders, there are serious consequences.
Think back to the Mississippi State, LSU and Vanderbilt games. Florida's offense had some success in those games because Mullen stretched the field horizontally, calling swings and flares that put the ball in his playmakers' hands on the perimeter and forced the defenses to have to chase them sideline to sideline. Franks wasn't actually a "better quarterback" in those games; he was merely enjoying the success that an offense that forced him to do less and the defense to do more allowed him to have. And by that, I mean he completed those swings and flares. Which he should have, because those are the easiest throws a QB can possibly ask for.
But Missouri was the final straw for the last remaining bastion of Franks supporters out there because he couldn't even hit those passes, which is the ultimate killer for an offense. These quick routes are designed with the sole purpose of getting the quarterback some confidence by getting credit on the stat sheet for a completed pass when in reality it's just an extension of the running game. When he failed to make these easy throws, the offense had no backup plan. Missouri quickly figured out that Franks couldn't hit the ocean with a rock and started teeing off on the running game. And given how Franks has a well documented penchant for petulance when things don't go well, one bad throw predictably led to another, and he never did get on track.
But enough about Franks. Really, enough. I've talked enough about him, and I've seen enough of him. Because Florida does have an alternative- and no, I don't mean Emory Jones, because Mullen's refusal to play him against Missouri makes it appear as though he does want to redshirt him after all.
Remember the story of the quiet kid from Texas who never started a high school game but got into a few games when they were already decided, played great in that mop-up time, and impressed then-Florida coach Jim McElwain enough to earn a spot on his roster? We finally got to see some of that kid in action on Saturday, with the rest of the starters, and though he certainly wasn't perfect, he looked like a real SEC quarterback.
Kyle Trask has given this program just as much time as Feleipe Franks. He's a third year sophomore who has done everything right. Sure, he looks a little quirky mechanically, but when his time came he promptly hopped off the bench and got the job done, guiding the Gators right down the field for a touchdown. He's likely not the Messiah at quarterback Florida fans have been yearning for since the departure of Tim Tebow, and if played extensively, he's likely to make mistakes of his own given his inexperience. One drive in a game that was long ago decided does not equate to putting him in the Heisman conversation. So proceed with your optimism with caution.
But while that's all hardly a glowing endorsement of Trask, it's a far more positive synopsis than anything you can truthfully say about Franks. Twenty games of ineptitude has proven that Franks has little if any business on an SEC football field. We honestly don't know much about Trask other than what various media outlets have written to pass the time in the offseason, but the unknown certainly yields more promise than what we know doesn't work. If Mullen uses Trask against the Gamecocks and he looks horrible, then so be it, but at least then the Gators didn't get horrible QB play from a guy who has a 20 game history of it. At least then, Florida tried something other than what has killed them for the larger part of two full seasons.
And so to the other dozens of players and coaches who give everything they have to make the Florida football program the best it can possibly, Dan Mullen owes the same by handing the keys to Trask and seeing what he can do.