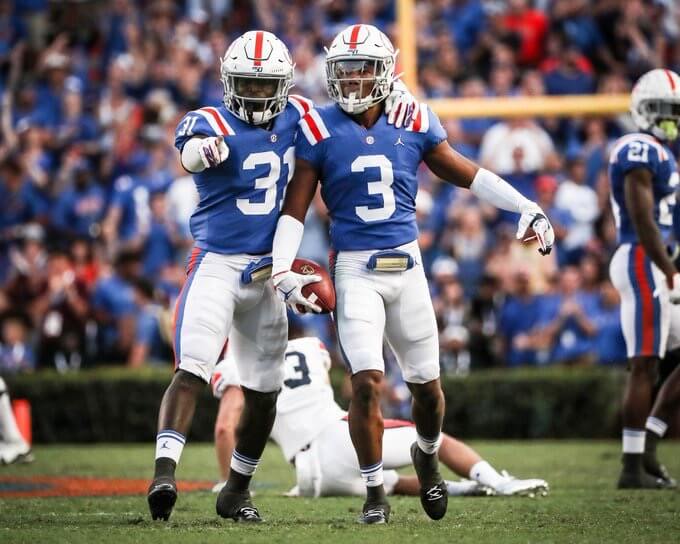 Florida's offense certainly pulled its weight the Gators' 24-13 win over Auburn, but this game was won by Florida's defense- and yes, that means a shout-out off the bat for defensive coordinator Todd Grantham. Tip of the cap to you, sir.
But: as I said in the lede to the offense film review, there's always room for improvement.
So, let's start with the first play of the game for Auburn and they go with their WR jet motion pre-snap, a staple of their offense. Florida looks to be in zone here and Jonathan Greenard blows the play up before anything can develop. Tone setter, as Neil put it.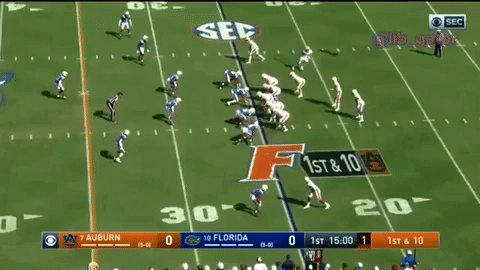 I don't see Adam Shuler talked about enough by anyone, not Florida fans, not Florida writers, not any media involved in covering the SEC at a regional level. He's a strong DT with some quick get off on the snap, and he helps blow this play up, with Reese shooting into the backfield to make a tackle for loss, and he did a great job of taking on a linemen, but it's Shuler's strength here that really creates a problem first.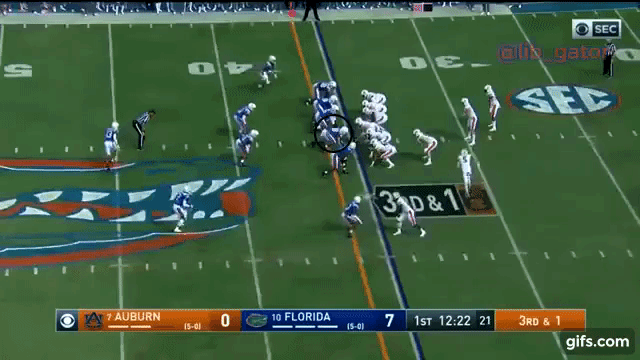 This play is similar to the first play I highlighted above. Malzahn tries to design a play where a guard pulls and blocks Greenard and they fail again, results in a quick throw away by Nix. This was a common theme throughout the game, Malzahn asking for a slower guard to step out and pull to trap block Greenard and that concept failing.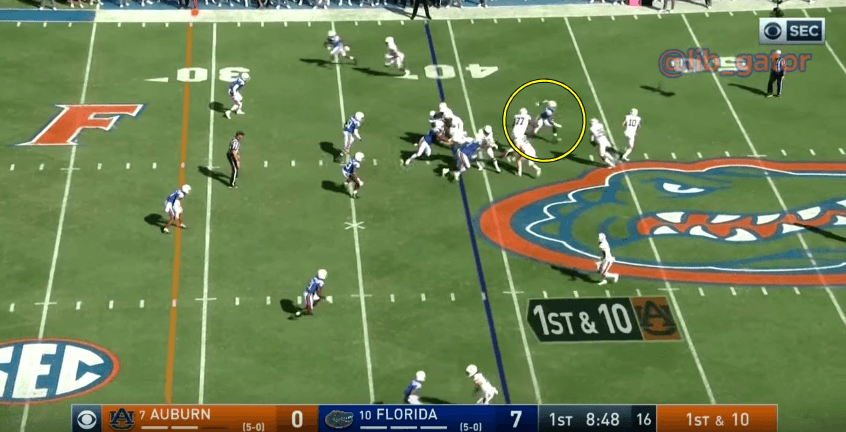 Florida's safeties were bad vs. Miami and while they have shown game to game improvement, their inconsistency in terms of their angles taken to ball carriers and most importantly, their ability to tackle in the open field, was a big concern of mine going into this game. Or to put it another way, it was a big reason I thought Auburn would have success with all their motion usage. Stiner plays this perfectly and obviously does not miss the tackle.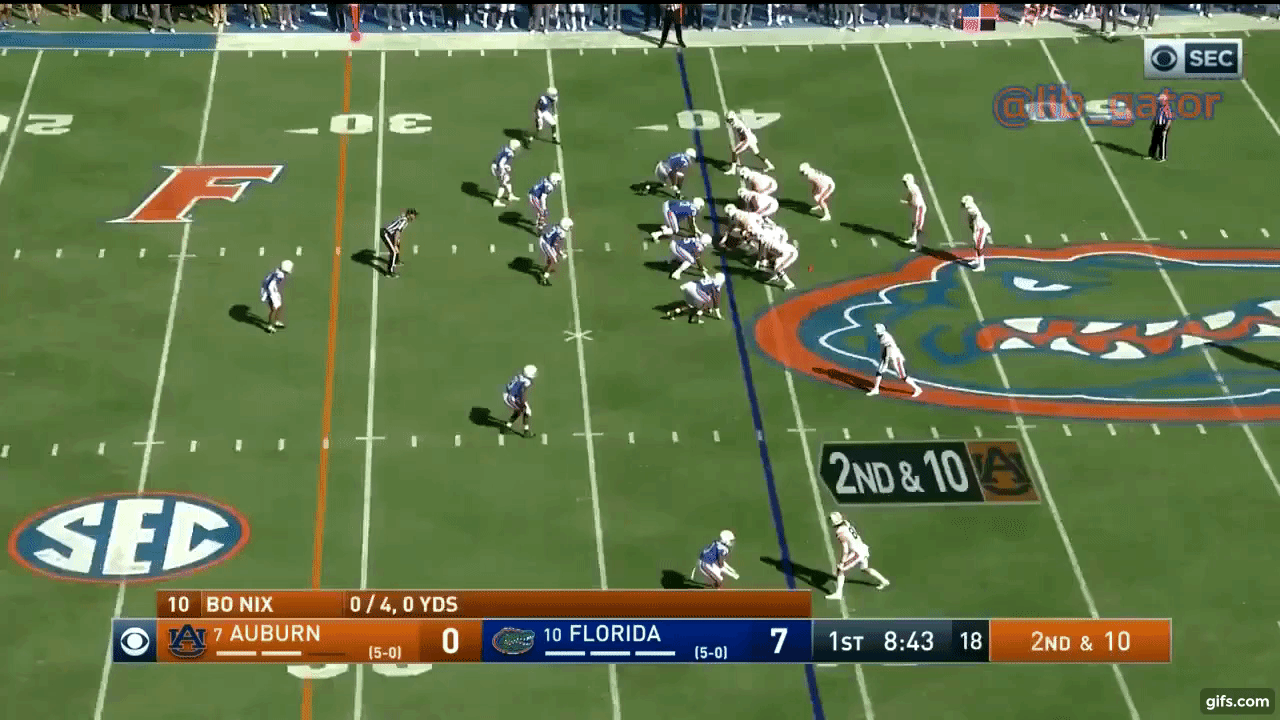 David Reese is a very consistent tackler and a great leader for this defense, and he has been much improved as a run defender this year but he's still an obvious weakness in the passing game, I'm actually surprised how little Auburn tried attacking him. This is just a still of the separation that Auburn has on this play with Reese in coverage.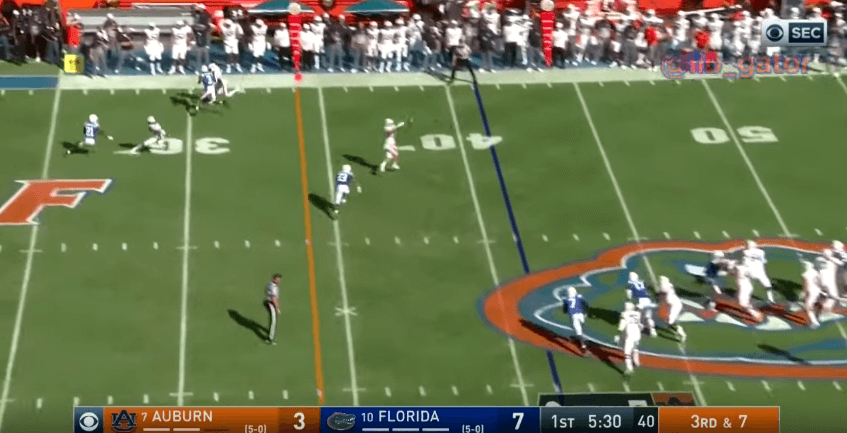 This is one of the reasons Florida played so well on defense, so far they have filtered runs into the A and B gaps of the OL and not gotten beat wide. Greenard here shoots up field with eyes on Bo Nix and Nix gives to the RB on the read option and the middle of the defense just clogs the lane. I believe Grantham has consistent trust that his tackles can win these kinds of battles but it wouldn't shock me if he also noticed that Auburns success at running the ball was by going wide off tackle and not running in between the tackles.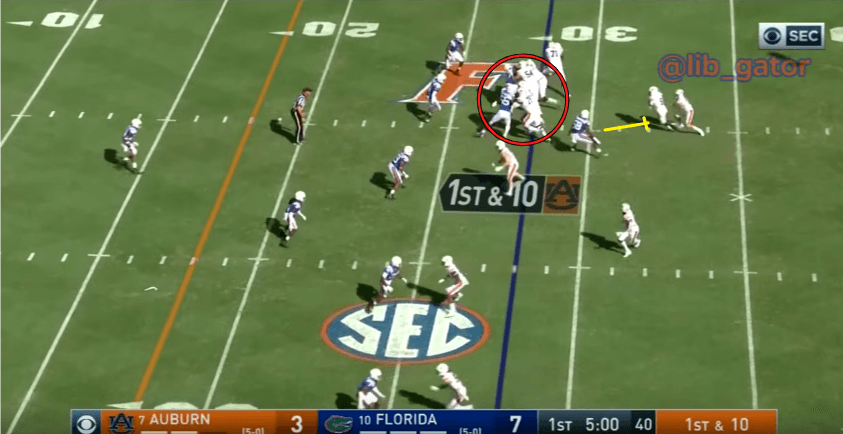 This is a different wrinkle that jumped out to  me. Reese is, more often then not, utilized as a more traditional ILB, but here he is lined up on the outside shoulder of the TE, usually a position designated for someone like Dean to play or a box safety. My guess is this wasn't a look to take away the TE, but a look to take away a read option by Nix, with Reese on the outside here, my guess is that Grantham wanted to filter the runs up the gut.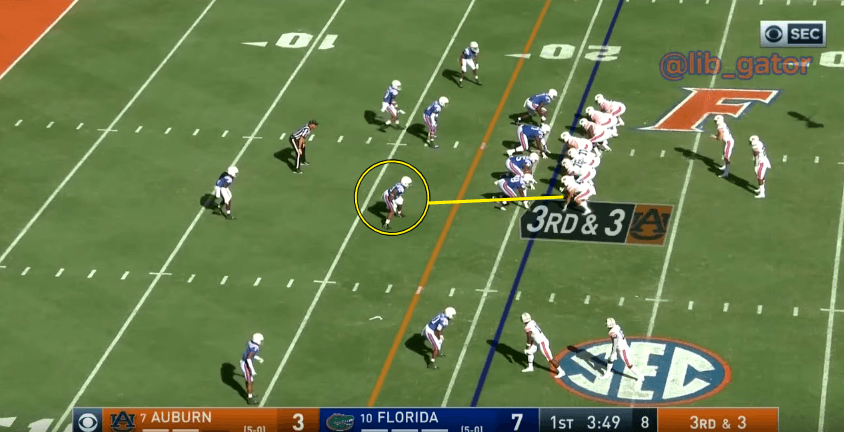 Here is a GIF of the play above. Henderson sets the edge here and forces the run inside, the RB does a pretty good job of spinning his way back to the outside in hopes of finding some running room, but I circled Reese because of the job he does sliding all the way over from what is the D gap to assist in making a play on the opposite side of the field. I can tell you that I will no longer doubt Reese and his ability vs. the run until he gives me reason to actually doubt him again, he has been fantastic vs the run this season and his hand placement in terms of fighting off blocks has improved ten fold. I stated at the beginning of the season I wouldn't really spend anything but a late day three pick on Reese, I can say with confidence that Reese should go much higher in the draft than I ever gave him credit for.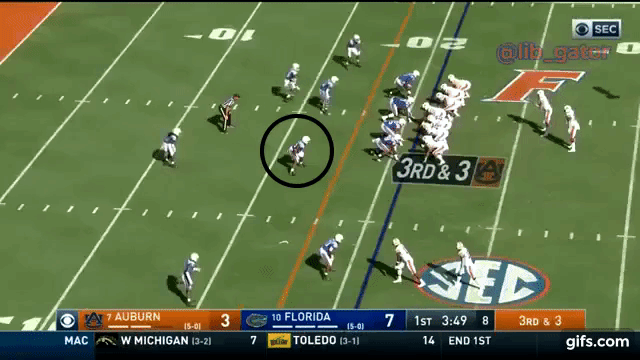 I feel like this was a dialed up blitz for Marco Wilson from the corner spot, I could be mistaken and it's simply a hot read for the defense based on what Auburn does pre-snap, but based on the safety movement, I'm confident it's just a perfectly called play by Grantham. James Houston IV also hunts this down and makes a great play on a play that Marco filters inside to the defense with his corner blitz.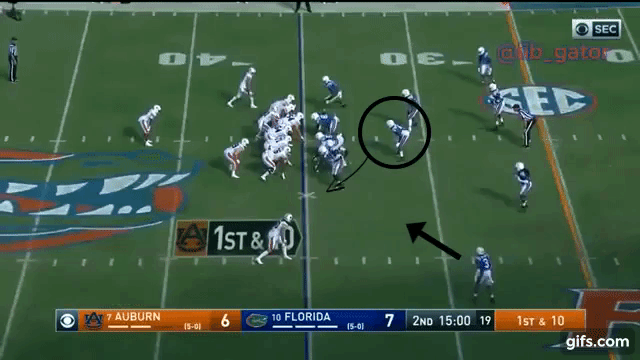 I actually really love this play call by Malzahn. Fake the screen pass and the inline receiver gets wide open as Burney gets beat bad on this play, Davis is in the right place at the right time. Otherwise who knows how this play plays out.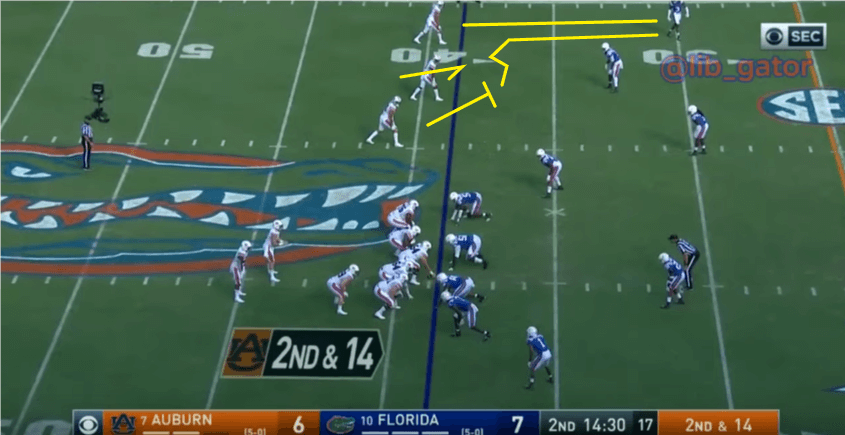 Just showing you here the difference Davis makes, Burney bit on the screen fake and he is beat by several yards here.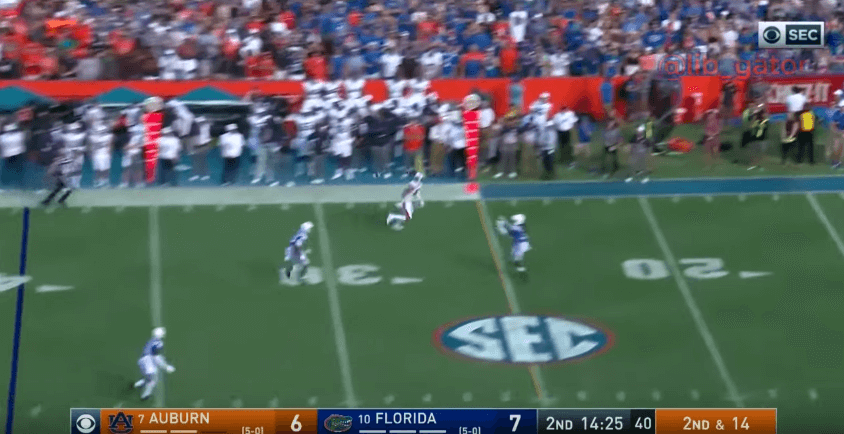 I'm not going to be overly negative on this TD pass simply because it was the 4th time in this game that the defense was forced to defend a short field, and Mullen even admitted that it was all his fault. I do believe this is zone, and my guess is the safety was late to give help to Marco. But whatever, no harm, no foul in this case.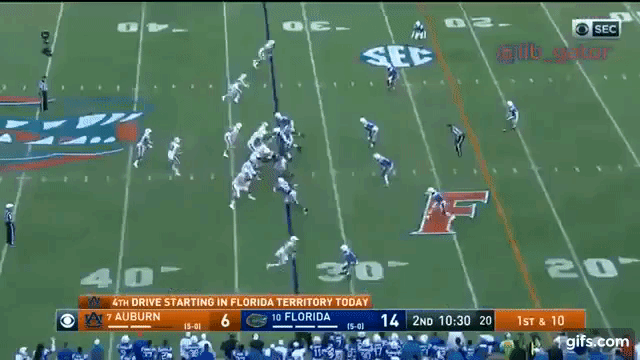 With pass happy LSU on the horizon, (read: Burrow) I'm going to point out a couple instances here and there where Florida caught a break with bad decision making by Nix that Burrow very well may not miss on. Here Nix goes deep for an incomplete pass vs. settling for that throw over the middle of the field.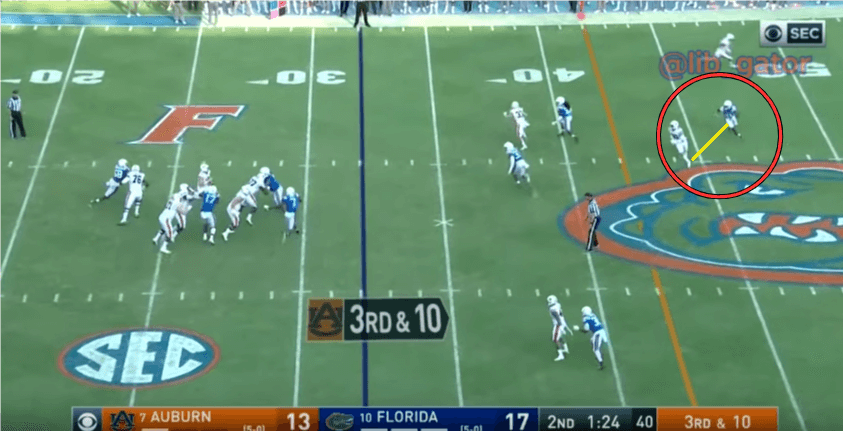 Greenard is so incredibly quick off the edge, this is another failed attempt by Malzahn in asking his guard to pull and block Greenard. He shoots up field so fast that I don't know if Nix really knows what to do in the situation, keep or give, Greenard has already committed to the RB and made a play on Nix in this game and vice versa. Reese also shoots right into the backfield and makes a great play to keep the RB from getting the first down. It's obviously a unit effort in terms of keeping the RB from fighting for yards here, but I really appreciate Reese and him just holding and pulling onto the feet of the RB while other defenders fly in.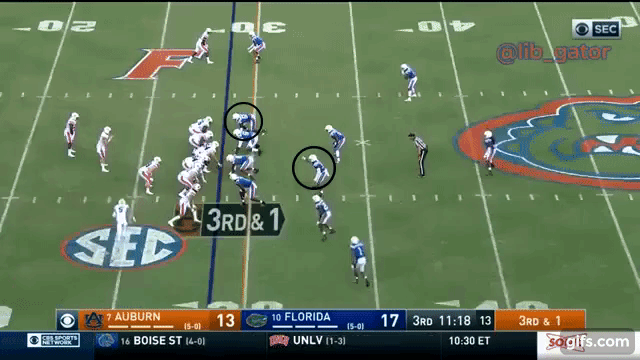 It took Auburn until this point in the game to actually cross midfield on a drive started in their own territory and it is broken coverage. Either CJ Henderson was supposed to be in man, or he was playing the right coverage and he passed off the WR to a safety he thought was going to be there to pickup the WR. This play should have absolutely resulted in a TD for Auburn, and who knows if this game plays out differently with a TD here. Gators dodged one here.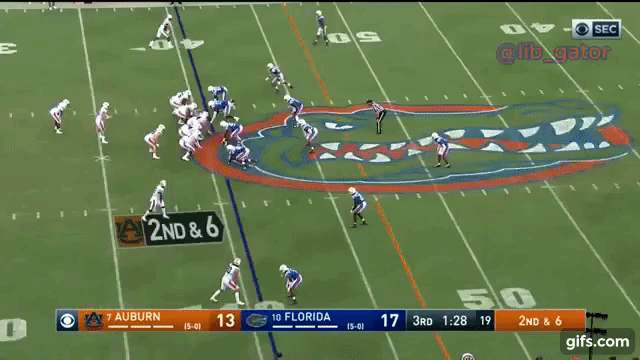 Florida is going to have to play tight on LSU in the redzone. Florida got lucky twice to not allow a TD on this drive, one from the play above, and two right here. For whatever reason the ball disappears in this screen but its inside the circle. WR has shielded off the corner and if this is thrown well, it's a TD, luckily for us the ball is thrown into the ground.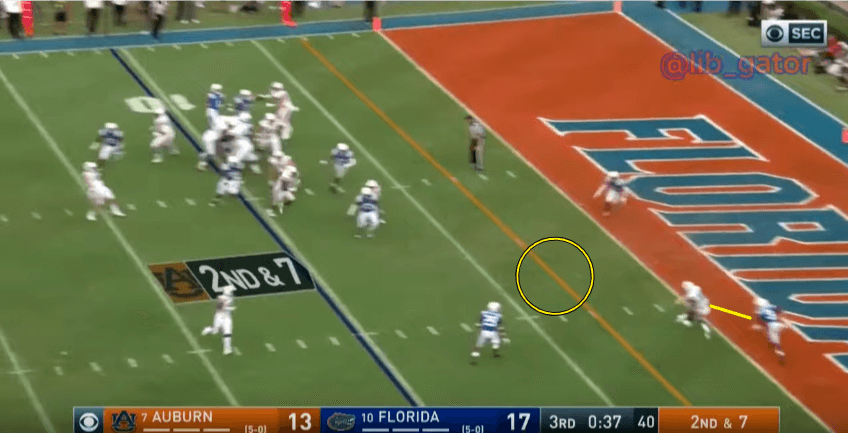 Not going to say we got lucky here, safety does his job, reads the eyes and jumps the throw. But I will point out that this is the 2nd play in a row that Marco got beat.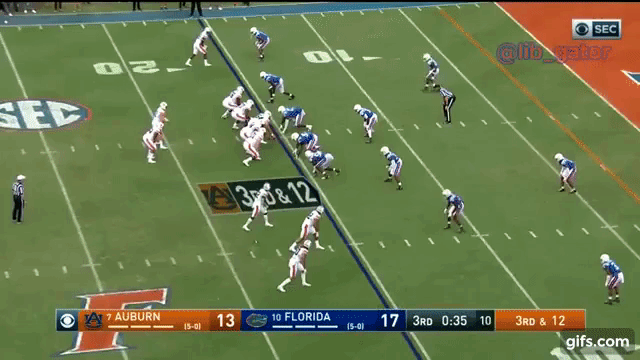 The pass rush struggled a bit against Auburn; Greenard is the only consistent pass rusher on the team without Zuniga healthy enough to play, and this play ends up as a sack, but I pin it primarily on great coverage by the linebackers and DBs.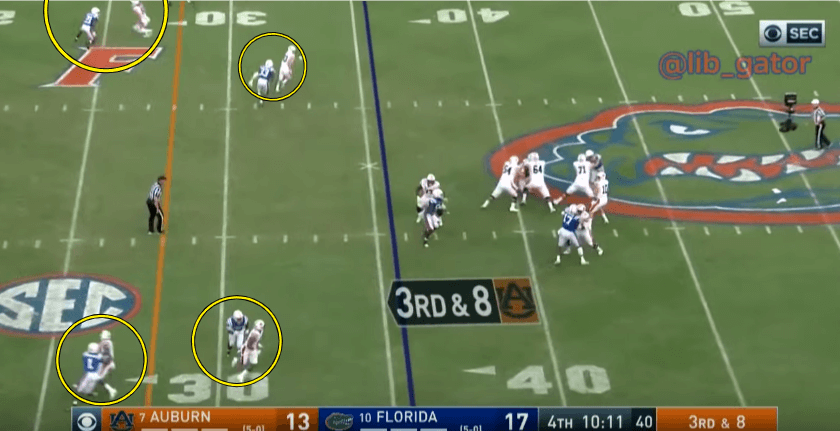 As I stated above, I wanted to point out how fortunate Florida got playing Nix, he made a number of bad choices in terms of who he threw the ball to or his ball location on plays where he made the right decision. It was a nice, quiet night for Dean in terms of him not giving up any big catches, but he plays soft coverage here and Nix misses an easy first down completion. The throw he made instead was an out route that resulted in a smaller gain of yards.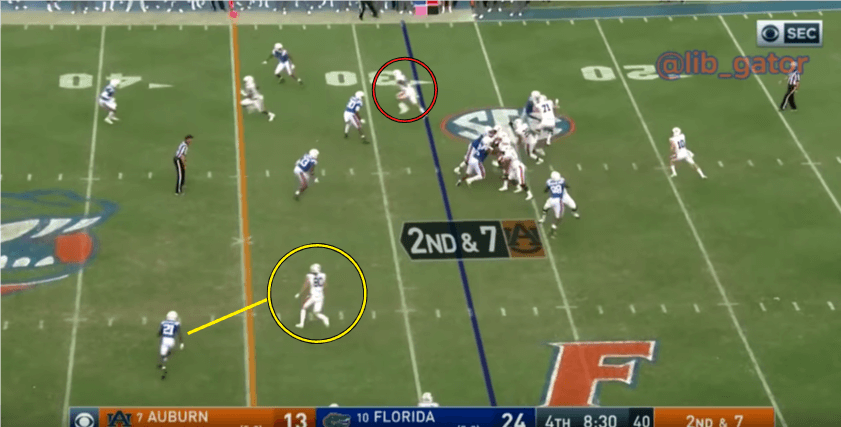 I could probably show you half a dozen additional highlights of safety play in the run game today. This is a big reason Florida's defense was so good vs. Auburn, safeties were excellent in run support and they were not missing the same tackles they missed vs. Miami in week 0.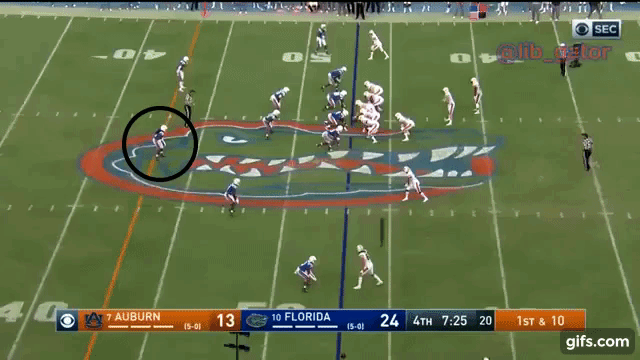 I do not recall seeing Mohamoud Diabate play in the Miami game so I was curious about whether or not he would play in a 5th game or catch a redshirt by the staff; well, here he is coming on a slightly delayed blitz and racking up a sack. It is clear the staff trusts Diabate enough to find playing time for the freshman.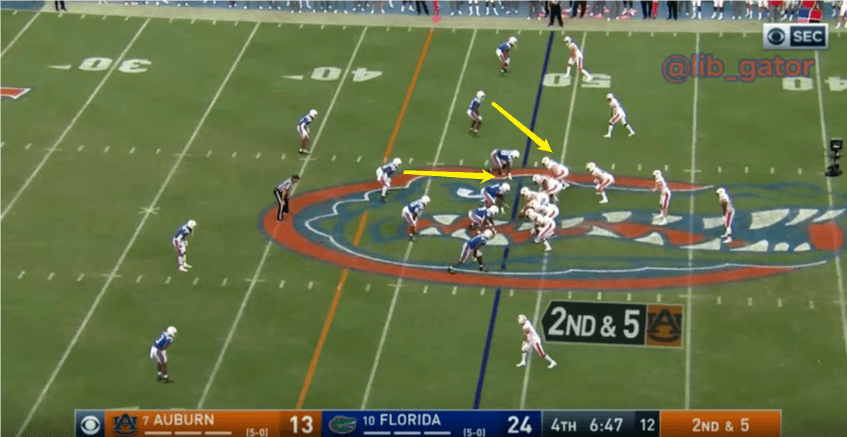 Speaking of Diabate real quickly, the staff really trusts him to be on the field knowing that Auburn is going to be passing the ball here and I wanted to circle him lining up out wide here where you generally don't see linebackers line up. This play also resulted in a Marco Wilson interception- checkmate.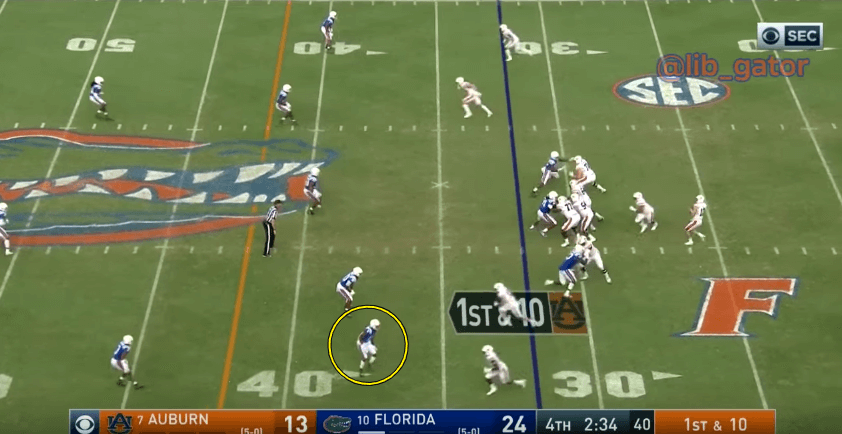 Conclusion
I doubted the Florida defense coming into this game, for a variety of reasons, and they proved me wrong big time. They allowed 269 yards of offense to an Auburn team that was averaging 454.4 coming into this game. Grantham had guys in the right spot for most of the game. It's very likely that if the Florida offense wasn't a massive turnover machine, that Florida's defense holds Auburn to 0 points. Football is a complicated game with too many moving parts to play the game of "would of, could of", but they didn't cross the 50 yard line on a drive started on their own side of the field until 3 minutes left in the 3rd quarter.
The defense won Florida the game. I don't know what the official record is for a team whose offense turns the ball over 4 times, but I can safely assume that most teams lose games in that scenario. Auburn started 4 drives in Florida's territory and allowed 13 points. Here is a list of the drives Auburn had after Florida turned the ball over:
Started on 39 yard line, went 3 and out, 3 points.
Started on 44 yard line, 6 plays, 3 points.
Started on 35 yard line, Shawn Davis interception.
Started on 32 yard line, Nix TD pass.
The biggest thing that jumped out to me was that Nix really played really poorly in this game. As a true freshman starting in The Swamp, this shouldn't be a surprise to me, yet here I am, slightly taken back by how poor Nix played. I didn't think he would put up career numbers vs this defense, but I'm mostly surprised by how poor his ball location was. Auburn should have scored a TD to go up 20-17 but he left the ball a little too deep on the broken coverage by Florida's secondary. He followed it up by throwing the ball into the ground on a play his WR had shielded off Marco on a slant route in the end zone. So while the defense played fantastic, there is always room for improvement, and I spotted several plays that Burrow, at the level he is playing right now, would likely not have missed. It would have been very interesting to see how this struggling Florida offense looked playing down vs. with a lead.
The last concern I wanted to point out to end this is the pass rush. Sacks are not the lone way to judge a pass rush and the pass rush was not bad by any means, but there is noticeable drop-off from Zuniga to Moon or Carter, both of those guys struggle badly with consistent get off and a pass rushing moves to get to the QB.
As Josh Vitale, an Auburn beat writer pointed out:
Auburn quarterback Bo Nix had 35 dropbacks Saturday. Florida sent more than 4 rushers on only 5 of those plays, and never sent more than 5. Nix was pressured 8 times (2 sacks), but not on any of his three interceptions (he didn't see the defender on the first 2, overthrew 3rd).

— Josh Vitale (@JoshVitale) October 6, 2019
That is a problem for me with UGA and LSU coming up. Burrow gets the ball out faster, UGA arguably has the most talented offensive line in the country. Either Grantham will have to increase the pressure brought vs those two QBs or the defensive line is going to need to play at a higher level.
In terms of defensive tackles, I am more concerned with not being moved off their spot in the run game then I am pass rushers there, and guys like Shuler are strong tackles who don't get moved off their spot easily. With how good the LSU passing game is, it will be of the upmost importance to have Zuniga back healthy to give Florida two great pass rushers to counter LSU and their passing game.