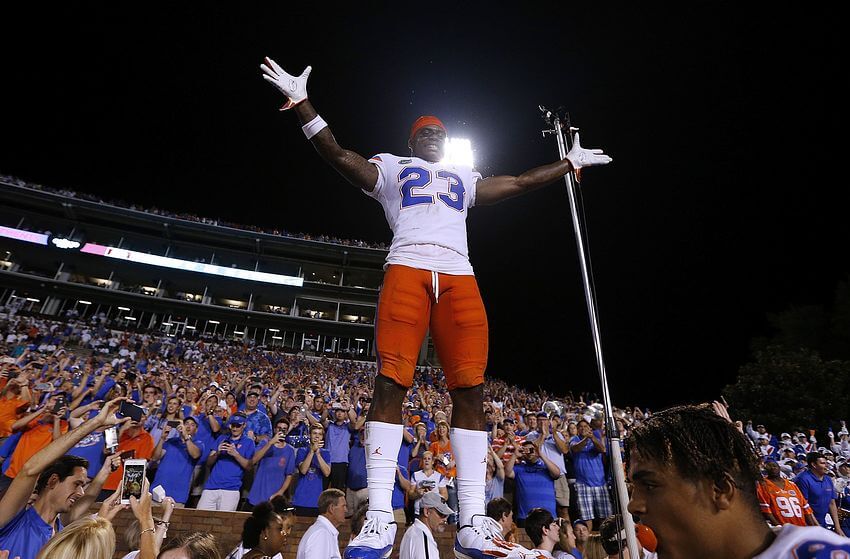 Florida will have to replace at least one underclassman next year.
Defensive back Chauncey Gardner Johnson has announced that he is leaving for the NFL after this season and will forgo his senior year. He did make a point to state, in a larger font mind you, that he was 100% committed to playing in whichever (likely New Year's Six) bowl game Florida winds up in.
Here's his full statement:
Thank You Gator Nation !!!! pic.twitter.com/BnseLUFn08

— C.J. Gardner-Johnson (@CGJXXIII) November 26, 2018
As Gardner-Johnson wrote, his decision was made based upon the value of his body, and while he won't say it outright, that means he basically wanted to strike while the iron was hot. CGJ struggled as a tackler in his first two years in Gainesville, but improved in that area tremendously in 2018. Honestly, it was one of the most drastic improvements in one area between two seasons that I've ever seen. So it seems as though he feels he can do nothing to further bolster his draft stock by returning next season, and that's really what has to to happen for a player to declare early.
Chauncey's penchant for trash talking led to a checkered history in Gainesville, to be sure. Some of his less-than-intelligent moments include declaring that Georgia QB Jake Fromm could "only throw slants" (Georgia crushed Florida 42-7 a few days later) and guaranteeing that Florida would beat Kentucky for the 32nd straight year this September (they did not). However, I'll ultimately remember Chauncey for seeing a new coaching staff as a golden opportunity to improve one of the weakest parts his game and doing so brilliantly. Those moments were irritating, sure. But the fact that one of the loudest and most boisterous players I can ever remember found it within himself to grow from a young trash talker who couldn't back it up into a grizzled, playmaking veteran who could goes to show what a long period of hard work that those who never played football couldn't imagine can do.
And it all ended with a phenomenal game from him in Tallahassee in which he didn't allow a single catch, and that he punctuated by cutting off the Seminole head.
And so, I wish Gardner-Johnson the best of luck moving forward. You're an exceptionally talented player, Chauncey, and if you keep up the hard work, you're going to make some NFL team very happy.