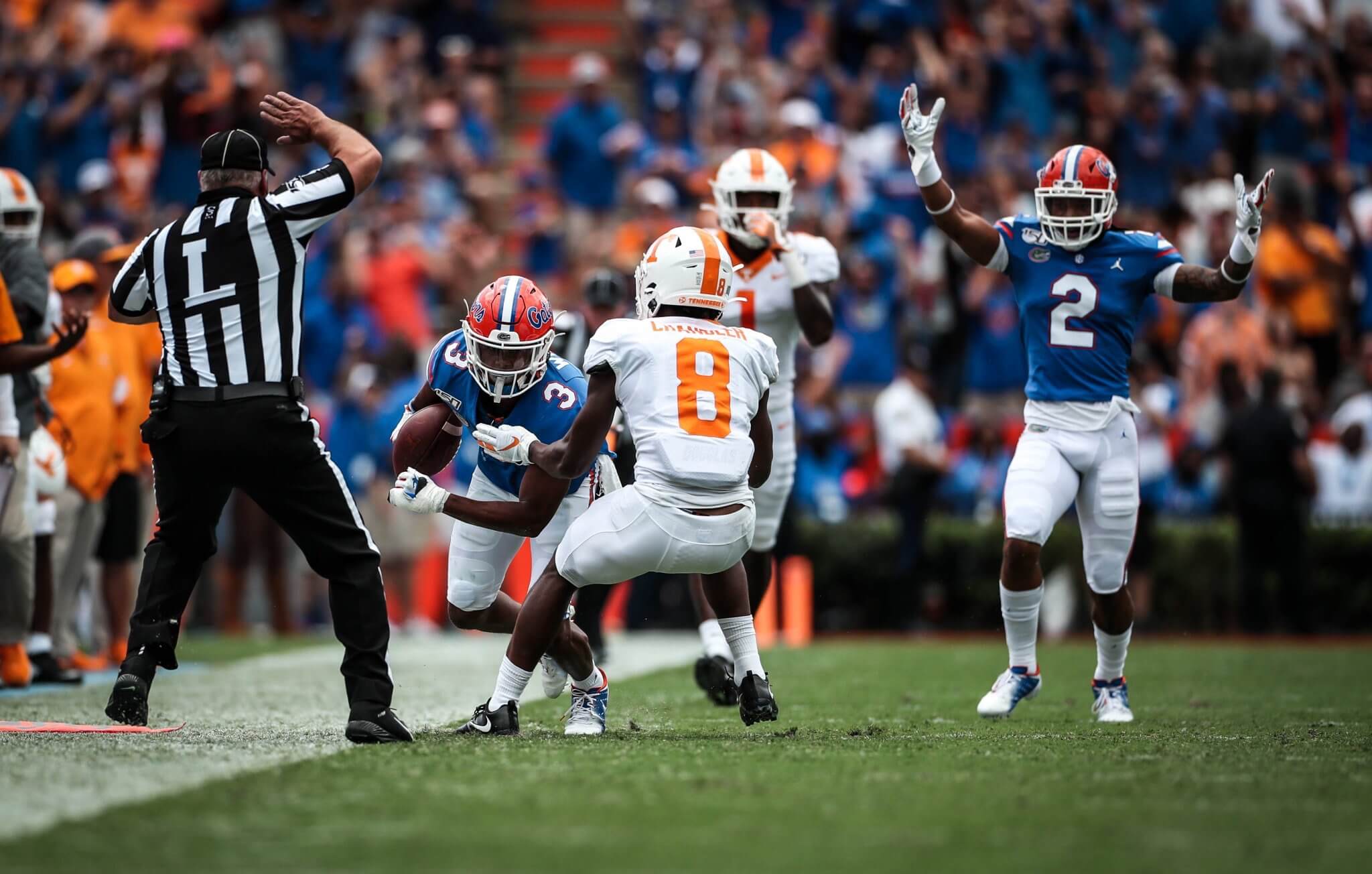 Florida's 34-3 smackdown of Tennessee this past weekend didn't exactly send shockwaves through the college football world, or even through either team's fanbase. It was, more or less, exactly what everybody thought was going to happen.
But as always, there were five main things to take away from the game:
1: Kyle Trask is an appreciable upgrade over Feleipe Franks, but he still has work to do. I'm past the point where I'm even willing to entertain the idea that starting Franks over Trask all this time was the right decision- the admittedly small sample size we've seen from Trask indicates that wasn't- but I'm also not really interested in beating a dead horse. I'd rather just label that a rare mistake by Dan Mullen and move forward. Trask isn't the runner Franks is, nor does he have the raw arm strength of Franks, but he's a much smarter and more accurate passer on the whole. However; he did throw a pair of interceptions against Tennessee, both of which were direct results of failing to read the Vols' coverage. No harm, no foul, of course, because it was Tennessee, but he'll have to learn from that.
2: Florida really has to figure out its right tackle situation. I really don't like hammering away at one player, but four games in and it's become glaringly apparent that Jean DeLance is a liability at right tackle. And the worst part is, I have no idea what to do to fix it. Is Dan Mullen so stubbornly against starting true freshmen that he won't even give Michael Tarquin or Ethan White some live snaps at right tackle? The rest of the offensive line has more or less pulled its weight so far, and luckily this hasn't cost Florida a game yet, but as the games start to really get serious, Mullen & Co. are running out of time to figure out a solution there. Because you'd better believe that opponents are taking notice of this.
3: Tennessee is the worst team in the SEC. Or perhaps the Vols can share the co-worst label with Arkansas. Either way, though: you can't really take too many positive things away from the win, because Tennessee is honestly quite comparable to the UT-Martin team that Florida handled 45-0 two weeks ago. The Vols are staring their worst season of all time dead in the face, and while Florida does get some credit for more than doubling the 14.5 spread against them, they're worse than any remaining opponent on the Gators' schedule other than maybe Towson- maybe. So, take all that you saw against them with a grain of salt. That includes Florida's defensive line's continued dominance, that includes the massive cushion the Vols gave Florida receivers, and that includes Tennessee's cartoonish propensity for self-destruction resulting in Gator points.
4: The running game really opened up with Emory Jones. Yes, of course this was in the game's waning moments with the outcome already well decided, but as expected, the existence of Jones on the field forced Tennessee to have to eyeball and shadow two running backs as opposed to one. Even when he doesn't carry the football, he draws attention from other players, which decreases the attention on the Florida running back and thus increases the space that running back has to move. This was why I wanted him to start over Trask and Franks this year, and while I've somewhat backed off that take with the success Trask has had, it remains that the mere presence of him can cause headaches for a defense. And that's really what a Dan Mullen offense is designed to do. So look for him to be used more and more as the season goes on.
5: Florida-Tennessee is no longer a rivalry. It's not. Sorry. We'll have an entire offseason to delve into this in a more detailed piece, but here's a preview of that article. Just because the two schools had a few epic battles a 20-30 years ago does not mean that it's fair to bring Florida down by calling this opponent in Knoxville a rival when they're 14-1 against the Vols since 2005. Consider this: Florida is only 8-6 against South Carolina and Georgia, 7-7 against FSU, 6-8 against LSU, and 2-6 against Alabama since 2005. Hell, Kentucky, Vanderbilt, Mississippi, Mississippi State, Miami and Arkansas have just as many wins over Florida since 2005, and Missouri and Auburn each have more despite playing a small fraction as many games against Florida. The Vols are a fellow SEC East opponent, and nothing more.