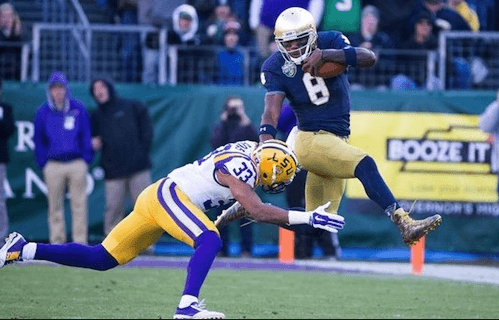 The rumor has become reality.
Former Notre Dame QB Malik Zaire will transfer to Florida, as first reported by Bruce Feldman. Zaire would have at least one, maybe two years of eligibility at Florida pending the result of a waiver that would be filed after the 2017 season.
The Gators were thought to have a problem landing him because of the poor academic performances of Anthony Harrell and Mason Halter, a pair of graduate transfers who played for Florida two years ago. Both were declared academically ineligible for the Citrus Bowl that year. SEC rules stated that grad transfers have to maintain certain levels of academic success at their new schools; failure to do so results in the school that took them being limited in how many more they can accept in the near future.
But that rule was put up for review in this year's spring meetings in Destin, however, and Jim McElwain's gut instinct that there was "a good chance it could be repealed" turned out to be right. The penalty for grad transfers failing academically was reduced from three years to one year, clearing the way for Zaire to transfer to UF.
The question now becomes: does Florida really want Zaire?
The short answer is, yes and no. Florida's quarterback battle could always use more combatants; even though Feleipe Franks appears to have taken a strong grip on the QB reins, there's always the possibility of injury, off field issues, or even Franks being a complete bust once he steps on the field for a game. Surely no Gator fan or coach is willing to overlook those possibilities with all the drama that's followed other Gator quarterbacks since the departure of Tim Tebow. And even though Jake Allen figures to logically be next in line after Franks, and boasts a world of promise of his own, those same possibilities come with his leadership, too.
Trusting his current crop of quarterbacks- Allen, Franks, Kyle Trask and Luke Del Rio- to carry the team to the promised land feels like a pretty safe bet for Jim McElwain, but should something happen to all four of them, or even to any one of them, Mac would have looked pretty foolish for turning away Zaire. Even if Zaire comes in this summer and ends fall practices as the #2 quarterback, history indicates he's in a great spot to play; Florida hasn't had the same QB go wire to wire as the starter for an entire season since 2008. And if Franks gets injured, suspended, or otherwise removed from the starting lineup and the backup QB doesn't perform well- whether it's Trask, a recently un-redshirted Jake Allen or Del Rio- Zaire figured to have been seen as a bad miss on the recruiting black market.
Zaire, though, never really panned out at Notre Dame, which should be a yellow light for Mac and his staff. By label, Zaire is a dual threat quarterback. But while his rushing ability was on display in the 2014 Music City Bowl against LSU, he's yet to prove to be a legitimate passer. He broke his foot two games into the 2015 season, and his career at Notre Dame was essentially over as soon it began. With only a 38-3 victory over a paltry 5-7 Texas team to judge him by, there's nothing in his college game tape that can definitively mark him as a passer. Certainly his career stat line of 59-98 for 816 yards and six touchdowns doesn't help much.
This all seems eerily familiar to the synopsis of a guy named Treon Harris. The difference was, after being teased with flashes of Harris in 2014, fans became excited to see more of him- and we did. The results were not pretty, as the flash he provided faded out as defenses caught on. And with memories of Harris- the ultimate "he can run, but he can't throw" guy- still fairly fresh in most fans' minds, I don't know that this is something we want to go through again.
I have no problem with grabbing Zaire as a backup option. I don't really think he has a chance of reaching any higher than second on the depth chart, anyway. But it's for that very same reason that landing him could bail the Gators out somewhere down the road.