UPDATE 12:50pm: a second source has told me that the game will not be made up, period. "I just don't see it happening under any circumstances."
UPDATE 9:45am: LSU athletic director Joe Alleva said on 104.5 ESPN radio (Baton Rouge) that "at this point, the game is not going to happen." Both sides refused the other's offers. The only chance this game has of happening now is if the SEC steps in, pushes back the SEC Championship Game and forced the two schools to play on the first Saturday of December. And a source tells me that "will never happen, forget it."
---
I'll begin this by admitting I've never seen something this crazy.
Florida's game against LSU this weekend has been postponed due to Hurricane Matthew, per multiple reports. There is no make up date set for the game, and both teams are set to play just seven conference games.
UPDATE: reports that the game was completely canceled have been retracted, though they all could be traced back to a place I would have trusted, too: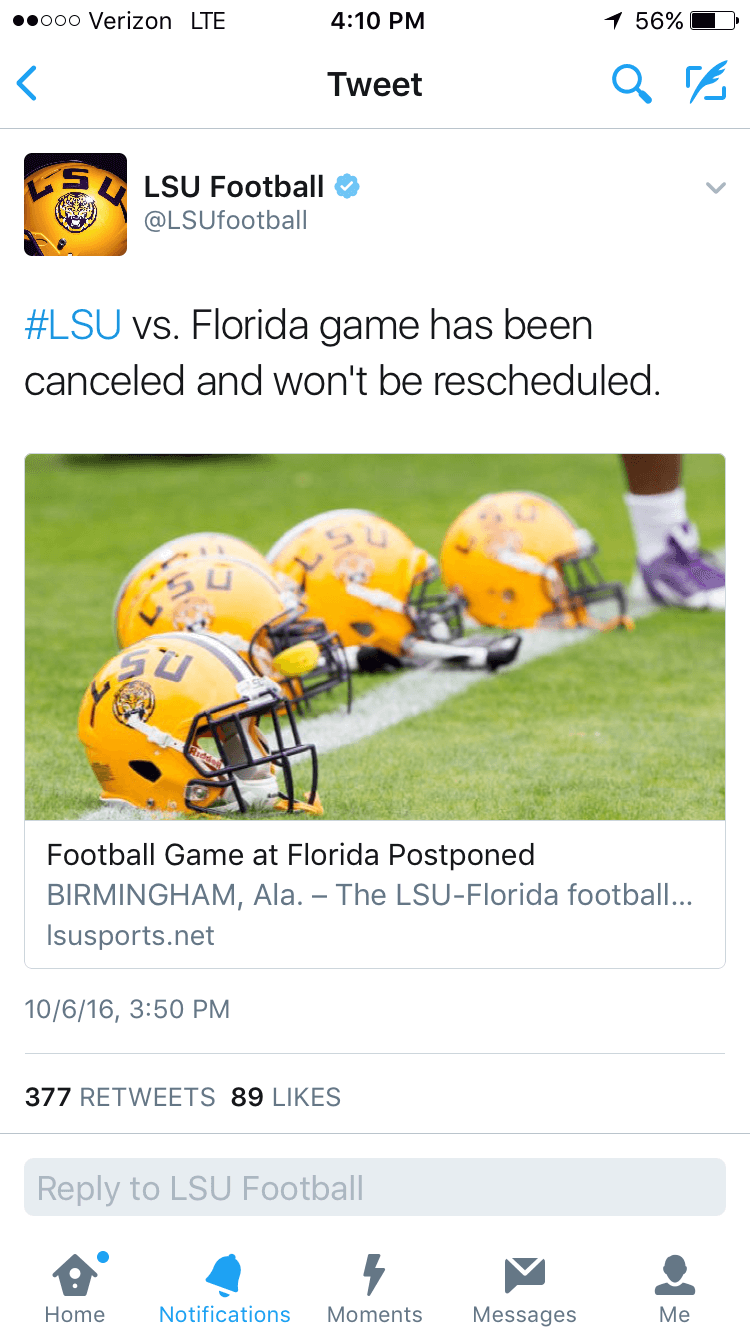 The status of the game has been changed to "indefinitely postponed" but that still doesn't do much in terms of raising the chances this game gets played. The teams don't share a bye week, and the only weekend that's even being considered is November 19th, where both schools host cupcakes. But neither team wants to give up those games; Florida would have to eat the hefty "come play us and get walloped" fee it paid Presbyterian and lose the money entirely, while LSU would lose a home game and they'd have to swallow their payday check to South Alabama.
The SEC could also push back its conference championship week and play this game (and any other SEC games that get canceled, like Georgia-South Carolina) the day the SEC Title Game is supposed to be played while playing that game the following week. But that would require the entire country to wait on them, and would push back the selection of the College Football Playoff and Bowl games.
The decision to postpone the game was made after much deliberation between Florida, LSU and the SEC. The hurricane is supposed to sweep through the area before Saturday, but the issue had to do more with travel; LSU would have had a hard time getting to Gainesville while avoiding the storm.
This is actually a huge gift for Florida in terms of winning the SEC East, because it's one stumbling block they no longer have to navigate past. Tennessee has to lose twice anyway, and the Gators still have to win out, only now they've got one game fewer to have to win. If Tennessee loses twice, they'd be 6-2, and if Florida wins out, they'd be 6-1. The half game edge would give the division to Florida. And really, this was going to be a tough game even if Luke Del Rio played, so the Gators got an unbelievable break. Now they can rest Del Rio one extra week and have him fully ready to go for the rest of the season.
It would be sad if Florida loses a home game and we don't get to witness another chapter of this rivalry. And I'm utterly stunned that this could be the outcome. But it is what it is, and if it is indeed canceled, I can't help but feel like it's a blessing in disguise.