As we all know by now, Florida survived its season opening game against Miami, defeating the Hurricanes 24-20. As we also know, that game left a lot to be desired for Florida.
While Neil has a film room session of his own coming next week, I decided to take the first stab at breaking down the game tape. So, here is Part I my in-depth analysis of all the key plays from Saturday, featuring the first half. Part II tomorrow will break down the second half.
Right away, we got a preview of what was to come for the rest of the game in terms of Florida's secondary. Marco Wilson (#3) gets beaten here by his man; I'm hoping the way Marco played in this game was just game day rust after missing virtually all of 2018 with an ACL tear and something that will be improved upon going forward.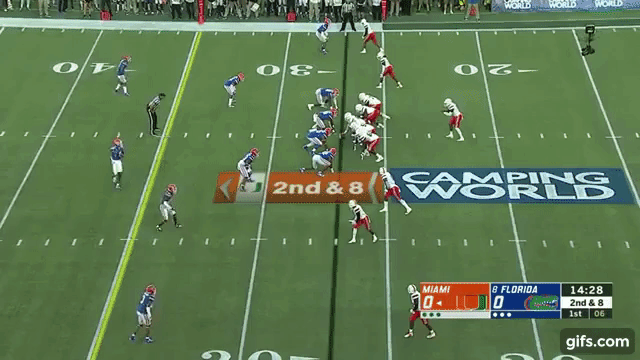 On the very next play, Wilson gets taken off his feet by the WR again. Elsewhere, the angle taken by Trey Dean III isn't overly concerning to me as the WR takes a nice jump cut.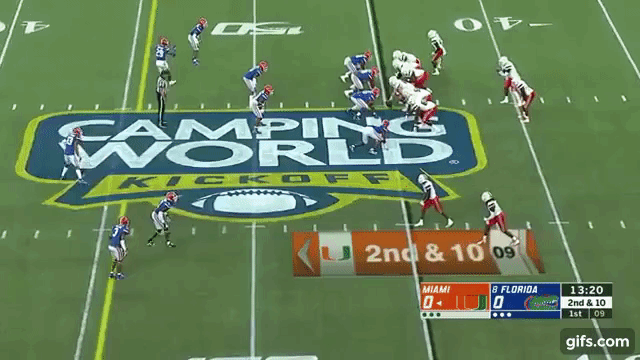 As you could probably tell by my Twitter @ name, I am a bit nitpicky in my film review because I want the Gators to be the best they can be. So while this would probably register as something small to most people, it was an early hint at some upcoming tackling problems that this defense had over the course of the game. I'm simply not a fan of allowing the runner to turn a one yard gain into a five yard gain as happens here.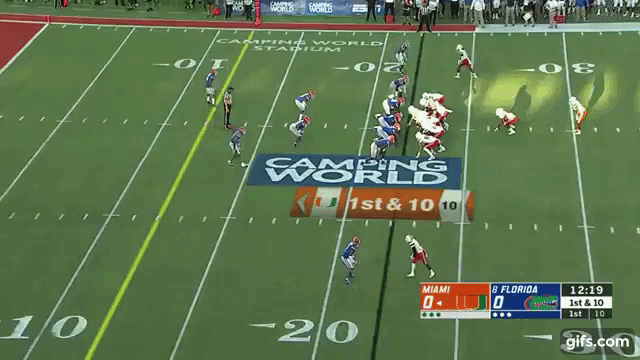 This is the first of many more sacks to come (ten, to be exact), and this one is all scheme. Donovan Stiner comes off the corner and Ventrell Miller with a slightly delayed blitz right up the A gap. Nicely drawn up and nicely executed.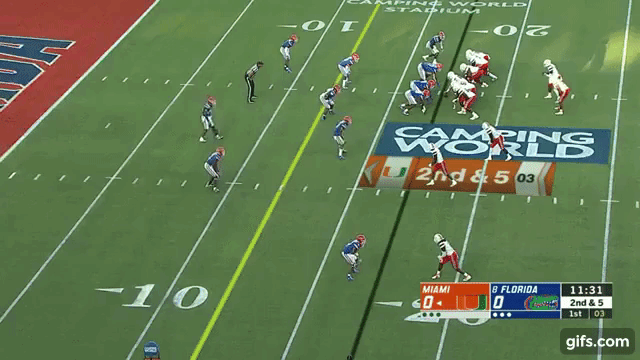 Now Florida has the ball back after a UM field goal. This is where not knowing the exact play call hurts. I can't tell you whether Van Jefferson was the intended target regardless of what the defense showed, but a WR looks to come open on the post route. This is also where not having all-22 film hurts because the only reason the WR on the post gets open might be because the safety broke his responsibility to run to where the ball was being thrown. But this is potentially a huge play missed by Franks.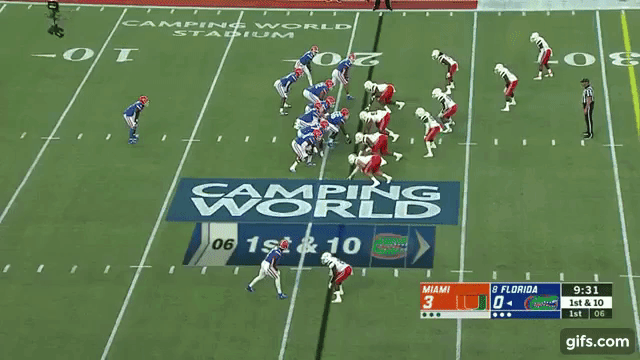 The OL struggled all day in run protection but this play early on was a pretty good job, Delance seals off the end and the rest of the line turns their defenders away from the play. This is where playing a Miami defense with 3 senior linebackers hurt, even when well blocked, the play doesn't go for as much as it would have against Kentucky or Vanderbilt.
This is one of those plays that is a combo of a great play call by Dan Mullen/Brian Johnson at the moment and a flat out bad play call by the defense- and even worse tackling. But then again, that tends to happen when the guy you're trying to tackle is Kadarius Toney.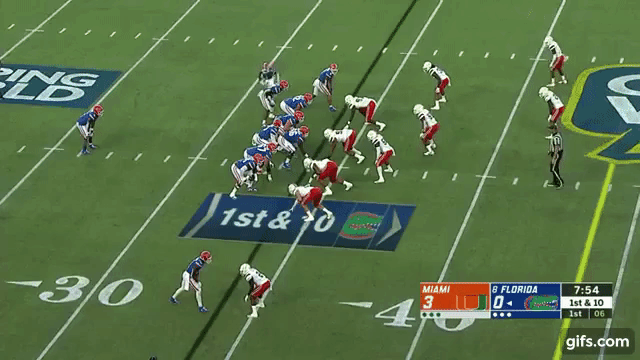 Somehow not a single defender followed Toney in motion. At this point, I'm surprised they didn't call a timeout. Too much faith in personnel, maybe? But this is how over-matched Miami was on the screen side.
As I mentioned at the top, Marco Wilson did not play his best against Miami. But here was one of the only positive plays Marco made on the day.
This play is a picture-perfect example of why you should take sack numbers only half-seriously. The QB hurry by Greenard blows the play up, and this is not to take away the work down by the two other guys who will get credited with the half sack.
The Miami LT is among the worst ten percent of offensive tackles I have ever seen in a college football game. For 90% of the day he spent lunging right out of his stance at defenders in hopes of engaging in a block. And at no point did Enos give him consistent help. Consistent is the keyword here; half a dozen times he kept a running back in there to chip a defender and release into his route, but at some point, it may be best to provide him with full-time help.
I like any play call that gets the ball to Toney- he's probably our most explosive playmaker since Percy Harvin- but as I will touch on later, this play starts to give us a hint as to why Toney will never touch the ball as much as Percy did on a weekly basis.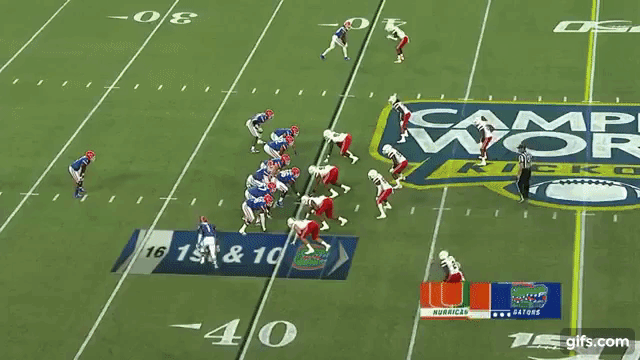 I'm really not a big fan of going shotgun on 4th and one with someone other than Tim Tebow taking the snap, and we did it a couple times in this game. They worked, and at the of the day that is all that matters, but I'm not sure how successful it'll be over the entirety of the season with how this OL run blocks right now. If this is Malik Davis or Perine, I think this play fails.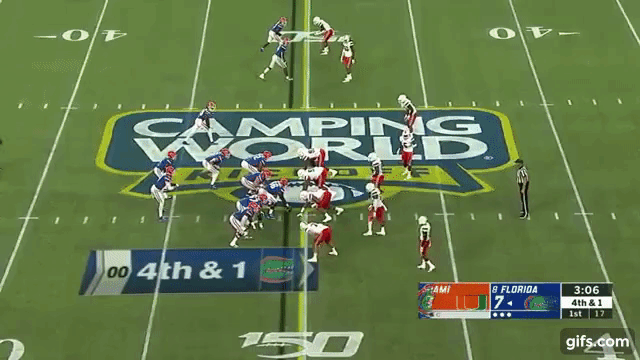 Only Stone Forsythe does a good job on his man here, otherwise, Miami gets through easily. However- for whatever else you want to say about Franks as a quarterback, he brings good size to the table and it makes him difficult to bring down.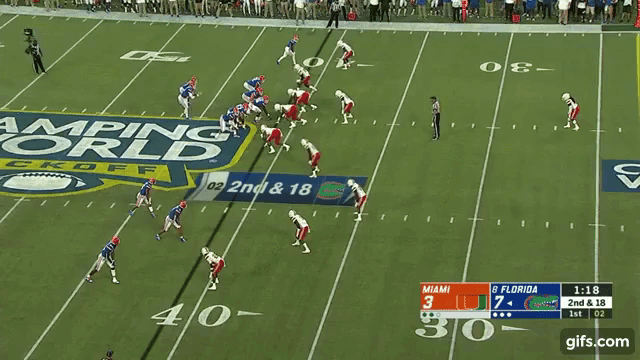 Here is another 4th and short out of the shotgun, but again, the play works, and I believe only one of these Franks keepers failed on the day. Notice Perine with a huge block here, it's obvious from their usage of Perine that he will be the back in these situations on a majority basis.
Frankly, I'm really liking what I see out of the OL to this point considering what we were told they would play like. It's not perfect, but considering the talent level and experience level of this OL, I don't have major complaints right now. Nick Buchanan gets pushed back into the play which forces Perine to quickly sidestep the defender, but it's motivating to see two guards quickly get upfield to the second level.
This play is on Franks. It's an RPO in which he runs it wrong, I think Perine was surprised when Franks tried pulling this ball late, hence his right arm reaching back to grab the ball. Regardless of whether or not Trevon Grimes was open, once the ball is that deep into Perine's gut, it needs to stay there. If Franks pulls without the ball, we live to see another play.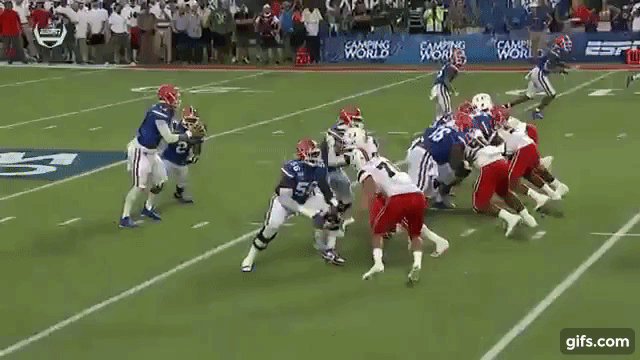 Now Miami has the ball, but that also means that Florida's nasty defensive line is back on the field. Defensive linemen don't always need an impressive set of moves to apply pressure and Louisville transfer Jonathan Greenard is proof of that. Greenard uses his strength and gets into the inside shoulder of the OT and just pushes him back into Williams' face and forces the freshman to panic. Also- this was one of many plays where this defense was extremely close to a turnover.
Here's fumble number two. I don't pin this on Franks; I think Davis was looking to run before he caught the ball and it's as straight forward as that. The pitch isn't bad, the way Franks sticks the ball out in front of him to no one is how the QBs are taught the run the option by this coaching staff, so I don't see anything here that makes me believe Franks was at fault.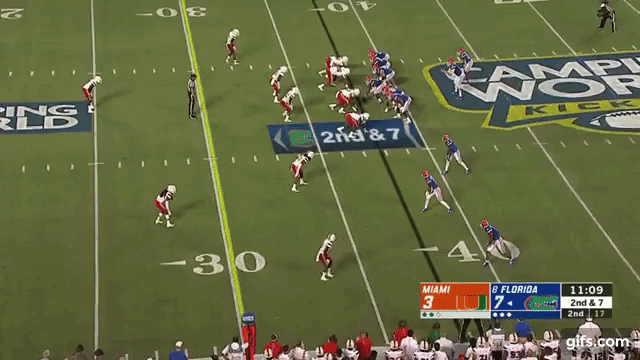 In review of this play, I feel like we just had the wrong call vs what Miami called and for once, their OL blocked for it well. Stiner missed a tackle that would have kept this to a 11 or 12 yard gain. I had a premonition about the safeties being shaky tacklers and this game doesn't make me feel as if I was led wrongly in that regard.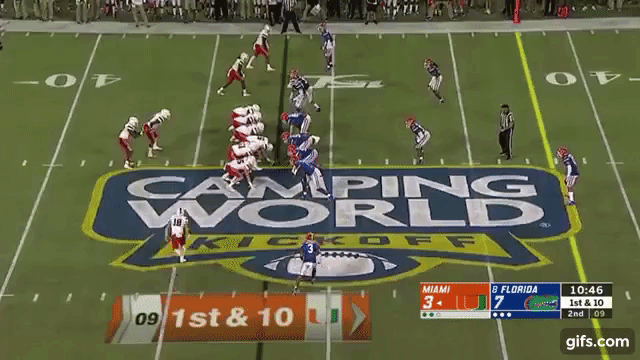 This play was weird. The guard pulls, RB offset becomes the lead blocker for the wildcat here, Tate Martell's motion does enough to keep both UF edge defenders crashing down. At the perfect time, the lone linebacker off ball gets doubled by UM creating a big lane for the RB. To me, this was a combination of being well blocked by Miami and a poor call by Grantham.
Nothing crazy here. We finally see Greenard getting chipped by a RB, the linebackers are also an issue in terms of their ability to make tackles on their own. This won't be tested again until Kentucky, but between now and then, the linebacker group has some improvements to make.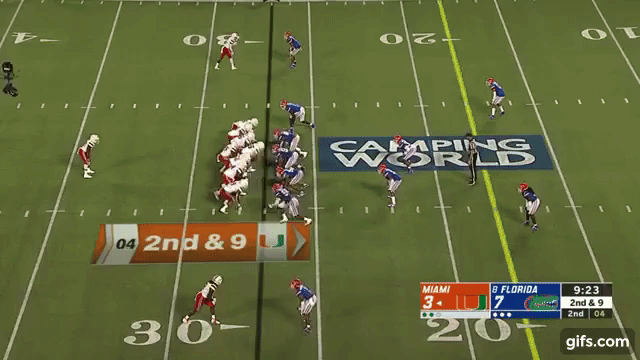 Miami's offensive line struggled all game when Grantham showed this look. You have six defenders that are at the line of scrimmage as potential pass rushers and as the Miami WR is pointing out, you have to take into consideration the DB (Shawn Davis) coming off the edge. That is seven defenders in a blitz heavy scheme that Miami has to account for.
And they did a poor job.
When I talk about how well the OL played in this game from an overall point of view, despite the issues in run blocking, this is mostly what I mean. This is a nice, clean pocket for Franks. This pocket also results in a dump down to Perine. I need all-22 in my life so I can see if that was the result of bad QB play or Miami not allowing anyone to get open.
This OL really does look promising in review. This play goes for a first down, if not much more if not for the TE being put on a DE here and he lets the DE get up field far enough to force Perine to sidestep the defender and lose his forward momentum, he ends up losing his balance and only gains a few yards. This was the case quite a bit on the day, four or five guys doing their job and one ruining the play for the rest of the offense.
And we see the play in action.
On this play, Franks quickly decides to dump the ball down to his RB despite there being two better options on what I believe is a mesh concept. Toney and Krull are both open here. The defender in front of Toney is blitzing, throw it over him and you're fine. The defender in front of Krull has his eyes shifting to Perine and his momentum is carrying him that direction, as is the corner.
Pitts comes open late here but I still would put him behind Toney and Krull in terms of options here. Poor play by Franks.
This defense has yet to successfully defend a screen to a WR. This set of DBs is not exactly great at it. I've always thought Marco Wilson was a physical corner, but, well, he doesn't look it on this new play. Marco and Dean get blocked out of the play and Stiner and Jeawon Taylor miss tackles.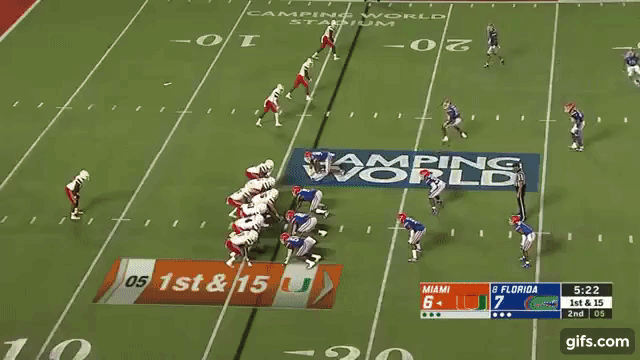 Dean might legitimately push for a seven sack season this year from that hybrid position. He is very athletic and extremely physical for a corner. Greenard and Dean get the sack here, Miami doesn't help their cause by letting Zuniga come in unblocked by anyone on the OL.
Finally we get a play where Florida's defense plays the screen well, we see Miller's speed and an actual sign for a moment of someone on our defense tackling someone without needing three other guys to assist him.
Our first sign of third and Grantham here as Miami converts a 3rd and long with two safeties deciding they needed to cover one man, allowing the underneath man to get wide open vs. the zone.
Having just mentioned third and Grantham: his blitz packages are a blast to watch. Among other things, Dean is going to be quite a weapon off the edge. He bowls over the RB, it's weird to see a DB on a RB become this much of a mismatch, but Dean has been unblockable by the RB in this game and he has been a huge mismatch for Miami when he comes on a blitz.
Ventrell Miller plows straight up the middle and gets the sack here. Grantham feels much more confident about utilizing Miller in this role than Reese, I believe Reese will need to become more reliable in terms of blitz schemes so it doesn't make Florida easier to scheme for.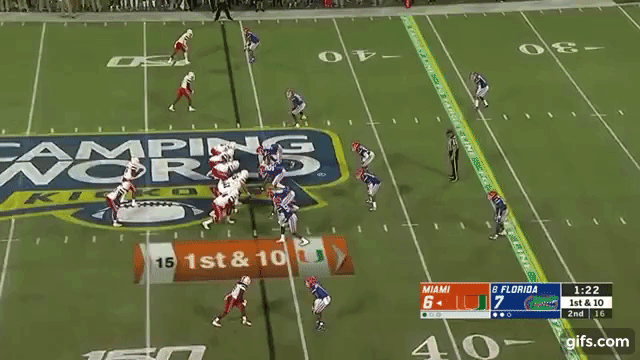 A better view of how physical Dean is, he seeks out contact on the RB.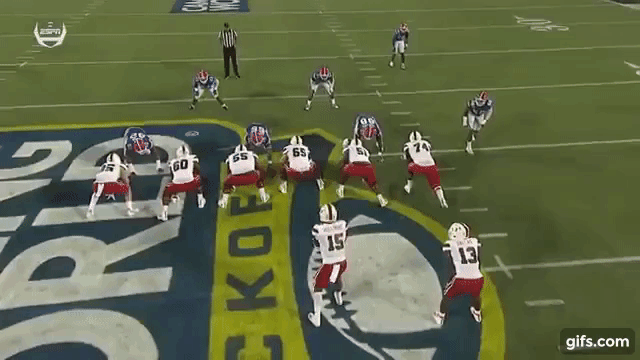 This is a play to forget. Kyree Campbell misses, CJ Henderson misses and James Houston misses. And what makes this so disturbing is that generally speaking, these are three of Florida's better tacklers.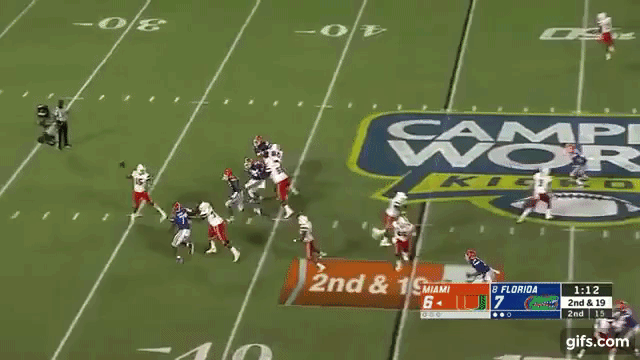 Meanwhile, Greenard is held badly. That's why Florida finished with ten sacks and not eleven. For all the Gators did wrong in this game, their defensive line absolutely feasted on the Hurricanes' offensive line.
Let's call a spade a spade. Jeawon Taylor has a lot of work to do as a safety, and the scouting site Pro Football Focus (PFF) agrees with me here in terms of how lowly they graded him on the day. I mean, this simply can't happen. Ever. You have to make this tackle and hope your defense can make a goal line stand like they did against Georgia last year.
After the touchdown, Florida attempts to run a two minute drill. Van Jefferson smokes his CB at the LOS and this should be a catch and run out of bounds. But a bad throw by Franks here ruins that. It's not a perfect pocket, but despite late pressure, I don't believe they were the result of this being completely uncatchable.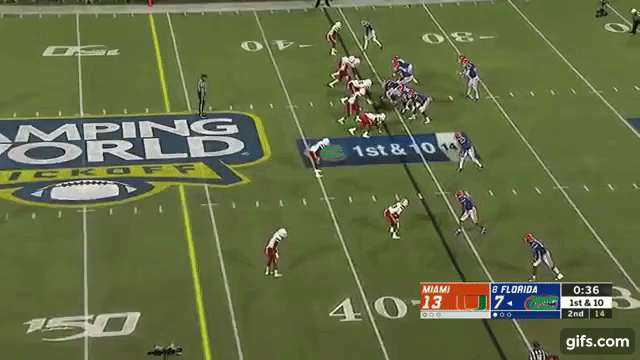 As you can see here, he still has a pretty clean view and no hands in his face as he goes to release.
In live view I thought Franks bailed on the pocket, here I see the pocket is moving for/with him by design. But Franks has such inconsistent internal clock. It's rather irritating to see people argue that he played well when he does things like this. Because while of course he did some nice things, the bad things count too. A hundred bucks says he got dinged in the film room for this by the coaching staff.
At this point, the ball needs to be thrown away. Give yourself a chance to run two or three more plays. Franks ends any chance of that by holding onto the ball and not throwing it away right here with a defender crashing down on him.
And that ends the half- an ugly, sloppy, mistake filled half that saw Miami take a 13-7 lead into the locker room. Stay tuned for my breakdown of the second half tomorrow.