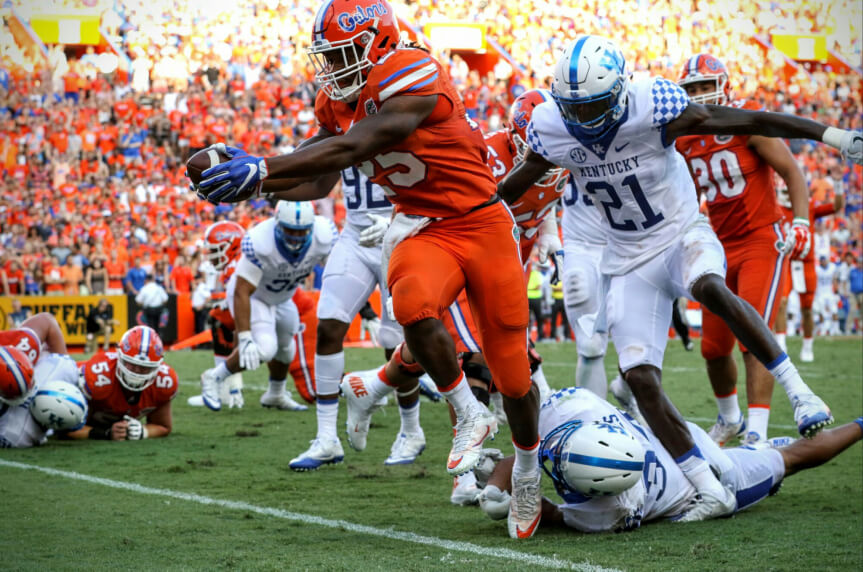 Florida has lost its fifth underclassman from its 2018 team to the NFL Draft- and its second of the day.
Running back Jordan Scarlett announced his departure via instagram and twitter.
Forever Florida 🖤 pic.twitter.com/GHPfJ6qe2b

— Jay Scarlett (@ScarlettFever25) January 2, 2019
It's difficult to project where he'll be taken. The obvious knock against Scarlett is the credit card fiasco in 2017. Many experts thought he should return for his senior year to prove that he was truly past that, while others believed his stock would never be as high as it is now and that that would always be a question, regardless of if he stayed another ten years.
But I'm proud to know Jordan on a semi-personal level, and know people who know him even better, and not a single one has a bad thing to say about his overall character other than that one mistake. Some of the off field incidents that have made headlines are driven by bad people who would do something like it again in a heartbeat, and I'm very much including some of the off field incidents that have been orchestrated by Florida players in that statement. Jordan is the precise inverse of this. And because of this, I can honestly say that some NFL team is going to get a guy with as much natural drive as anybody.
Because Scarlett is a bull of a runner and takes that attitude to everything he does in life. His numbers actually decreased in 2018 from his last full year with the team in 2016, but his abundance of energy and selflessness made him a natural leader on a team that's going to finish higher than any Gator team since Tim Tebow's senior year. And even still, he tallied 776 yards on the ground as well as 84 more through the air in 2018. If he keeps on getting stronger as a pass blocker and his vision as a runner continues to improve as he enters the professional ranks, he's going to be a force to be reckoned with.
That said: while losing him stings, there are viable backups behind him. Even if LaMical Perine goes to the draft as well, Florida is in good hands with Malik Davis and Dameon Pierce. And look for Iverson Clement and NayQuan Wright to make an impact in the backfield as well.
Jordan, it's been an absolute pleasure to watch you in your three year career in Gainesville, and I look forward to seeing what you can do at the next level.