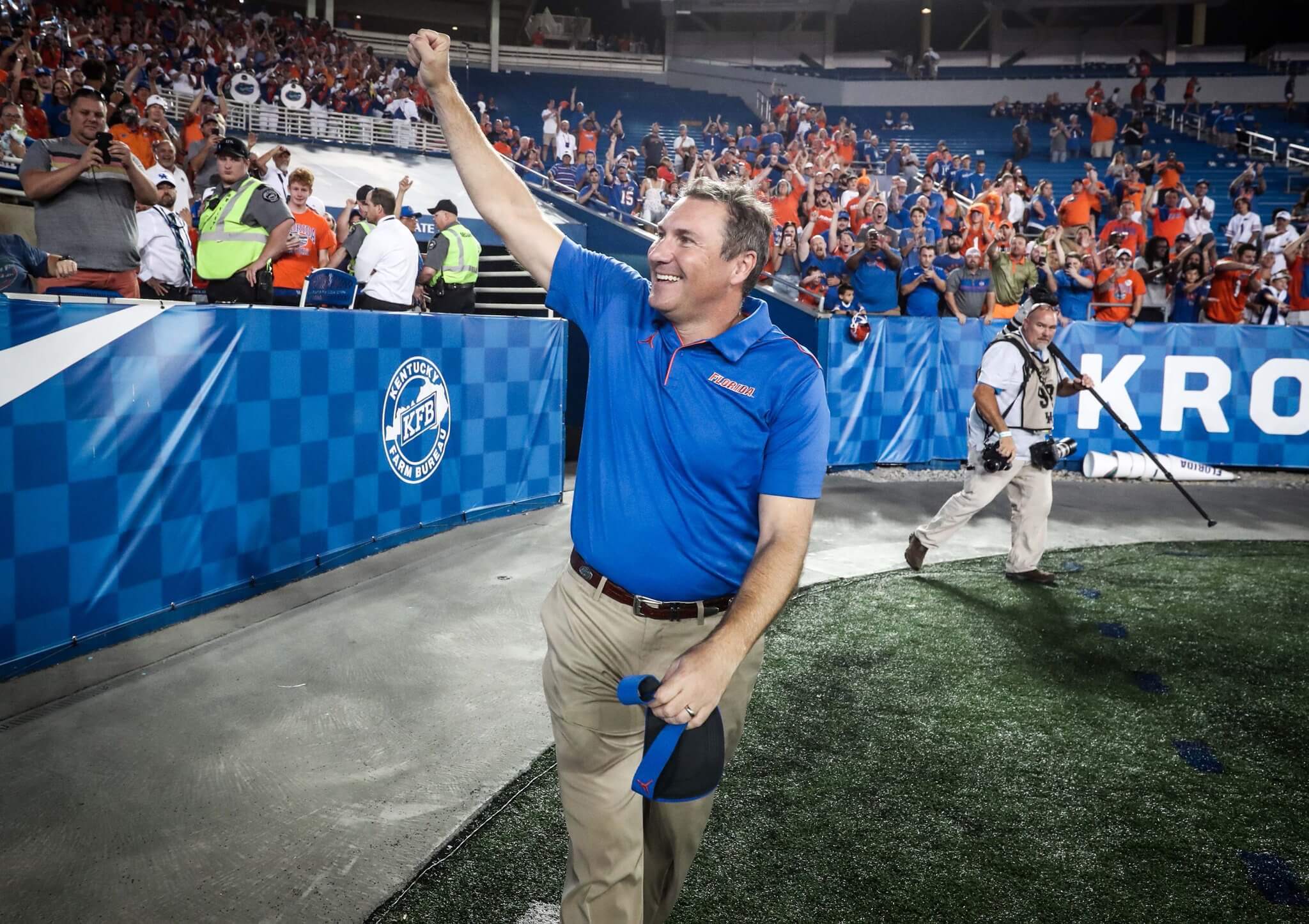 Depending on how much there is to break down, I'm probably going to be making most of these film reviews two parts, just to give everyone a chance to digest what they've read- and also to save your browser  from overloading with all the GIF usage.
Anyway, Florida entered the half trailing Kentucky, 14-7, and honestly, the Gators were lucky it wasn't worse. Thankfully, the Gators picked it up in the second half (somewhat) and were able to eke out a win. Here's how it all went down.
We start the second half with another example of David Reese in pass coverage. I am beginning to catch on to a theme with opposing offenses targeting Florida's linebackers as a way to move the ball since they have so much respect for the corners on this team. Two plays later, Kentucky will complete a crossing route for about 22 yards by finding Reese in coverage.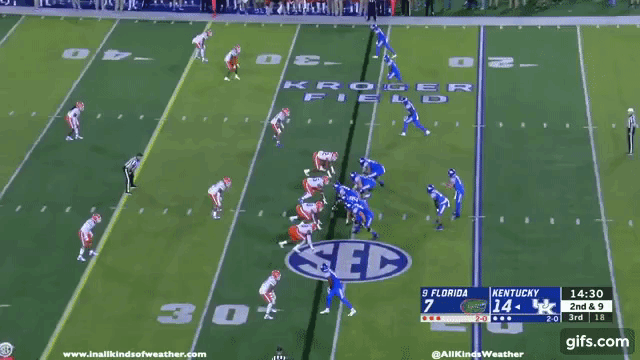 This went for a long gain for Kentucky, not a surprise when you have guys playing defense like this.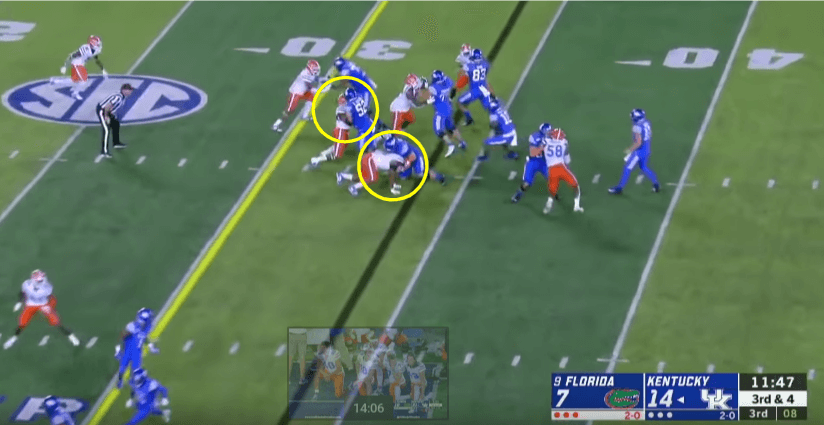 But then, a seismic turn of fortunes: Sawyer Smith is about to make a horrendous mistake. Now, I spent quite a bit of time in the Tenn-Martin review pointing out Slaton, and right here, he is arguably the cause of the interception with the pressure he puts on Smith. This can probably, primarily, be chalked up as a coverage sack, but considering how bad most of our defensive line looked in this game, Slaton sticks out here for not quitting, working to get to Smith who forces a throw that is picked off by Davis.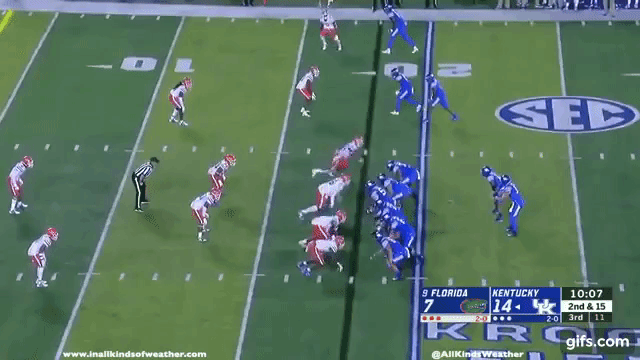 This play drives me bonkers. What a wasted opportunity. I like these kind of play calls on offense, the misdirection work in college more often than not. But this play fails to go for the gain it should have gone for for two reasons, one, I feel like Forsythe should have more aggressively attacked his defender instead of waiting for him, and two, Perine needs to let the block develop. When I first saw this, I thought it was all Perine for the failed play development, but watching it now, I think it's 70/30 poor blocking/impatient running.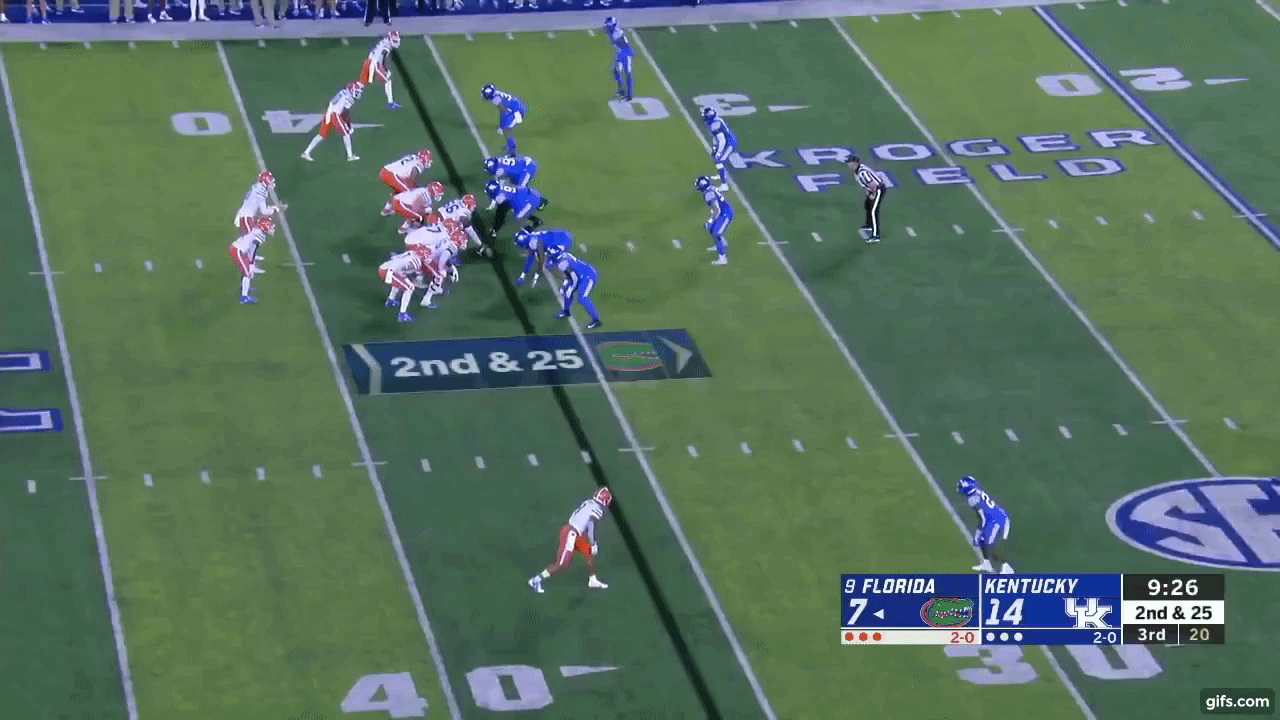 I'm honestly not sure why defensive coordinators don't dial up more stunts vs. Florida's offensive line, it's pretty rare that they can handle it when it's thrown at them. Here's the concept: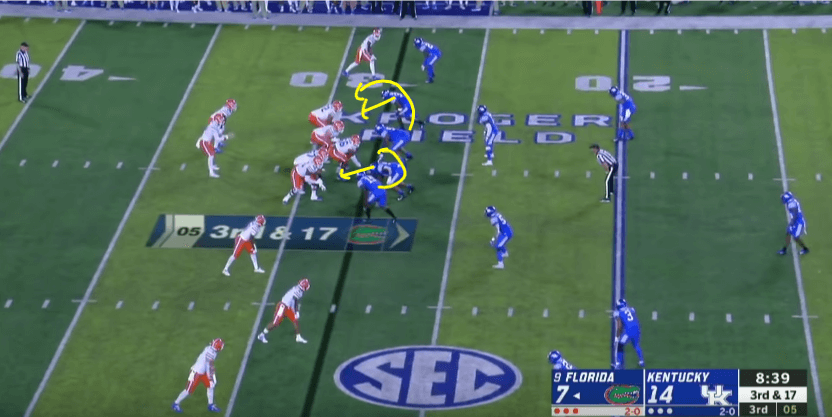 Here's the result: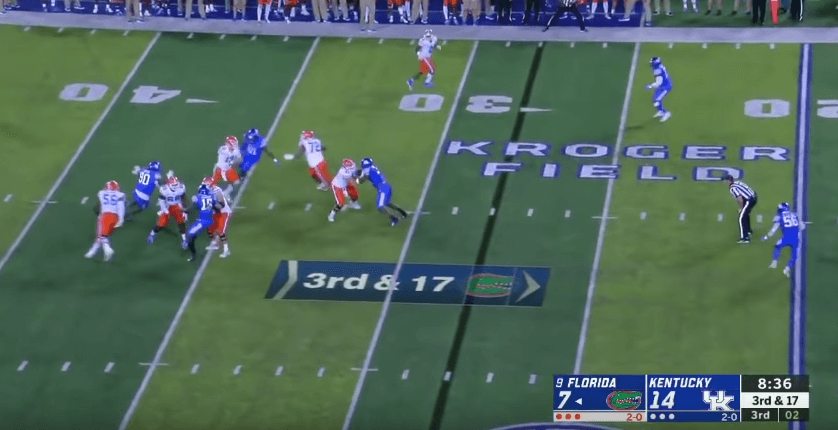 I believe I was a bit too harsh towards Marco Wilson at first watch of this game. Sometimes you can have really good coverage but just not be stronger than the guy you're defending. That's all I see in this case, Marco is in great position, just isn't strong enough.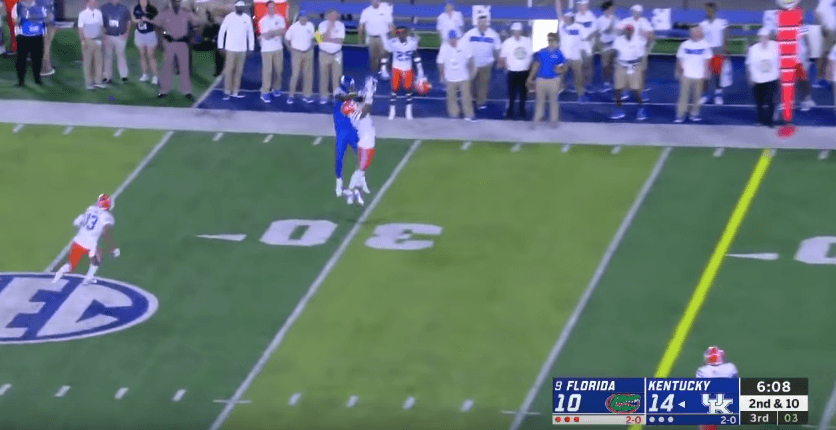 Florida's safeties really are not good in coverage. I get that this is probably the case for most safeties in college football, as most safeties don't play for a mostly aggressive coordinator who will confidently put his safeties on an island. There is an obvious size mismatch here, and kudos to Kentucky and Smith for taking advantage of it, and Brad Stewart- remember, man coverage is not his strength- gets burned.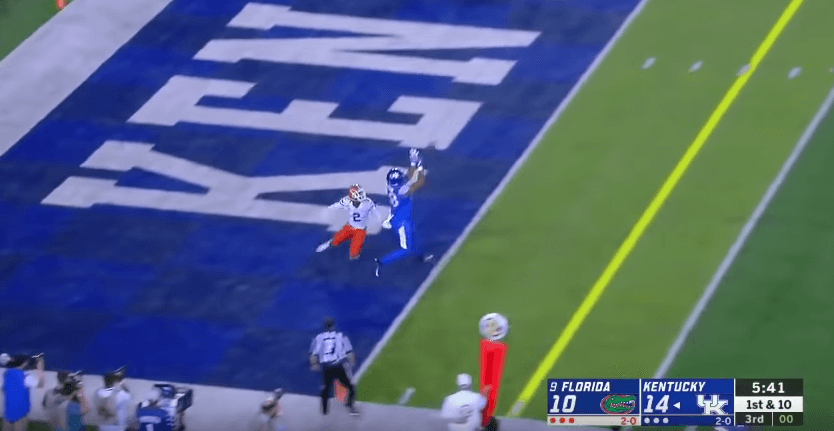 I'm not going to sit here and pretend to know why the defense shut out Kentucky after the Franks injury, I'm not going to create conspiracy theories. But facts are facts; something lit into this team and made them play better afterward. It's possible it was as simple as a coaching adjustment that took them until this point in the game to spot. Anyway, this is the play after the 4th down play that knocked Franks out. This is Greenard's best rep of the day, the defensive line in general has the best get off they've had of the day here.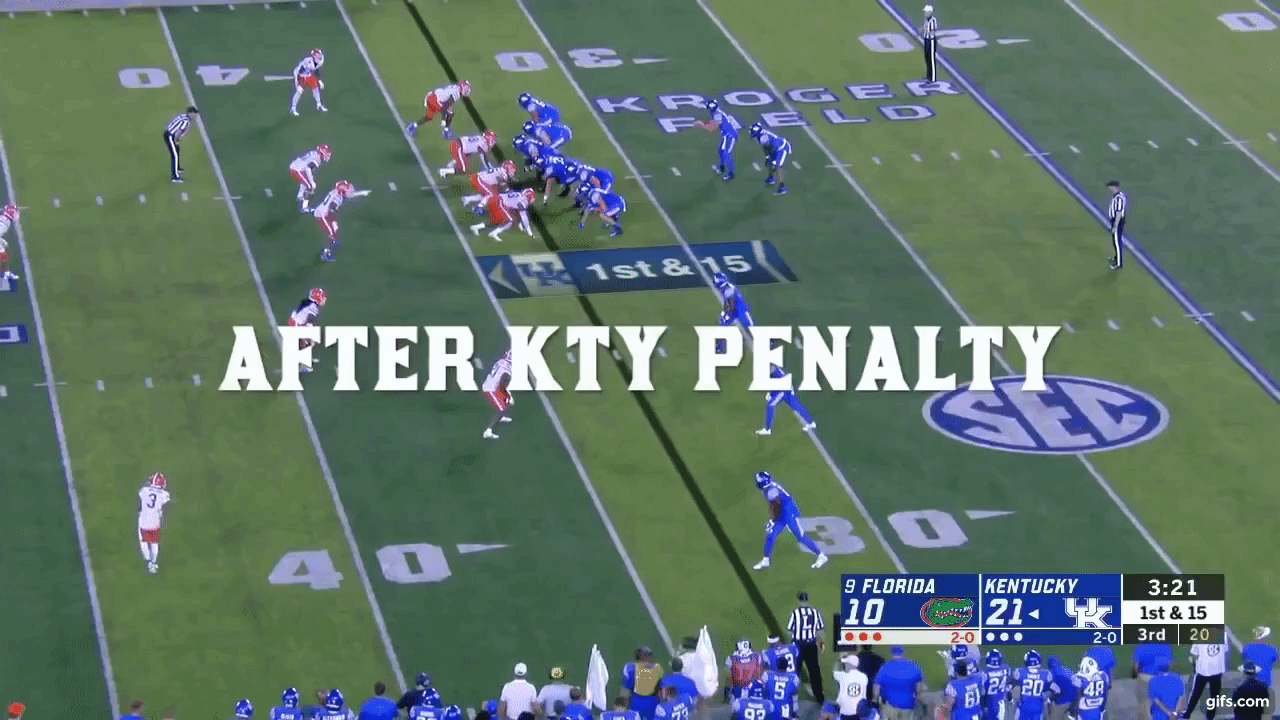 This next play was a unit success for the most part, but Slaton absolutely shuts off the gap this run is supposed to go to. He swims out of the way of the C, takes on the 2nd block from the LG and ends up falling down in front of the RB, and as a 350 pound DT, the RB just runs into a wall, it makes it easier for the rest of the defense to do their job. Three games in, Slaton is becoming the guy I wanted him to become when he was recruited, a pure NT who can't be blocked by one guy and shuts down 1 to 2 gaps by himself. And while I'm handing out praise, Reese also plays this well. Again, unit gets the credit, but sometimes it takes 1 guy to help everyone else thrive.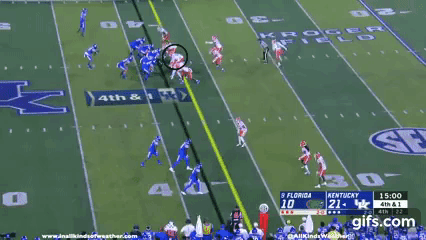 I like that we showed faith in Trask to throw the ball early and not just start off his time as the new starter with handing the ball off. But Kentucky goes to zone early and often vs. Trask, and that makes this throw easy for Trask. Quick decision making helps, but easy throw for his first completion.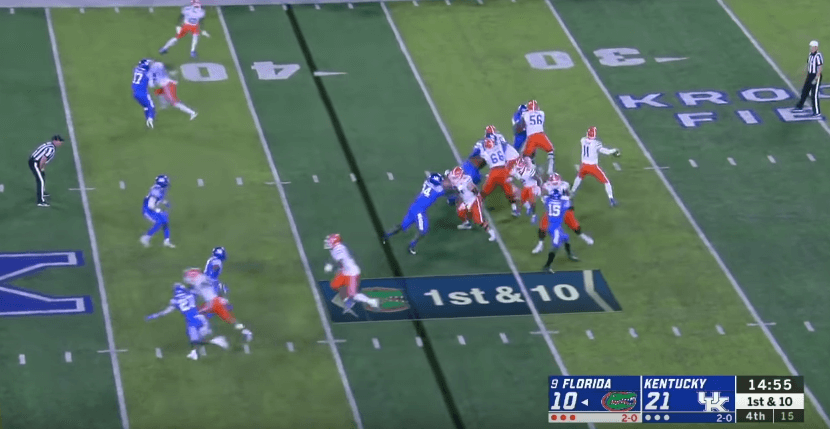 Kentucky goes to man the next play, forces Trask to go through his progressions. Test passed, he does so nicely. Also, good job by Josh Hammond to come back to Trask and give him a target to throw to here. And good ball placement by Trask.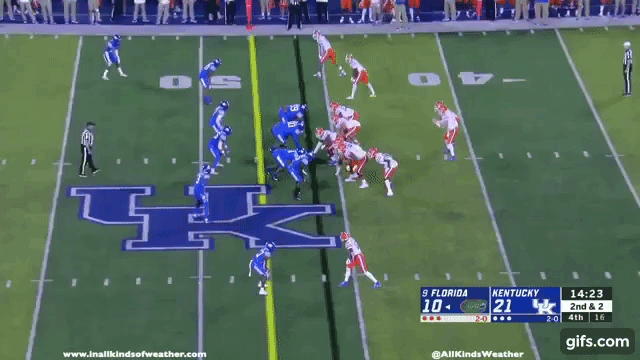 Next completion, another zone, easy throw as there isn't a defender anywhere near Van Jefferson.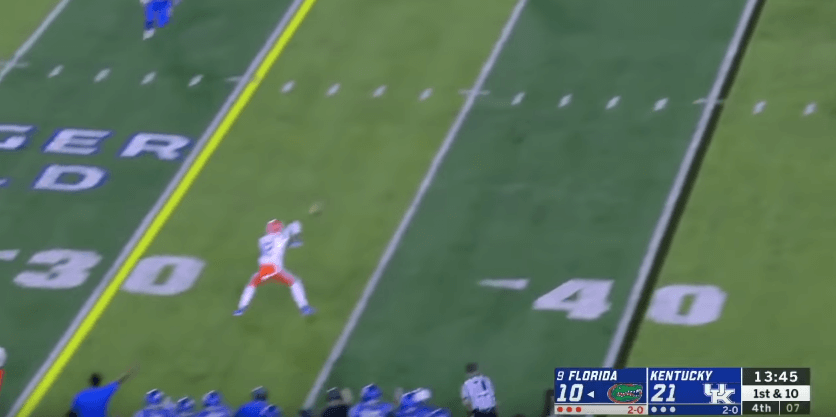 This play featured a post route vs. man coverage, but in this case, Kentucky is giving some big time cushion and makes the throw easy for Trask. But again, even if the throws are easy, Trask is making quick reads and not holding onto the ball for long.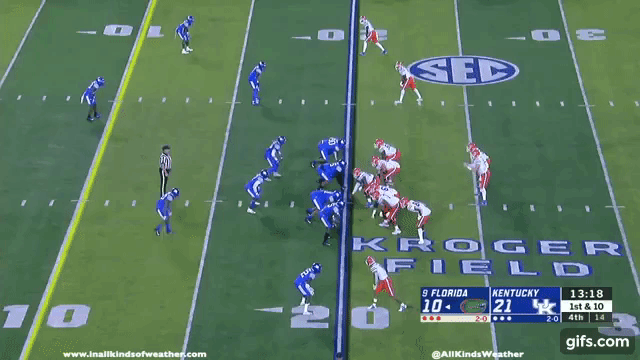 The first mistake by Trask is on this play, he's got two options here and he goes for the much more difficult throw back to the opposite side of the field, easy completion circled here. But in this case, no harm, no foul.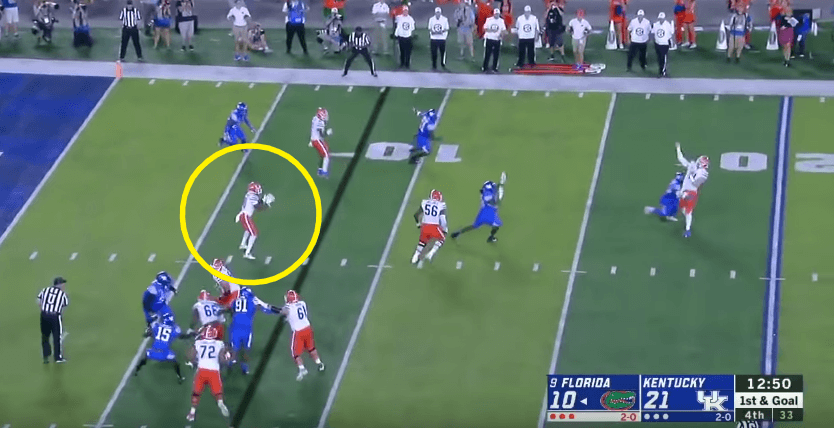 I believe this is another off coverage man call by Kentucky. Another super simple throw for Trask on the out route.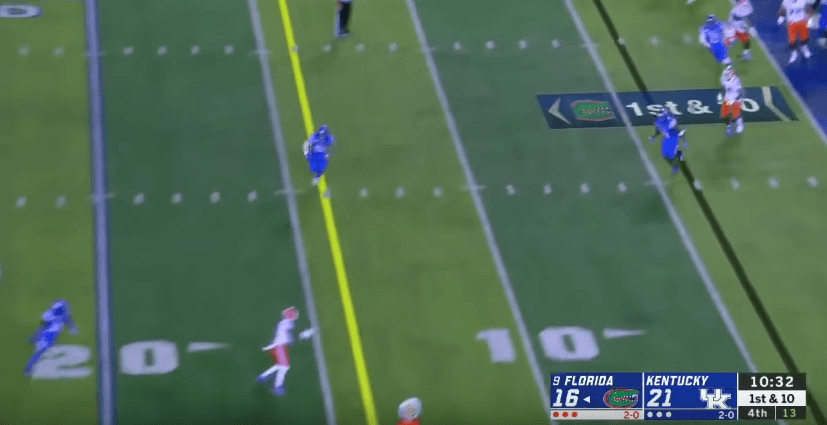 Next throw into a zone again.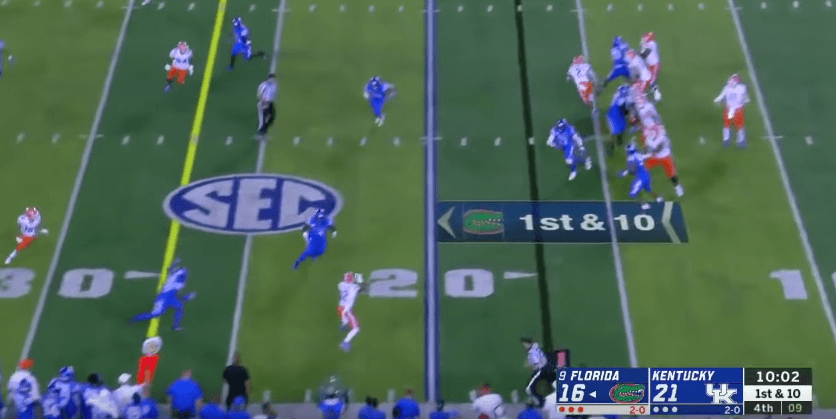 More zone by Kentucky, but this is my second favorite throw from Trask on the night (behind the throw to the sideline vs. man from above). He spots the zone, he doesn't take long to find the weak spot, Freddie Swain does a good job settling in the soft spot of the zone, and Trask drops this perfectly where it needs to be.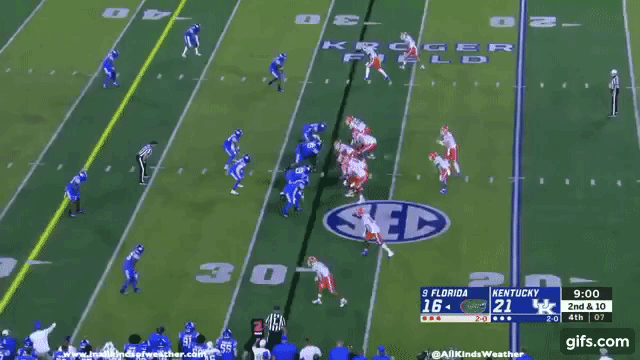 The right side of our line is noticeably weaker than the left side of our line. Bleich misses badly here and allows the DT to make the tackle for loss.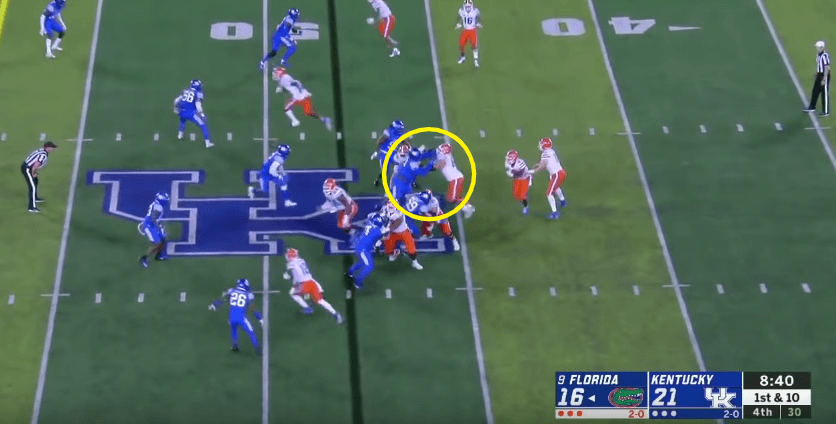 Very next play Bleich gets shoved right back into Trask's face. Trask shouldn't have thrown this ball by the way, nearly gets picked, or maybe it's better to put the blame on Bleich for allowing the ball to almost get picked as Trask can't properly step into the throw. Takes power off the ball and it's under thrown.
I should probably give a kudos to the OL for a clean pocket when they provide one more often, they're much better in this aspect of the game than run blocking,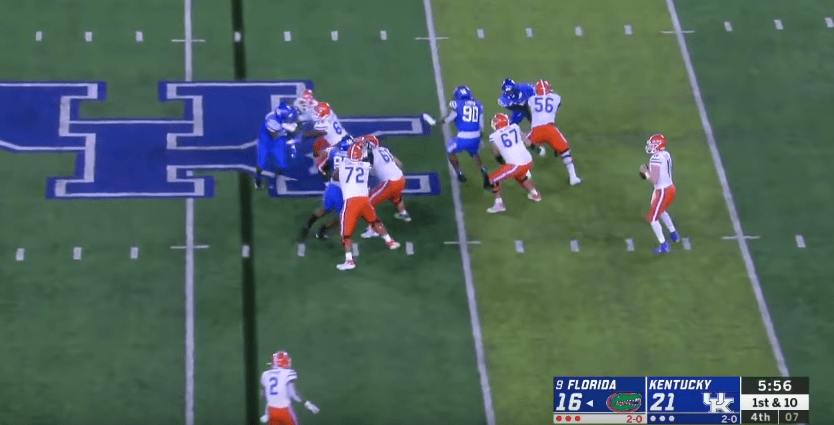 Very next play, RT Jean Delance is caught twisting and reaching again. I don't want to pick on one guy, but it's getting frustrating how many plays he blows by himself.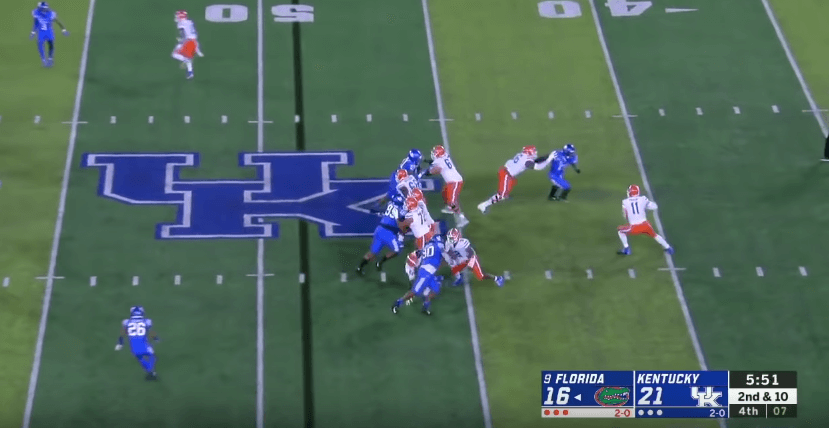 More zone by Kentucky, but again, great job by Trask standing in the pocket vs. a collapsing right side by, you guess it, Delance, and making the throw into the back of the zone. But again, Delance just gets beat here and it nearly turns into a sack. Instead, it turned out to be perhaps the play of the night: Trask finds Pitts, who bounces on several tackles and drags multiple defenders down o the six yard line.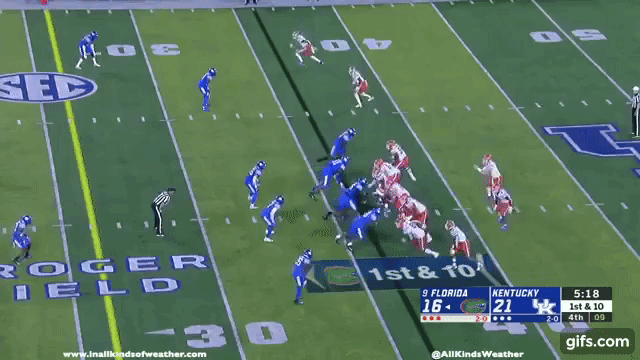 Seems as if the biggest lanes this offensive line carves out tend to come on these QB draws from the spread. Brett Heggie wipes out America's newest pariah Kash Daniel on the cut block, which allows Trask to easily trot in for the touchdown. Of course, that's not the case all the time, as the very next play they dialed up the same play for the 2 point conversion and it failed, but more often then not, these plays work really well.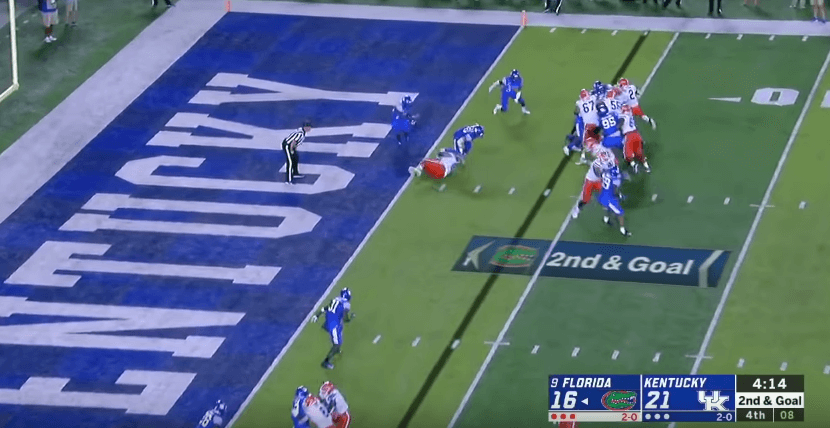 Jonathan Greenard really seemed to wake up in the 2nd half, nice QB hurry here. Using sacks as the sole way to judge defensive linemen is a bad way to judge the position, creating havoc can be just as good sometimes. Greenard does just enough to force Smith to throw the ball early and it's inaccurate.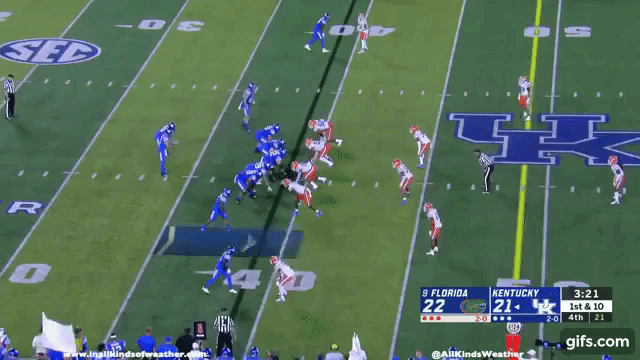 Greenard again here with the TFL, just having a great 4th quarter now. Unstoppable motor and understands he can make plays without racking up sacks.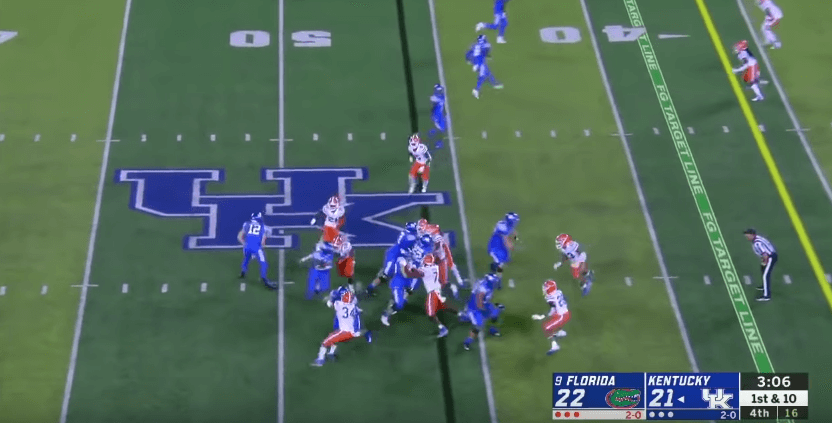 Skip forward a few plays: now it's really crunch time. Kentucky has driven down inside the Gators' red zone and faced a critical third and two. This is arguably the play of the game for the defense, because Kentucky sent out the FG kicker after this play and he missed it. In on the tackle is Jeremiah Moon, Marco Wilson and Lacedrick Brunson. Middle of our D actually gets pushed back a bit here, the three I named do a good job of fighting through the garbage and keeping the RB from getting a first here. Not sure why Slaton wasn't in on this play at NT.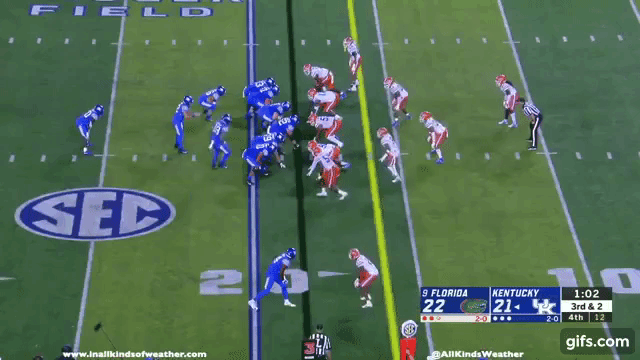 And now, for the clincher. On Florida's for-good-measure touchdown in the final minute, I liked the play call on the WR motion and sweep to Hammond in this spot, but thankfully Kentucky helped by playing it poorly. I've mentioned that our tight ends are not good blockers, and right here, as I've shown, both Krull and Pitts don't hold onto their blocks for very long. Unfortunately for Kentucky, Hammond is able to beat these defenders anyway and take off for a 76 yard touchdown run- which accounted for well over half of the Gators' rushing yards on the night.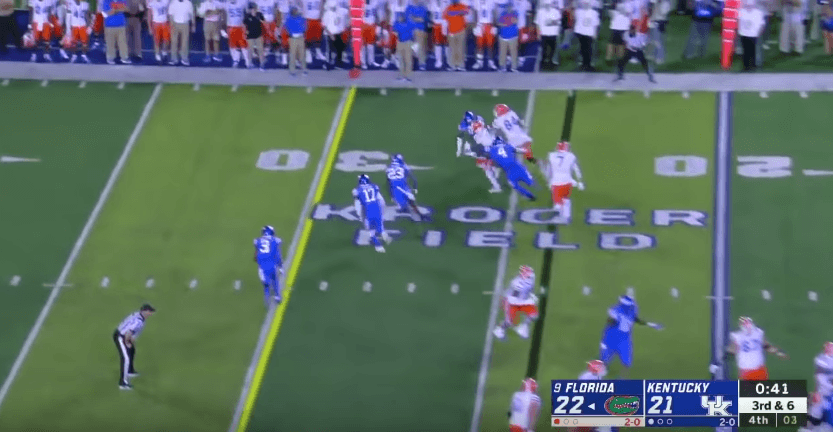 Upon a second run through of the film, I don't actually think there was anything else Marco Wilson could have done better- he really couldn't have covered any better- so I owe him an apology. He simply got beat by a player making a great play. Now, back to the present: Kentucky had one last gasp in them, but there really isn't anything to gain from breaking it down- it was a desperation heave with no real planning involved, and Kaiir Elam picked it off to secure the win.
Conclusion
I'm not as negative as I was Saturday after going through film review. That's not to say I'm booming with confidence, there are still too many problems parts on both sides of the defense to make me think Florida will beat LSU or UGA.
Primarily is the offensive line. I would label is as average right now, they are bad in run blocking but more often than not, really good in their pass protection as long as they aren't facing stunts. The running game is non-existent right now and I don't see it changing with Trask as the QB. If Emory somehow ends up taking over for Trask, maybe I can see things changing with Emorys legs taking over running the ball. But in terms of purely handing the ball off to a RB? I'm not sold anything is going to change at any point this year. Florida fans have gone through this in the past, most recently in 2016 (113th in rushing), and those bad running games under McElwain and Muschamp never just suddenly got it. I do feel strongly that minus the yards coming through broken plays by the defense or by the feet of Emory, we're going to be stuck with this running game all year long. And once again, Delance was flat out bad enough to raise the question of whether or not his backup is bad, or if inexperience is the reason for him not gaining some snaps over Delance. Delance is a problem at RT and I would be shocked if he just suddenly figured it out this year.
This puts a lot of pressure on Mullen and company to get more creative in their play calling. You saw it on the Hammond run this week, a week ago vs UT-Martin you got it with some various WR sweeps with Copeland. And speaking of Copeland, non-factor in this game. I get that he is a freshman, but after quickly utilizing him vs UT-Martin, I was hoping the staff would have some package plays for him vs Kentucky, that wasn't the case. And I know this won't sit well with many fans, but considering how poor the staff got Toney involved as a whole, I don't believe blaming the QB (which some will do) is the best way to view Copelands lack of touches in this game. I'm starting to grow concerned about Mullen being able to get play makers the ball on a consistent basis.
Finally on offense, Trask. It's hard to criticize anything Trask did in this game coming in down 11 points with no run game and he looked superb. Yes, I do believe we should keep some context in play in terms of the soft coverage Kentucky ran. But that doesn't take anything away from Trask, he found the holes in the zone, as did the WRs, he put the ball where it needed to and that's ultimately all that matters.
Defensively, the defensive line got pushed around for most of the game, even though Kentucky didn't rack up a lot of rushing yards. I thought Slaton should have played way more in this game and I'm not quite sure what the deal is where Slaton, as big and powerful as he is, and quick as well, continues to get treated as a third string DT. Maybe it's a motivation thing by Grantham, I don't know, but I would like to see him start going into Auburn or I think we're going to have a rough time with some of these OLs.
Kentucky's offensive line ranked 1st in PFFs pass blocking efficiency metric, so despite the fact that they may not have the talent that UGA does across the OL, they're better. We won't face a better OL all year in terms of pass blocking, though UGA has Kentucky beat from a talent perspective. This is a great game to learn from in terms of the pass rushing only racking up one sack (which came on a busted play, otherwise the line would have netted zero on the day). The exotic blitz schemes that we saw from Grantham vs Miami didn't pick up until the 2nd half and even then they mostly were straight to the point in terms of it just being a DB off the edge. This stuck out to me because Florida played a backup QB and was expecting a lot of different looks from Grantham. His inconsistency as a play caller became a big issue during the middle 4 games last year and it seems like it's already an issue this season. We'll see what he calls vs Tennessee, but my confidence in Florida winning anything of value under Grantham is somewhere between slim and none right now.
Marco Wilson was excellent in this game in pass coverage. You can make an argument that the TD catch he allowed wasn't a TD, it looked pretty clear to most people that the ball hit the ground. The 2nd catch he allowed was more of the same in terms of great coverage, stronger WR made the play.
Overall, Florida won. It was ugly, but reeling off 19 unanswered points with your backup QB should motivate people that this team isn't going to quit when things get tough. The last time Florida comfortably beat Kentucky was in 2013, the last two games had a score of 14-9 and 28-27. Kentucky is not the bottom barrel cupcake they used to be prior to Stoops taking over, they are, in my opinion, easily the third place team east now. Bill Connelly, the creator of SP+, labeled Kentucky as a top 40 team and registered this Florida win as a good win. Remember that when box score watchers try and tell you Florida barely beat a "bad" or "cupcake" Kentucky program.