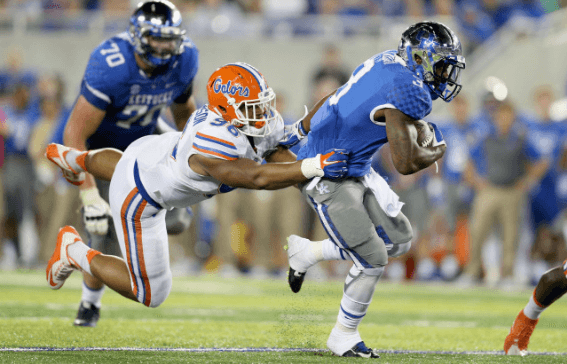 1) Luke Del Rio throws for over 250 yards for the second straight week. Kentucky's secondary just won't be able to match up against Antonio Callaway, Josh Hammond, Freddie Swain and Brandon Powell. With more of the playbook likely at his disposal, the only thing standing in Del Rio's way of this feat is his offensive line.
2) Kentucky will force a turnover. The Gators neither turned it over nor forced a turnover in their opener against UMass. With "it's going to happen sooner or later" as my primary logic for this, I say it happens on Saturday.
3) Kentucky will be held to under 75 yards rushing. The Wildcats have a solid tandem of backs in Boom Williams and Jojo Kemp, but neither will be able to do much tomorrow. The Cats don't quite have the offensive line to stop a nasty Jarrad Davis-led Gator front seven, and so Kentucky's backs are in for a rough day.
4) Florida will either directly or indirectly score a touchdown on defense or special teams. By indirectly, I mean a kick/punt return that's returned into Kentucky territory or a fumble/interception that's forced in Kentucky territory. Self explanatory.
5) Eddy Piniero will make another field goal of 40+ yards. All three of Pineiro's field goals against UMass were in excess of 40 yards, so here's betting he makes another one.
6) Drew Barker will throw for under 200 yards. The Wildcats don't really have the personnel to challenge Florida's secondary, especially now that Jalen Tabor is back. He'll make some plays with his arm here and there, possibly a big one or two to Garrett Johnson, but it's an overall gloomy forecast for the Wildcats' passing attack.
7) Florida will trail at some point in the game. Just because the Gators have vastly superior talent doesn't mean they aren't invulnerable in this game, and so it wouldn't shock me if Kentucky were to grab a quick 3-0 or even 7-0 lead. Or if they led something like 14-10 at halftime.
8) Kentucky will go three and out at least four times. See predictions #3 and #6.
9) Multiple Gator running backs will rush for 80+ yards. Jordan Scarlett, Jordan Cronkrite, Mark Thompson, LaMical Perine. Pick any two. Florida's offensive line can't possibly be any worse than it was last week, they'll play angry against a similarly weak UMass defense, and the Gator tailbacks will reap the rewards.
10) Florida wins semi-comfortably, but not before getting an early scare. I lost a ton of faith in the Gators' ability to blow inferior teams out of the water after last week's mess, so I can't honestly predict them to do it until they do. UMass- a MAC team that returned just seven of 21 starters from a team that was 3-9 last year- is about as bad as they come. But I also think the Gators will make that week one to week two jump that most teams make, and after struggling- and possibly trailing- early on, they'll stomp the kitties for their 30th straight win in the series.
Projection: Florida 31, Kentucky 13