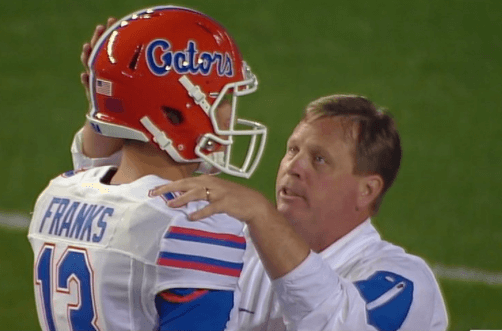 There's an unparalleled amount of pressure that comes with the hype of being such a highly touted quarterback prospect at the University of Florida. I get that.
For starters, playing quarterback at any SEC school is quite a responsibility. You're playing at the most heavily scrutinized position with the largest share of responsibility at the highest level of college football. Now multiply that a few times over for Florida. With the shadows of Tim Tebow, Rex Grossman, Danny Wuerffel, and Steve Spurrier still looming, and even with the recent success of Will Grier, the standard for success of a Gator QB is something only the toughest individuals can match.
Look at the last two "highly touted" quarterbacks that came through Gainesville. There's no question John Brantley had talent. He broke Tim Tebow's record for passing touchdowns in high school, and came to Gainesville with a promising rocket of an arm. I can still remember feeling hyped up about all the touchdowns he was going to throw back in the summer of 2010. Jeff Driskel arrived with similar hype, thanks to a fast set of wheels and a gun of his own, and I can still remember daydreaming about him dominating defenses both through the air and on the ground en route to glory. That, um, never happened- until he transferred to Louisiana Tech to finish his career.
Point is, natural talent wasn't the issue with either of them. Both came into Gainesville with undeniable physical talent. Both garnered nearly identical "with time, and hard work, they'll be stars," scouting reports. Both showed off that physical talent you want in your team's quarterback throughout high school and even on occasion while wearing orange and blue. But neither of them could put it all together consistently enough to become a star. Whether it was the pressure, higher level of competition, or a combination of both, neither even came close to matching their lofty expectations.
Cue 2016, and Feleipe Franks. Early on, I see a lot of the same things playing out with Jim McElwain's first big time quarterback recruit.
At this point, "he's talented but raw," and "he's got a high ceiling but has a ways to go to get there," sound eerily familiar. I'm not at all saying Franks will be a bust, but, well, we've heard those same descriptions of Gator quarterbacks before. What I am saying is that just because he's got a cannon for an arm and nice touch on certain balls doesn't mean he'll turn into a Heisman candidate.
Let's also not forget, there's a distinct- if fairly unlikely- possibility that Franks will never take a (meaningful) snap in a Gator uniform even if he does make strides. The scenario would play out something like this: Luke Del Rio starts and plays throughout the 2016 season, incoming freshman Jake Allen comes in and beats everybody out in 2017, and holds onto the starting job for all four years. While clearly not ideal for Franks, it's entirely possible, because Del Rio looks to be miles ahead of Franks right now, and Allen looks a lot more college ready as a high school junior than Franks does as a college freshman.
The Gators' spring game only further legitimized this possibility.
Franks ended the game on a positive note, but not before making some decisions that one has no choice but to refer to in negative terms. The first may have been the most indicative of where he stands right now. Franks tried to force a ball into a tiny window to Mark Herndon on a wheel route, telegraphed it, and threw a butterfly behind him that Duke Dawson stepped in front of and returned some 20 yards into the red zone. Franks has to learn that sometimes, you have to just eat the ball or throw it into the booster section. There are times where you have to cut your losses, and while incomplete passes or even getting sacked don't help your offense, it's better than giving your opponent the ball deep in your territory.
The other big mistake Franks made was a pick six later in the game, also courtesy of Duke Dawson. This one was due to him aiming a ball toward Alvin Bailey on a slant, but failing to recognize that Dawson had beat him to the inside. Dawson then circled back around and took it the house; that part isn't really Franks' fault, but then again if he hadn't tried to throw a ball to a spot he shouldn't have, that would have been off the table.
Both plays show that Franks has trouble going through his progressions, which is a must at the SEC level. It's always great if your primary receiver is wide open, but on any given passing play, there are at least three and up to five of your teammates who have been given routes to run and therefore are options for you to throw the ball to. Obviously, your top target isn't always going to be open, and that's why you as a quarterback need to be able to consider throwing the ball to at least three different teammates before trying to improvise.
It's also not like Franks has to go back to QB school just to be a functional quarterback; the road to improvement is gradual. The way I see it, Franks could be greatly improved just by making one small adjustment- if he'd take his check down option more. Your running backs are the best ball carriers on the field, so why not give it to them? And as an additional plus, you as a quarterback get the confidence of having completed a pass and have a better shot of getting into a rhythm. True, that's generally one of the later options when going through progressions, but it can be an easy way to pick up 15 yards.
There are some mechanical issues, too. Franks still sort of leans back on some throws, as opposed to having his momentum going forward as he throws. His footwork is pretty good on some throws, but awkward and rather hurried on others. And his release could be shortened just a little bit. These things are coachable through methods other than just forcing him to figure it out by trial and error/trial by fire, which makes me slightly more confident that they'll be improved on. But by the same token, it's still that much more work Franks has in front of him.
Now again, by no means am I saying Franks will be a bust just because of a bad spring game as an early enrollee freshman. He does have the natural talent that, when paired with a nuanced understanding of the offense and some experience, can lead a team to a championship. So I'm not going to say the spring game is a type of foreshadowing for his career, because while it certainly could be, it could also be what fuels him to become a Gator legend.
Let's just call it a wake-up call.