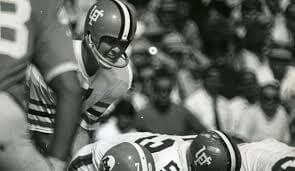 One of the original Gator greats has passed away.
Former quarterback John Reaves has died at age 67 in his Tampa home. He led the Gators from 1969 to 1971, became an All-American and guided Florida to a 9-1-1 record in his sophomore year. After graduating, Reaves enjoyed a 17 year professional career, 14 of which were in the NFL and three for the Tampa Bay Bandits in the now defunct USFL under a man named Steve Spurrier.
Reaves went on to become an assistant coach at Florida under Spurrier from 1990-1994, working closely with quarterback Shane Matthews in his first three years and helping the Gators win three SEC Championships. He then coached at South Carolina from 1995-97.
But as Spurrier himself said, Reaves had some demons. He was arrested in 2008 on gun and drug possession charges, and entered rehab the following year. Nevertheless, Reaves was remembered by all who knew him as a great man with a great attitude.
The cause of death is unknown at this time.
Reaves was perhaps best known for being the QB during the famous "Florida Flop" in 1971. Up 45-8 late in the final regular season game of Reaves' career, the entire Gator defense fell to the ground as if they had all been shot to allow the Miami Hurricanes to score a meaningless touchdown so Reaves could get the ball back- and then break Jim Plunkett's NCAA passing record of 7,544 yards. Which he did with a ten yard pass to Carlos Alvarez. And which the entire Florida team celebrated by sprinting over to the Orange Bowl pool which housed the Miami Dolphins' live mascot, Flipper, jumping into the water and staging an impromptu pool party in front of thousands of booing Miami Hurricane fans.
Needless to say, Miami didn't like it. But the move became one of the first legendary moments in Gator history, and Reaves left UF as the nation's all time passing leader as a result of it.
Rest in peace, John. My thoughts and prayers go out to your family.