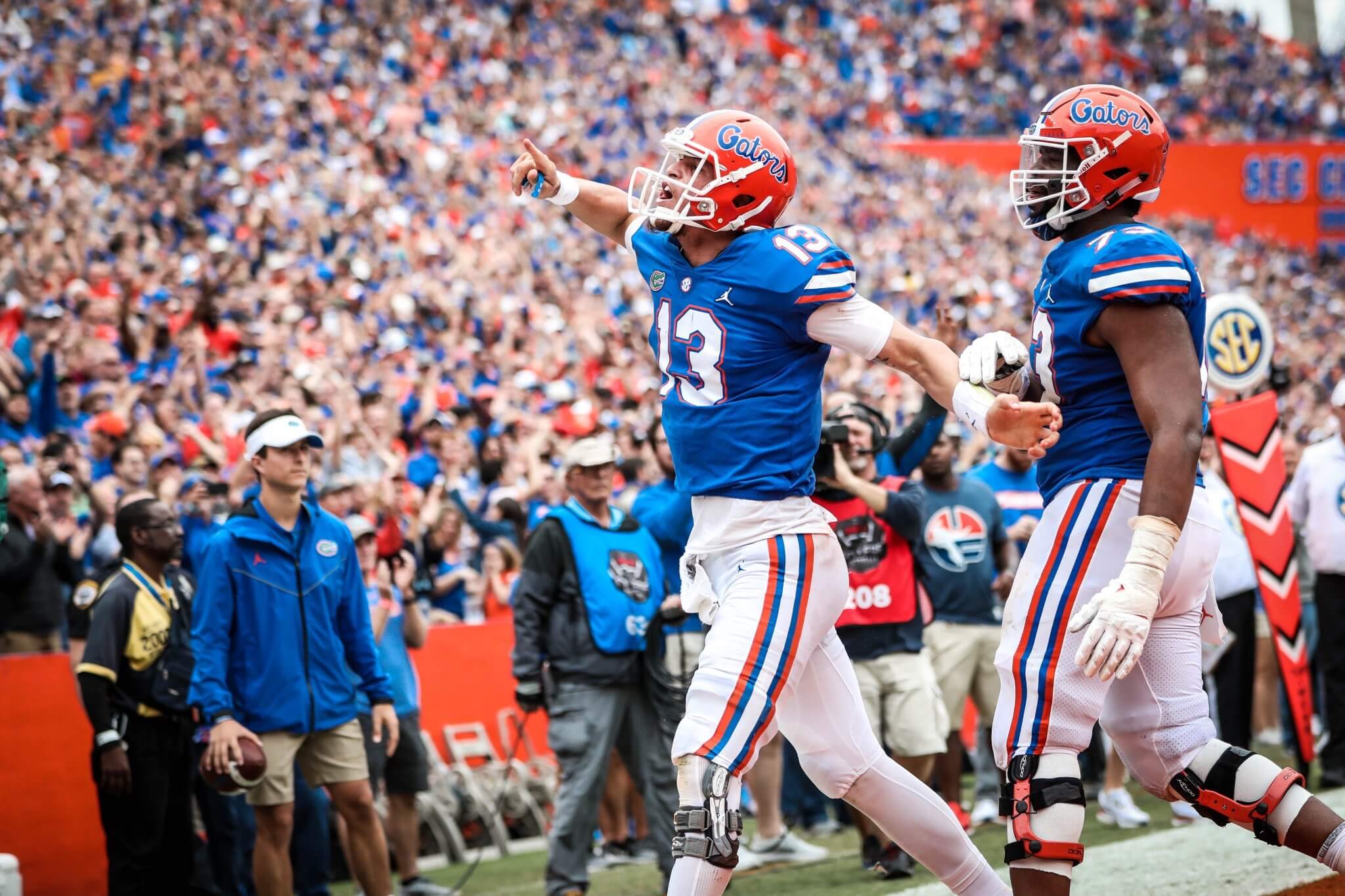 Will Muschamp spent his childhood in Gainesville going to games in the Swamp, dreaming that he could one day be a part of them. And he got to live that dream- but it quickly turned into a nightmare, ending with a 28-21 overall record and his firing after four seasons.
Fast forward four more seasons, and the Swampy nightmare for Muschamp- now the Head Gamecock- continued with his latest loss at Ben Hill Griffin Stadium in a coaching career filled with them. And as many of the preceding ones went, Muschamp's team had the game won and let it slip out of its hands against an opponent that used his team as a catapult to save its season.
Thanks to a bounce back performance from Feleipe Franks that featured him torching the Gamecocks both on the ground and through the air, a strong defensive finish and 528 yards of total productivity (367 of them on the ground) from Dan Mullen's offense, the Gators erased a 31-14 second half deficit to score 21 unanswered and win, 35-31. The win is Florida's second of the year when trailing by three possessions, and their 13th win in 15 games against the Gamecocks in the Swamp. It's also Will Muschamp's fifth straight loss in the Swamp against FBS competition, dating back to his final days with Florida in 2014.
More importantly, the win rights the ship for a Florida team that got its head kicked the past two weeks. And it keeps most of the realistic preseason goals this team had intact, if by a thread.
The Gators found themselves down 14-0 to South Carolina right out of the gate after giving up touchdown drives of 83 and 84 yards on a combined nineteen plays, highlighted by a busted coverage and a 19 yard touchdown pass from Jake Bentley to Kyle Markway. Which somehow, Florida recovered from. The oft-criticized Feleipe Franks guided his team back with consecutive touchdown drives, capping the latter by hopping up and shushing the cheering crowd by putting a finger to his lips.
But then the defense imploded again. Florida surrendered a 12 play, 71 yard touchdown jaunt that Bentley finished off with a short touchdown plunge to put the Gamecocks back up 21-14 just before halftime. Thus, South Carolina finished the first half with 256 yards of total offense- an ugly stat for Florida's defense that was all too reminiscent of the 471 yards the Gators surrendered to Missouri a week ago.
Things only got worse to begin the second half. Florida drove down the field before being stopped in the red zone, and then Evan McPherson, who had not actually done this all season, missed the field goal. Florida's defense then forced a three and out, but Kadarius Toney muffed the punt and South Carolina fell on it. The Gamecocks then stalled in the red zone and had to kick a field goal of their own, which Parker White connected on to increase the lead to 24-14.
The tension further mounted when Florida went three and out and punted, though Tommy Townsend did pin South Carolina back to its own seven yard line. But Deebo Samuel quickly rendered that punt obsolete by catching a slant and taking it 90 yards down inside the Florida five. Two plays later, Rico Dowdle plunged into the end zone to put the Gamecocks up 31-14 with four minutes to go in the third.
But the Gators- who also erased a 21-3 deficit against Vanderbilt to win- saved its best for last.
First came a ten play, 75 yard touchdown drive that Franks finished with a screen pass to Kadarius Toney that Toney did the rest on, slipping his way 18 yards for the score to cut the lead back down to ten. Florida's defense then allowed one first down before forcing a punt, and then LaMical Perine and Jordan Scarlett tag teamed on an eight play, 89 yard drive that Perine punctuated with a 23 yard scoring run to bring the deficit down to 31-28. By this point, the Gators' defense had smelled blood and again stuffed the Gamecock offense and forced another punt. That turned ball back over to Feleipe Franks with a chance to give Florida its first lead of the game.
And Franks made the most of that chance, commandeering a ten play, 66 yard touchdown drive that featured a crippling 38 yard run by Toney and ended with Franks diving across the goal line with 4:09 remaining on the clock. Take a second to think about how bipolar his season has been: one short week after getting yanked for Kyle Trask due to sheer incompetence and getting booed off the field, Franks guided Florida back from down three scores for the second time in four games. Three plays after that touchdown run, CJ Henderson made sure that Franks' effort would be a winning one by picking off Bentley to end the game.
Franks wasn't perfect on this day, and neither were his teammates. Franks one hopped a couple of open receivers, including once on a simple bubble route. Far more concerning, though, was the way this game began on defense. It appeared as though the Gators were going to get routed after being roasted on consecutive 83 and 84 touchdown drives.
But unlike a week ago, this team didn't fold. Mullen's squad fought back, won, and appears to have salvaged something from a season that was, as recently as 2pm today, in the midst of spiraling out of control. Florida is still able to see its win total reach double digits, break the streak against FSU, and reach- and win- one of those shiny New Year's Six Bowl games, things that we all agreed back in August would be clear signs of a program Renaissance. Sure, the Gators' road to unlocking those achievements will be easier if they clean some things up (a lot of things, actually) but the fact is that there is still a road to accomplish all of that.
So, shhh.