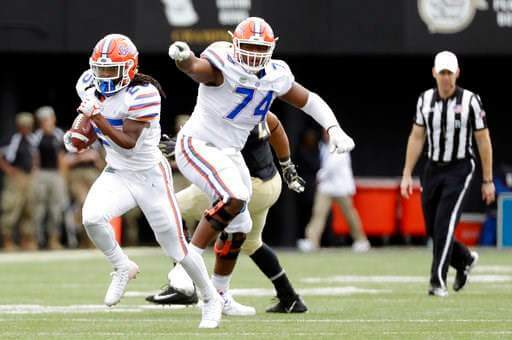 Just as in the last four games against Vanderbilt, Florida struggled mightily early on. And just like the last four games against Vanderbilt, Florida won the game anyway.
But in none of those previous four games did the Gators make the mess they made for themselves this time around.
Florida found itself in a 21-3 hole thanks to the most self destructive half in the Dan Mullen era before storming all the way back to a 37-27 win. In doing so, the Gators tied a school record for the largest deficit to ever come back from, and became bowl eligible- which given the last two coaches Florida has had shouldn't be taken lightly. It also helps the Gators keep pace with Kentucky and Georgia atop the SEC East.
Perhaps most impressive was how bad Florida played throughout the first half in every facet of the game, and how well they played in the second. To make such a night and day improvement in the snap of a finger like that is a testament to both the coaches and the players, and is quite a welcome change after the disaster 2017 was.
Because the first half looked like 2017 all over again, with the Gators shooting themselves in the foot at every opportunity. The masochistic behavior included Franks throwing an interception at the doorstep of the goal line, a 98 yard Vanderbilt touchdown drive immediately following that interception, a (bad) targeting call on James Houston that got him ejected, which spawned an ugly brawl that resulted in VoSean Joseph's second personal foul penalty of the game- and thus his ejection as well, and a fumble by Franks on a designed run that was batted and kicked several times before being finally recovered by Vanderbilt 35 yards behind the line of scrimmage. Once the Commodores took advantage of that short field and punched it in, Florida found itself down by 18 points- its largest deficit of the year- late in the first half.
The Gators could have so easily folded. And last year, they probably would have. 
Instead, the defense buckled down and played much better from that point on, and Franks came back to direct a twelve play, 75 yard touchdown drive in the final minutes of the second quarter that LaMical Perine capped with a seven yard run to return the deficit right back down to eleven. The Gators' defense then forced a punt and with one minute to go, Dan Mullen looked to be content to run out the clock and go to halftime down 21-10 until Perine took a screen pass and weaved his way through the Vanderbilt defense down to the Dores' eight yard line. Florida then took its winnings and drew within eight on an Evan McPherson field goal at the half.
The Gators' defense picked up right where it left off in the third quarter. Though they did allow Vandy to drive into field goal range from the short field they had on their first possession, they ultimately stood tall in the red zone and forced a field goal attempt- which Vandy's Ryler Guay missed. 
Meanwhile, Florida's offense appeared beat on its next drive until Mullen ordered a fake punt. Tommy Townsend took the snap as usual, hesitated for the slightest of moments, and sprinted up the middle for an eighteen yard gain and a first down on fourth and three. The Gators took advantage of this manufactured offense, as three plays later Franks found Van Jefferson for a 38 yard touchdown. That trimmed the deficit down to 21-20 heading into the fourth quarter.
From there, the Gators' running game and defense took over.
On the first play of the fourth, Jordan Scarlett gave Florida the lead for good with a 48 yard touchdown run. Florida's defense seized the moment and forced a three and out. Though Dameon Pierce would fumble and give Vandy the ball deep in Gator territory, the Gators' defense again stuffed the Vandy offense and forced a field goal. This time, Guay connected and Vanderbilt cut the deficit down to three.
But again, the Gators bounced back from a mistake a made a bigger, more important play. Fueled by a 27 yard Kadarius Toney run, Florida immediately responded by driving right down into Commodore territory, where Franks found Freddie Swain on a screen pass, who did the rest, making a man miss before soaring over the pylon into the end zone to finally give Florida some breathing room with a 34-24 lead with eight minutes to go. Vandy would manage to drive into field goal range and pull within seven when Guay connected again from 53 yards out (go figure, he missed from 25 but made from 53). And once more, the Gators responded by picking up a pair of first downs to drain the clock before turning to McPherson to slam the door, which he did by connecting on a 46 yard field goal to make it 37-27 with thirty seconds to go. For good measure, Chauncey Gardner-Johnson picked off Kyle Shurmur's desperation heave to put the game on ice.
On the whole, the Gators' stats were pretty impressive, highlighted by the fact that they put up 576 yards of offense against Vanderbilt. More than half of those yards came on the ground; Perine (121) and Scarlett (113) both easily eclipsed the century mark, and that's due in large part to the offensive line creating some real push today on a consistent basis. But Franks did his part, too, completing 19 of his 29 passes for a healthy 65.5% completion rate, 284 yards and two touchdowns plus the aforementioned two turnovers. Those numbers are a significant improvement from the numbers he put up last week, and although an improvement from one game to another does not necessarily indicate a long term trend, it's still better than the alternative.
But that's not why Florida's win was impressive. 
The Gators used a lot of emotion in a tense 13-6 win over Mississippi State in Starkville two weeks ago, and even more in a 27-19 win over then #5 LSU last week. With those two games still fresh in the players' memories, and with the annual high stakes showdown with Georgia as the next game on the docket, it would be easy to think this team could be in for a letdown against the Commodores, particularly given the recent history against them. And indeed, the game started out as though that was going to be the case.
What makes this win so impressive is that Florida was besieged by the Commodores early, beat themselves up on top of that, and were able to do dramatically flip the script in every way imaginable over the game's final 35 minutes that they not only won, but actually covered the 9.5 point spread. 
And what makes Dan Mullen such a trustworthy head coach is that he's proven to be able to make and oversee these in game adjustments time and again- which if he continues to do, he will enjoy a long and successful career.