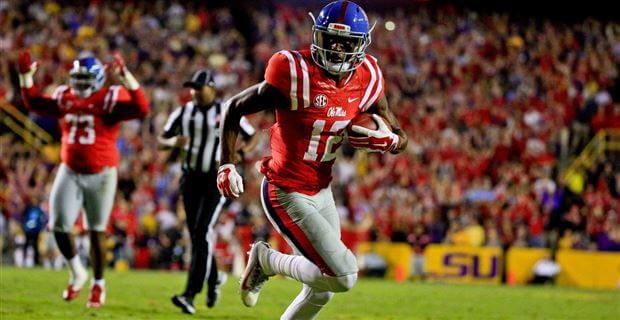 For those wondering who Florida's QB of the future will be throwing to, here's your answer- at least one of them.
Former Mississippi wide receiver Van Jefferson has announced his intentions to transfer to Florida. Jefferson was one of the crown jewels of Hugh Freeze's 2016 class at Ole Miss, choosing the Rebels over Oklahoma, Auburn, Clemson, Ohio State, LSU, Notre Dame and Florida. He backed up that hype by hauling 424 yards as a freshman before eclipsing that mark with 543 more as a sophomore last year.
But when the sanctions landed on the program, including what turned out to be a two year bowl ban, Jefferson wanted out. With the upgrade of Dan Mullen running the program, Jefferson chose Florida. What we don't know is when exactly he'll play. Typically, when students transfer prior to graduation they have to sit out a year before being able to compete. Jefferson will be applying for a waiver so he can bypass that year of limbo and play right away given how unusual his case is, and logic indicates that he has a decent chance of getting it and being eligible for the 2018 season.
Regardless of when he becomes eligible, though, Gator fans can sleep at night knowing that someday, they'll get to watch this playmaker suit up in orange and blue.