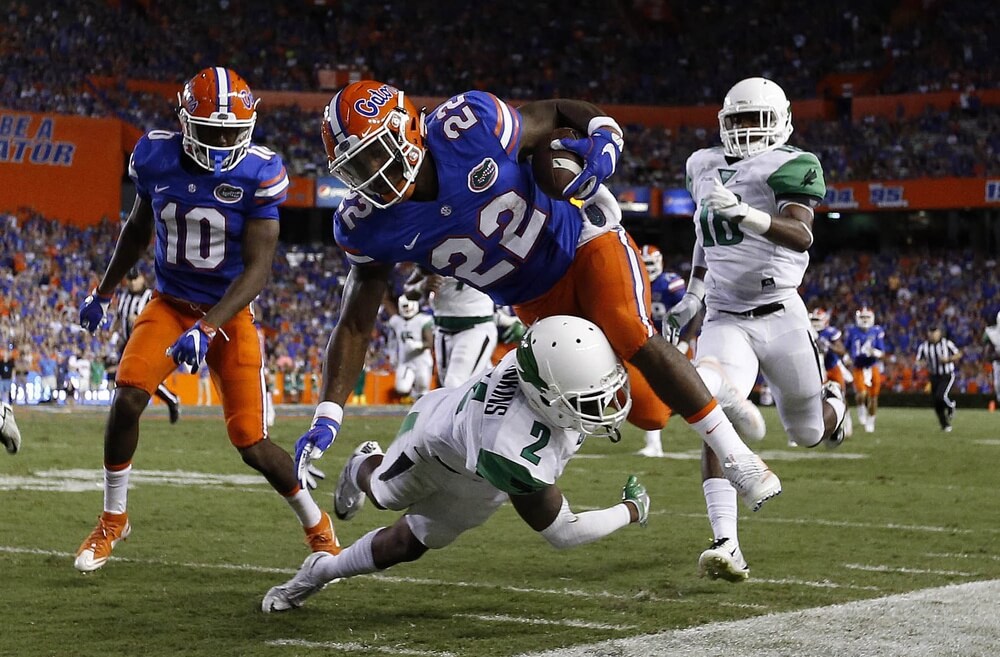 For some fans, it may be weeks until the ending of last week's victory over Tennessee becomes accepted as reality rather than just a dream.
For the Gators, it may be the catalyst to a special season.
But it also may be an oasis of joy in a season long desert of frustration.
Time will ultimately tell which of those effects "The Play" will have, and it's going to start tomorrow against Kentucky. Surely, Florida will face better teams and tougher tasks than their most imminent one. Kentucky barely scratched out wins against FCS foe Eastern Kentucky and midmajor Southern Mississippi, and beat a South Carolina team that time should prove to be a weak one. To boot, history is definitely on the Gators' side, having won 30 in a row over the Cats- and six of the last nine by 34 or more points.
But all of that may not matter if Florida plays another game at the level in which they played against Michigan or Tennessee.
Look. Nobody's throwing in the towel or giving up on anything. Teams generally do become better as the season progresses, and with a young quarterback at the controls, plus the team adapting to losing ten players, there's plenty of realistic hope- as opposed to blind hope- that this team will make strides as the year goes on.
It's just that these strides need to happen now. Florida's schedule is as easy as it could possibly be this year, with every opponent of note coming to the Swamp, and Kentucky being their toughest road test- with only South Carolina and Missouri competing for that distinction. And so Kentucky on the road presents as logical of a time and place to begin the growth needed to seriously compete for the East again.
For one thing, Florida has a tackling problem. Or at least they seemed to against John Kelly last week. Benny Snell Jr. is a different kind of runner, but he's an excellent litmus test for this defense. And the Gators' seemingly bend-but-don't-break defense broke twice in the final ten minutes against Tennessee. Sure, they were on the field more than they should have been, but a 13-3 lead with ten minutes to go should be game over. And the Gators' inability to slam the door shut is concerning.
Then there are the offensive struggles. It starts, of course, with Doug Nussmeier, who continued his streak of calling a great opening drive and then doing nothing else positive the rest of the way last week against Tennessee. (Or maybe it's Jim McElwain who handcuffs him and his play-calling, and deserves the blame. We don't know it isn't for sure.) Regardless of who you want to blame for it, the play-calling needs to be less predictable and more nuanced in nature. Defenses know that the Gators want to try to run up the middle more often than not, so that's what they defend. And sure enough, it usually results in Johnny Townsend trotting onto the field when the Gators' consecutive efforts to run on a stacked box don't work.
Yet it isn't all on Nussmeier. Feleipe Franks did fine, on the whole, against Tennessee, but oh man, did he come close to giving that game away. Only because the Vols couldn't punch it in on a first and goal in the final minutes and then were so badly out of position to defend against the one thing that could possibly beat them did Franks and Florida get away with that. But Franks needs to combine making the mostly good decisions he made throughout the day against the Vols with not making the critical mistake he made in crunch time. Kentucky's so-so defense on the road feels like an ideal next step for him in that regard.
Finally, this team can take a huge step forward simply by holding onto the ball. Running backs LaMical Perine and Malik Davis each wasted their biggest carries of the day by fumbling the ball away at the end of them. Fellow runner Mark Thompson hasn't put the ball on the ground yet this season, but has a long history of doing so last year. Without the two aforementioned fumbles, or at least without Davis's, and without Franks' critical pick, the Gators blow the Vols away. Against better teams, this will be the difference between winning and losing.
And so Florida sits at a crossroads. Last week could have been the start of a memorable run for this team that ends with a third consecutive SEC East title, or it could have just been an anomalic high for a season that's destined to go nowhere. For better or worse, we'll find out tomorrow.