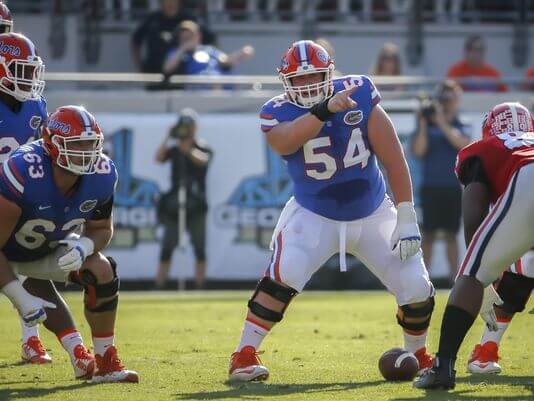 Florida's offensive line has lost a true warrior.
Center Cam Dillard has announced his intention to transfer as a graduate. He becomes the second lineman to leave before his eligibility was up, after David Sharpe declared for the draft earlier today.
Wherever he decides to transfer, Dillard will be eligible to play immediately per graduate transfer rules.
Dillard served as the equivalent of a two ton war machine for the Gators in the trenches for the‪ ‬better part of the last couple of years. What that means is that the Gators have a second huge hole to fill on its line, and I say that even though he missed the last few games of the season because the drop off was obvious and Florida never really did fill it since his injury.
The good news is that Florida does have some returning experience on its line, with Ty Jordan, Fred Johnson, Jawaan Taylor and Martez Ivey all coming back. The bad news is that none of them play center, and Florida will have to find a brand new center in this recruiting class, develop one from its practice squad, or move somebody over. I don't doubt that Mike Summers can find a replacement, it's just probably not something that can be done so quickly.
In any case, I wish Cam nothing but the best moving forward. I had the pleasure of getting to know him personally, and can truthfully say he's one of the most unique and special human beings you will ever meet. And it's with those memories of him in mind that I confidently state how certain I am that he will succeed wherever he goes, whatever he does.