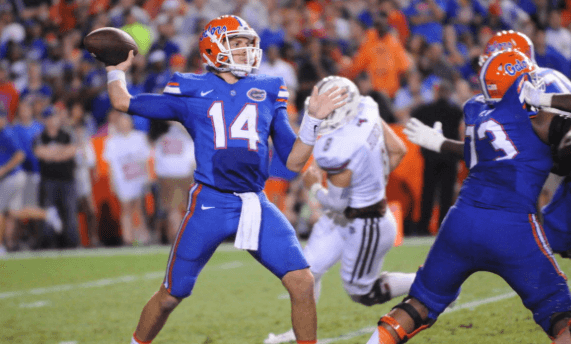 This evening was dedicated to Steve Spurrier, but the performance of Gators' football team brought back memories of a different coach.
Will Muschamp, perhaps. Or maybe Ron Zook.
Either way, Florida managed to make their positives outshine their negatives in a 24-7 season opening win over Massachusetts. That makes 27 consecutive seasons the Gators have started with a victory, which is the longest such streak in the country. But unlike in previous years, the coaching staff isn't hiding behind a win.
"We've got a Kentucky team that's probably gonna come in here thinking they can beat our tails next week," Jim McElwain admitted.
Though the Wildcats choked away a 35-10 lead and allowed Conference-USA also-ran Southern Mississippi to reel off 34 straight points in what would become a shocking 44-35 loss, the underlying message in McElwain's words is clear. This isn't going to fly.
And in the long run, it won't. Oh, maybe the Gators could get away with a performance like this against Kentucky, and maybe they could get away with it against North Texas the week after. Hell, maybe they could even get away with it against Tennessee given the way the Vols looked in a 20-13 overtime win over supposed cupcake Appalachian State. But if Florida wants to have the type of season they strive for every year, they've got a lot of things to clean up.
Florida opened the game by going nowhere and then punting. Well, OK, that's how they opened the 2015 season against New Mexico State- and they scored 61 points in that game. Surely things would pick up. And sure enough, Luke Del Rio made the first of what will hopefully become a long list of memories in the Swamp with a touchdown pass to Antonio Callaway… who had about 15 yards of separation. Thank you, UMass (more on that later).
But then the game devolved into an ugly mess, and quickly shifted from an exciting "football is back" party atmosphere into a nightmare.
Three Florida penalties for 35 yards, a 24 yard strike on a 4th and 14 and a missed tackle by Jordan Sherit on a quarterback draw play added up to a 75 yard touchdown drive for Massachusetts on the ensuing possession. The good news was that Florida's front seven was able to push UMass back on the early downs to force them into uncomfortable down and distance situations, but the bad news was that they then gave the Minutemen three first downs: twice on personal foul penalties and once on a busted coverage. Those mistakes were followed up by Sherit whiffing on Ross Comis, turning what should have been a sack into a five yard touchdown run. That evened the score at seven.
UMass would then pick up 53 yards on another busted coverage on their ensuing drive, but after that, the Gators' defense clamped down and completely silenced the Minutemen's offense. UMass could manage just 79 yards of total offense over the game's final 38 minutes. The Gators sacked Comis four times during those final 38 minutes of game action, and only allowed UMass to cross midfield once more for the duration of the game.
But as the defense picked it up, the offense fell apart. Del Rio seldom had time to throw or go through his progressions, and that means the offensive line took a step backwards. Even more concerning, though, was the inability of the Gator running backs to pick up the blitz. Kelvin Taylor took a lot of heat during his time at Florida for never breaking out as the star his father once was, but he quickly grew into a reliable pass blocker, which meant that Florida wasn't tipping their hand in regards to their play call when he was in the game. Whether it was Jordan Scarlett, Jordan Cronkrite, Mark Thompson or LaMical Perine, Florida just couldn't get any help from their tailbacks in terms of blocking. And making matters still worse, Florida receivers dropped several passes.
Naturally, the offense struggled as a result. The one good drive the Gators did put together ended with McElwain choosing to erase a field goal in order to pick up a fourth and short- and Thompson being stuffed. The next five drives ended as follows: punt, field goal (God bless you, Eddy Pineiro), punt, punt, and field goal. It took six more drives for the Gators to finally reach the end zone, and then Pineiro drilled a say-good-night field goal to make the final score a semi-acceptable 24-7.
The scariest thing about this game was that Florida only won because UMass made the kinds of mistakes that the Gators paid a vastly inferior team to come into the Swamp and make. Callaway's touchdown was a result of a mind-blowing busted coverage, and Brandon Powell's dagger touchdown was a result of a UMass defender meeting him in the backfield and simply failing to bring him down. All… um, two of their touchdowns (in a game in which they were supposed to score at least five) came on UMass making errors that even a decent team wouldn't make.
Just consider what might have happened if Florida played like this against a real team, like LSU or FSU. Callaway would never have gotten that wide open, while Powell would have been thrown for a loss. Two critical mistakes led to two touchdowns, and that was the totality of the Gators' offensive production. (If you're really in the mood for some self-abuse, think about what might have happened last night without kicker Eddy Pineiro.)
Nobody in their right mind is debating that Florida has worlds of work to do. The penalties have to go, the pass protection has to improve, and the secondary has to stop getting lit up for huge gains (getting Jalen Tabor back next week might help with that). This team, as it stands right now, is not an SEC East winning caliber team. It just isn't.
But there's also no debating the fact that the Gators' coaching staff is capable of overseeing the improvement needed to turn this team into an SEC East winner. Who else remembers McElwain's first Gator squad struggle mightily with an ECU team that was marginally better than this UMass team, and then three weeks later clock #3 Ole Miss upside the head? The good news now is that Florida doesn't have to improve tenfold in one week because of how terrible Kentucky is, but rather has that three week period to gradually improve before things get real in Knoxville at the end of the month.
So there's reason to be concerned, sure. But let's not hit the panic button quite yet.