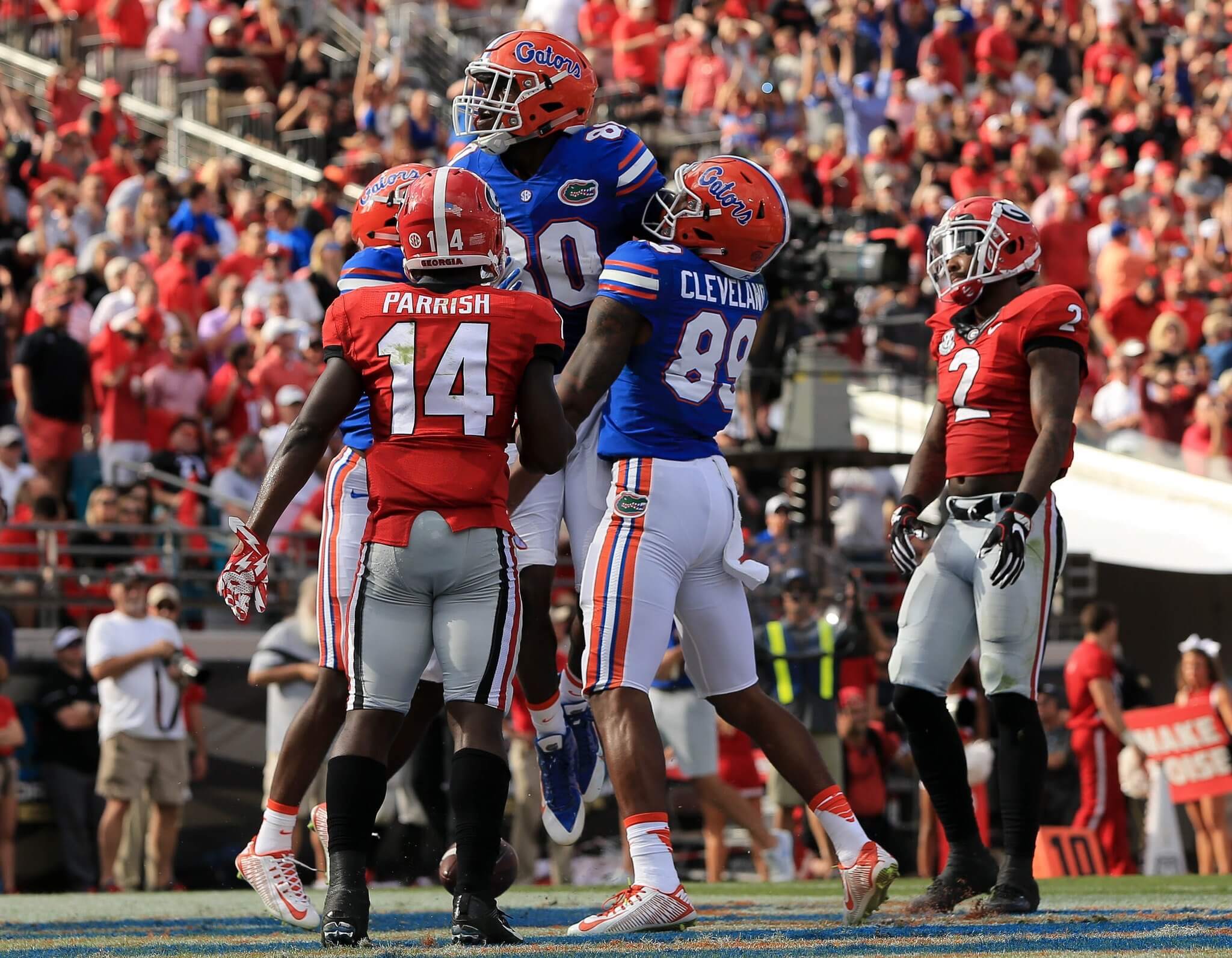 Jim McElwain and his staff left no doubt who this party really belongs to.
After struggling for much of the season against the running game, Florida's defense put the pieces together and responded with an effort that will go down as one of the most dominant in the rivalry's history.
The offense? Well, they were just good enough. Good enough to keep the chains moving, good enough to score points when they needed to, and good enough to secure Florida's 21st victory in the last 27 games against Georgia.
More specifically, it's the third straight year Florida has beaten Georgia, and thus ended their dreams of making it to Atlanta. The Bulldogs limped into this one with microscopic chances of reaching the SEC Championship Game to begin with, and the Gators' 24-10 victory officially eliminated them.
And much like his predecessor Mark Richt, Kirby Smart could only stand there and watch the inevitable- the Gators use their bye week to improve exponentially.
Florida came into the season with concerns about depth at the linebacker position, and how they'd hold up against opponents' running games. And indeed, they struggled to stop the run early in the year, surrendering 145 yards to Missouri's Damarea Crockett and 110 to Vanderbilt's Ralph Webb.
But leave it to the Gators to fix things against Georgia, something that seems to happen every year now. After being challenged in the bye week by defensive coordinator Geoff Collins, Florida gave up just 20 yards on the ground to the highly touted Nick Chubb, and held his sidekick Sony Michel to all of three yards.
Good thing the Gators had that defense, because the offense still appeared to be a work in progress.
The Gators gained just 231 yards of offense against a Georgia defense that's mediocre at best. More worryingly, Luke Del Rio managed only 131 yards through the air against the Dawgs' secondary- which came into the game 91st in the country in pass defense. Del Rio would eventually settle down, but he started the game by missing a few reads and then throwing a floater across his body that was easily intercepted by Dominick Sanders. That mistake was returned down to the Florida 25, and the Dawgs appeared to be in great shape early.
But the Gators' defense stiffened- the beginning of a long day for Jacob Eason, Nick Chubb and Sony Michel.
Georgia was held to a field goal on that drive, and was forced to go three and out on their next. Del Rio then hit C'yontai Lewis for a pair of strikes, the second of which Lewis converted into a touchdown to give Florida the lead. Eason then took advantage of a busted coverage by Florida to connect with Terry Godwin for 38 yards, which set up a touchdown pass to Riley Ridley and a 10-7 Georgia lead.
And that was the end of Georgia's fun.
Jordan Scarlett gave the Gators the lead for keeps with a short touchdown plunge late in the second half, and Antonio Callaway scored on a jet sweep late in the third quarter. For good measure, Eddy Pineiro drilled a field goal to increase the final margin to 24-10.
Was it perfect? No. But a win is a win. Just ask Butch Jones, whose team lost to Will Muschamp for the fifth straight time. And with that result- thanks, Muschamp- the Gators are suddenly not only in control of their own destiny, but in a position where they would have to lose two out of their final three SEC games to not repeat as SEC East Champs.
There's still a lot of work to do, and the competition will only get better. The Gators now get an Arkansas squad that typically plays its best in November, before getting South Carolina in its home finale before traveling to LSU for its conference finale. In theory, Florida could clinch the East before they ever make that trip to Death Valley, but the offense will have to step up and become more efficient if that's to happen.
But we have a whole week to break that all down (and I will). For now, we have a win over Georgia to celebrate. And no matter how familiar the feeling of beating Georgia may become, it never fails to be the sweetest Halloween treat of all.