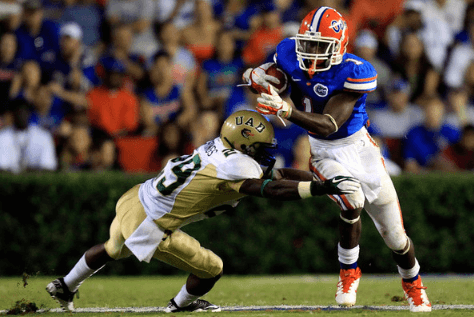 Having just restarted their football program, Alabama-Birmingham apparently wants to throw their team into the fire right away.
The Gators will host the UAB Blazers on November 18th, 2017, in their annual tune-up game before their rivalry with FSU. This will be the third ever meeting between the schools; Florida crushed UAB 51-3 in 2002, and 39-0 in 2011.
UAB shut down their football program following a 6-6 season in 2014, just the second time in the school's history that they were bowl eligible. The main reasons cited were financial- the cost of maintaining a decent football program was growing and the school couldn't afford to keep up. But last year, athletic director Mark Ingram announced that the school would resume its football program in 2017.
As for Florida, there's now just one game left on the 2017 schedule that needs to be filled. The Gators are already set to take on Michigan in the Cowboys Kickoff Classic in Jerry's World to start the season, and then there's the yearly tilt with FSU to end the season. In the SEC, Florida will host Texas A&M, Tennessee and Vanderbilt, travel to LSU, South Carolina, Missouri and Kentucky. They'll also face Georgia in Jacksonville assuming the city and the schools extend their contract to play the game there again (the current contract runs out after this year's game).
Anyway, welcome back, UAB. Prepare to be Gator Bait in a little less than two years.