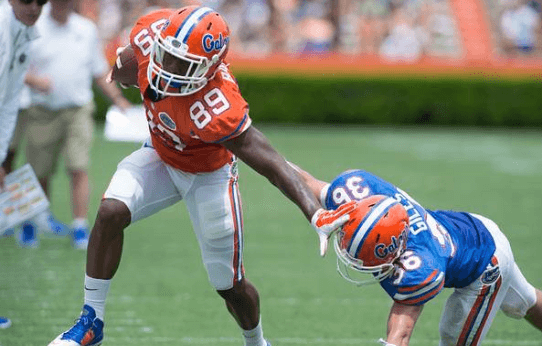 Florida's wide receiver corps isn't exactly hurting for playmakers, but the number of possible pass catching contributors continues to shrink.
Alvin Bailey has chosen to withdraw from UF, and look to continue his education- and presumably his football career- elsewhere. The decision comes less than two months after fellow wideout Ryan Sousa elected to leave the program, before eventually landing at Southern Illinois.
Perhaps the big reason for Bailey's transfer was that he wasn't going to play. The Gators signed five wide receivers in their last recruiting cycle, and the impending return of Antonio Callaway isn't helping his chances to see the field, either. Bailey has already been usurped by fellow freshman Dre Massey, per those in the know, and it isn't a stretch to think that Josh Hammond, Tyrie Cleveland and Freddie Swain would have all eventually passed him on the depth chart as well.
In fact, Bailey's UF career has been more noteworthy for what he did off the field than what he did on it. He's caught a grand total of three passes for 49 yards since arriving on campus in 2013, all of which came last year. On the other side of that coin is a very, very foolish arrest in 2015- which made him the third Gator to be arrested in the span of 24 hours.
But that's not to say Bailey's personal story can't have a happy ending; it just won't be at Florida. I'm personally hoping that he'll find that happy ending, and I wish him the best.