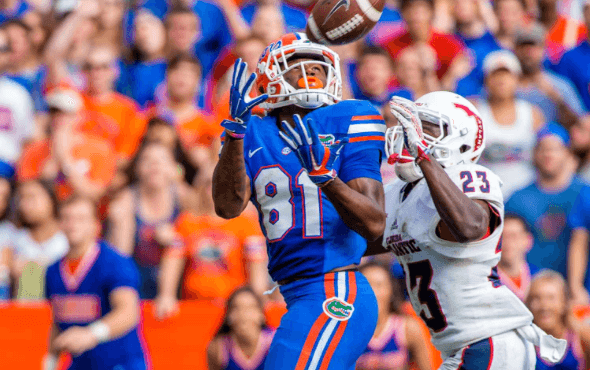 Florida's star wide receiver, Antonio Callaway, was found to be not responsible in a Title IX hearing by the University of Florida today. With no remaining reason to hold back, Callaway appears to be on track to start in the Gators' season opener against Massachusetts. Callaway was cleared to return to practice a week ago.
Further, a source close to the situation had this to say me via email:
"The only thing that can possibly keep Callaway off the field now is if something new comes up that hasn't come to light yet. Maybe (redacted) is holding something back that she wants to first unveil to a ruling party she deems fair and impartial, and she felt that had she first revealed it in a case where she didn't feel the judge was going to be fair and impartial, there would be time to regroup and shoot it down.

But the chances of this happening are less than 1%. (Callaway's attorney Huntley) Johnson has proven to be wily and slick, and I know that he's got some nukes pointed at her- like text exchanges and other intel on her life. I doubt that even if she is holding something back, she'll unveil it now because she knows it won't end well for her.

So to answer your question, I'd be shocked if Callaway doesn't play against Massachusetts."
Jim McElwain had held Callaway out of practice, and the university had barred him from practice, while the possibility that Callaway was actually guilty of the crime he was accused of appeared to be a real one. When the facts came out, Callaway was reinstated. What that means is that Florida, and I mean both the school and McElwain, has shown no hesitation to suspend their star when they thought he may have done something terrible; thus, the latest event in this story's timeline figures to give him the green light against UMass.
The only remaining piece of this story that's yet to be unveiled is the result of Callaway's counter complaint against his accuser. Why is there a counter complaint, you may ask? Because during the hearing, it came out that his accuser was actually the aggressor in the incident. The adjudicator, Jake Schickel, wrote in a latter that Callaway admitted to being high on marijuana, and that the accuser was neither drunk nor high. But pending the result of the counter complaint, this story appears to be over; the accuser's lawyer, John Clune, said that they would not file a lawsuit nor appeal.
Of course, UF's blunder to appoint a prominent Gator booster to adjudicate the hearing could still be heavily criticized, and any criticism that comes as a result of that decision is fair game. But more importantly, the fact of the matter is that Callaway did not do anything wrong, a conclusion that anybody without theoretical conflicts of interest would have come to just the same.