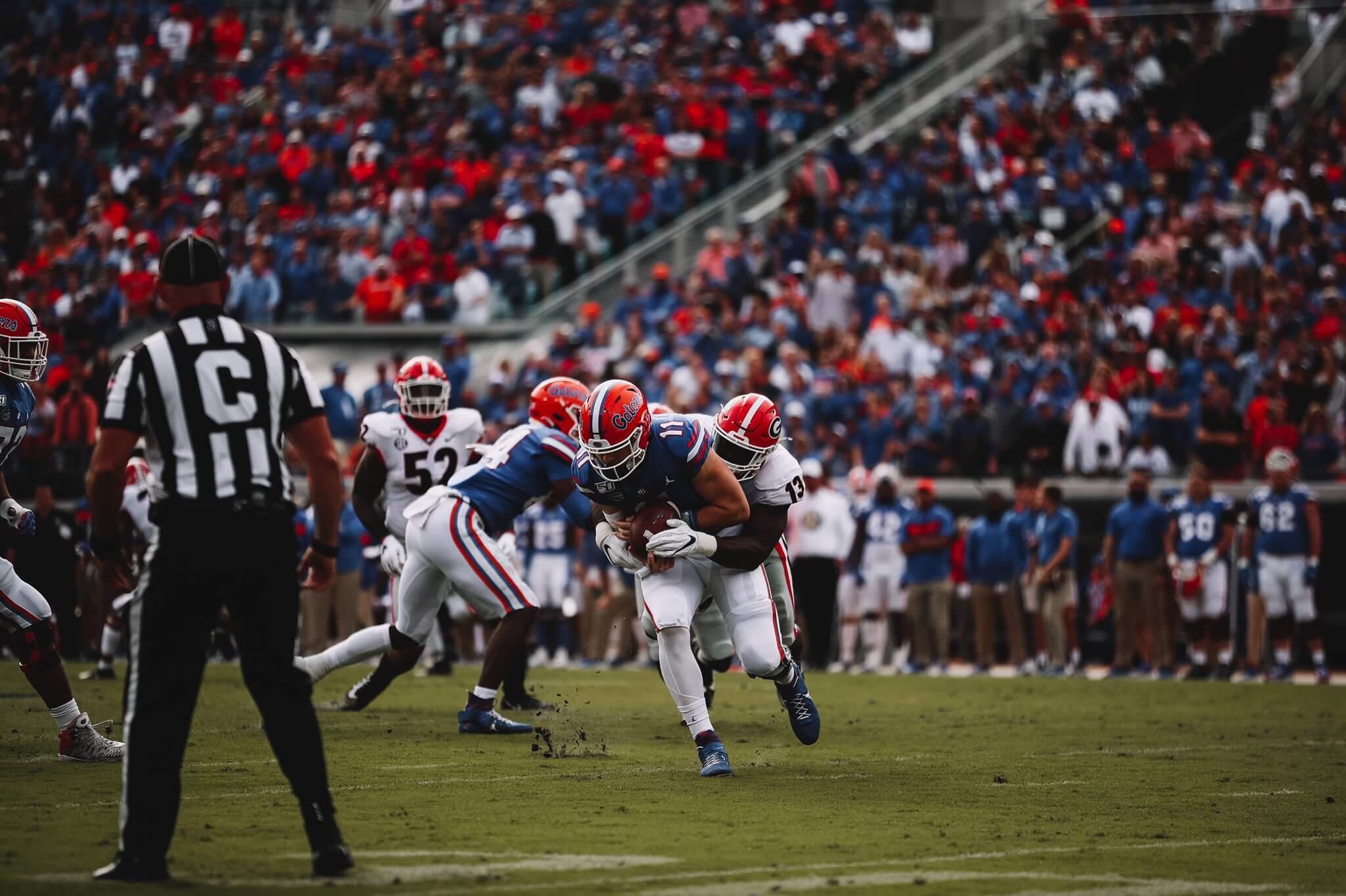 Though the gap has undeniably closed between the two programs, it's just as undeniable that Georgia still runs the World's Largest Outdoor Cocktail Party.
Georgia converted six different third down and six or longer situations, Florida struggled mightily to run the ball once again and the Bulldogs held off a late Gator rally to win, 24-17. The Dawgs' victory is their third straight in Jacksonville and their sixth in the last nine years.
Their latest victory had a decidedly different feel than the others.
Coming off a bye week, the Gators inexplicably looked flat and uninspired on both sides of the ball. Florida's defense came into Jacksonville with 29 sacks on the year, and left with the exact same number. Florida also lost Lawrence Cager for a deep strike touchdown midway through the fourth quarter on a miscommunication, and repeatedly got burned on third and long with primarily the same soft zone look. Offensively, the Gators could muster a grand total of 21 yards on the ground on 19 carries, and Kyle Trask was sacked twice by a Georgia defense not known for its pass rushing ability. One of the two sacks was particularly gruesome, as Trask scrambled around the wrong way and lost 19 yards on the play to kill the drive.
The first clue that Florida was headed for failure came on a fourth and inches at Georgia's forty on the Gators' first drive. Dan Mullen lined Trask up in the shotgun with an empty backfield, and had him try to throw the ball to Kyle Pitts. Georgia's Richard LeCounte broke it up to kill the drive. More importantly, the message had been sent to everyone watching: Mullen didn't trust his offensive line and/or his running game.
Georgia responded by driving right down the field for a field goal and an early lead that they would not relinquish. Along the way, the Bulldogs converted a third and fifteen and then a third and eleven to keep the drive going before Florida finally held on defense; Rodrigo Blankenship then connected on a short field goal.
But Florida couldn't respond. The Gators never did find a running game, and only found intermittent success through the air throughout the first three quarters. Meanwhile, after being aided by a blatantly missed call that granted Georgia a first down even though the ball clearly bounced off the ground before Lawrence Cager secured it, Jake Fromm hit Dominick Blaylock on a quick out route for a three yard touchdown pass in the second quarter. Blankenship would tack on a pair of field goals after that point to make the score a seemingly insurmountable 16-3 for Georgia entering the fourth quarter.
To its credit, Florida rallied. Trask directed a nine play, 80 yard touchdown drive- all through the air minus one five yard QB keeper- that he capped with a bullet to Van Jefferson at the goal line. Jefferson was deemed to have briefly had possession of the ball beyond the plane of the goal line, and that made it 16-10. But then the Gators lost Cager in the secondary, and with the subsequent two point conversion the Dawgs went up 24-10 for their biggest lead of the game.
Florida would rally again, albeit at a fatally slow pace. Down two touchdowns with ten minutes to go, Trask and the offense bled seven full minutes off the clock, frequently letting the play clock dip down into single digits before taking the snap. It didn't even matter that Trask would ultimately hit Freddie Swain for a touchdown, because by then there were three minutes left on the clock. All Georgia needed was one lone first down to put the game away. And the Gators, who couldn't get off the field on third down on this day if the fate of the planet was at stake, couldn't get off the field when it mattered most. A risky play call resulted in Fromm torching Florida one final time on 3rd and 7 for a 22 yard gain to Eli Wolf. And that was that. End of game. End of Florida's SEC East hopes. End of Florida's College Football Playoff hopes.
To be clear, this team still has a treasure trove worth of prizes to play for. An eleven win season would be an improvement over last year's 10-3 finish. A second consecutive New Year's Six berth- most likely the Orange or Cotton Bowl, and potentially even the Sugar Bowl pending what happens elsewhere in the SEC these final weeks- is still very much in play, and virtually guaranteed if Florida wins its final three games. Top five finishes in the AP or USA Today Polls aren't out of the question, and even a second straight top ten finish in both polls would be quite an accomplishment given where this program was two years ago today. And the Florida Cup Trophy– the official "state championship" trophy- is up for grabs for just the second time since 2008, which would only add a tangible piece of evidence to the bragging rights that the best football team in the state of Florida gets at the end of the season. A win against a train wreck of an FSU program that just cut its losses and fired Willie Taggart before he could even complete his second season, and the trophy comes back to Gainesville.
But Georgia also illuminated Florida's weaknesses, and the illusion that the Gators are a national championship contender. Florida has certainly drawn closer to that level than most fans could have dreamed, but there are reasons that this team is still a few steps away from that level rather than comfortably perched there.
The cold, hard, unfiltered reality is that I don't truly know what this program's ceiling is. I do still think it's headed back to the top- because Florida has clearly closed the gap on Georgia, the team that has dominated the East since 2017. And if that pattern continues, Florida will overtake Georgia fairly soon, because that's basic math. Georgia has gone from slaughtering Florida 42-7 in 2017, to getting a three quarter fight from them in 2018, to getting a four quarter fight from them on a day in which the Gators didn't even play well in 2019.
But after watching Todd Grantham repeatedly sit back and get roasted on third and long despite an abundance of film that suggested that this was not a good idea, Florida's offensive line get overwhelmed by a Georgia front seven that's very good but absolutely not known for its pass rush, and the Gators look as flat and uninspired as they did after a bye week- for the biggest game of the year, no less- I cannot definitively state that I know this to be a fact, because that's all a fair bit of evidence to the contrary. You cannot just ignore new information merely because it does not fit your pre-set ideology, and anybody who claims this Georgia game isn't a setback is simply lying. It's very likely that Mullen is still that same genius we always thought he was, but now he has his big picture work cut out for him to prove it.
More on this will come later- after all, there's an eight month offseason to delve into this- but this offseason will go a long way to determining what Dan Mullen's ceiling will be in Gainesville. Recognize what needs to be changed and fixed over the long haul (for starters: overhauling the offensive line, tweaking the defensive philosophy, developing a willingness to make personnel changes when it's clear changes need to be made, and more), make the right moves to begin the process of changing and fixing these things, and this program can potentially be where Alabama and Clemson are now, or at least where Oklahoma and Ohio State are now. Fail to do these things, innovate, grow and adapt, and we're looking at a program that may have already hit its peak, and then we as Gator fans are left with the extremely difficult question of whether or not we're OK with our program peaking at a level below winning national championships. It is my sincere hope that it doesn't come to this, and it's definitely too early to seriously entertain this possibility- after all, Mullen is still in the middle of his second season- but that's where we might be if Mullen doesn't make the changes he needs to make, and that if I had to bet, he will make.
How Florida finishes the year will be a big indication of this. The task falls on Mullen, Grantham, all their assistants, and all the players to realize that just because they lost to Georgia doesn't mean the season is over. If they take care of business from now until the clock says zero in their bowl game, we will at least know that this team was one that knew how to bounce back from crushing defeats, and was still able to finish up with a strong and memorable season.
And in what could be Mullen's most important offseason ever, that could prove to be just the momentum and motivation he needs to do what needs to be done to return this program to college football's top tier.