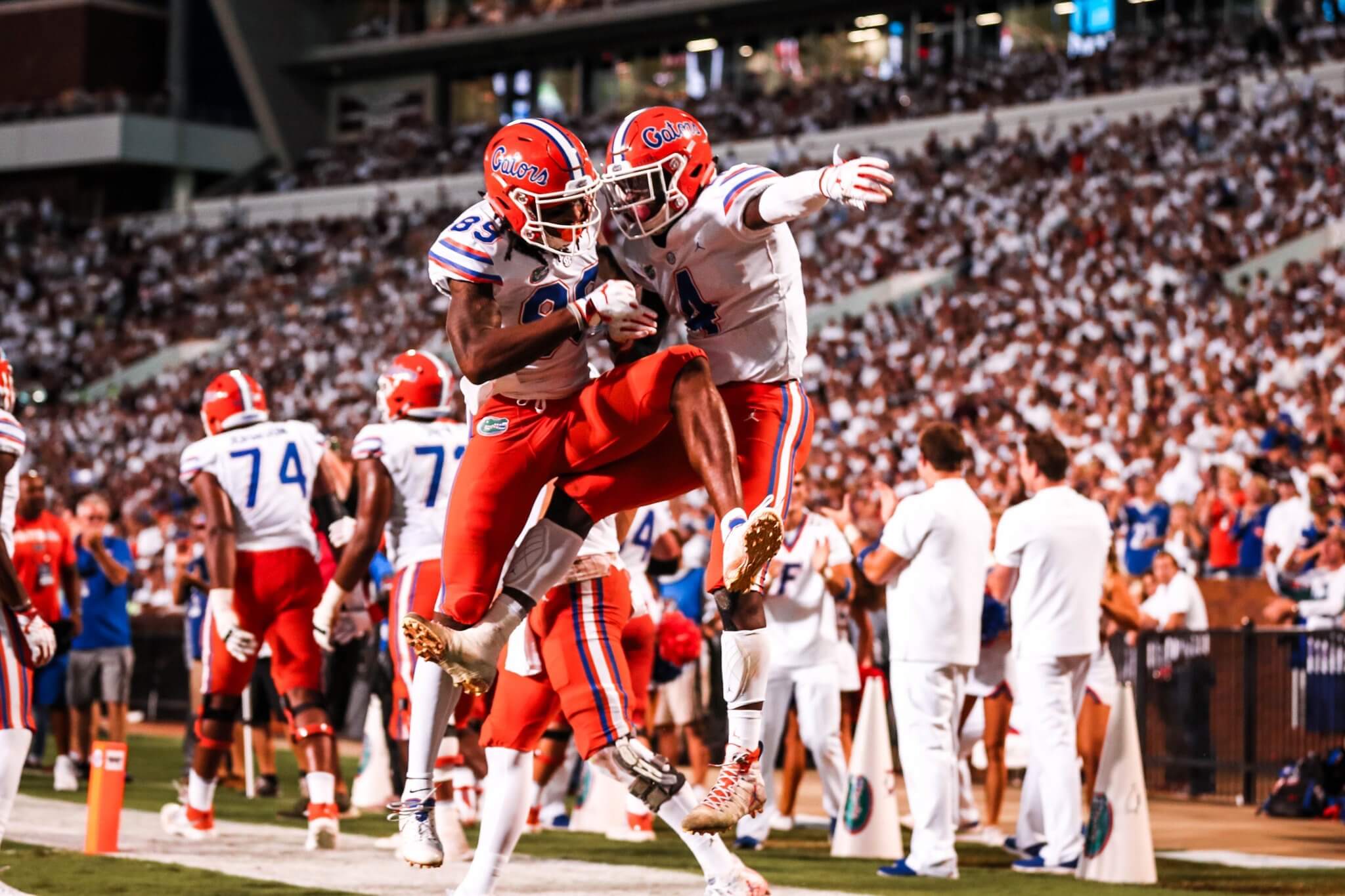 Dan Mullen exchanged hugs, handshakes and some warm words with several people he grew close with during his time at Mississippi State. Then he turned toward the Florida section and pumped his fists, yelled with delight and did the Gator Chomp.
Mullen is a Gator now.
And his new team reminded his old team of just what he brings to the table in a physical, gritty 13-6 Gator win over Mississippi State in front of a hostile crowd in Starkville that spent three hours screaming and cursing at their former hero before slumping out of their home stadium in abject misery.
Florida was far from perfect on this night, stalling twice in the red zone and turning it over once in MSU territory. But Florida also played the smarter game. The Gator coaching staff made significant halftime adjustments that Joe Moorhead and the Bulldogs never did figure out.
Down 6-3 at the half, Feleipe Franks came out of the locker room and promptly threw a laser intended for Tyrie Cleveland that was punched up into the sky and picked off by a waiting Cameron Dantzler. But that was the sole highlight of the second half for the Bulldogs. Unable to move the ball any further, MSU punted- and Mullen began to demonstrate the offensive brain that made him such a rousing success in Starkville.
Florida's offensive line came out angry and started creating some holes, and LaMical Perine took advantage of them with runs of six and twenty two yards as well as catching a pair of screen passes for 24 yards. And then came the play of the game.
It's a screen to Kadarius Toney… no, no it's a double pass… and IT IS A TOUCHDOWN TO MORAL STEPHENS!

And the #Gators LEAD Mississippi State in Starkville! pic.twitter.com/pnIwRVgcCS

— InAllKindsOfWeather.com (@AllKindsWeather) September 30, 2018
Franks flipped the ball backwards to the dangerous Kadarius Toney, who then stopped and heaved the ball to tight end Moral Stephens for the game's only touchdown. That gave Florida a 10-6 lead it would not relinquish.
But while the trick play will generate the headlines and highlights, Florida won this game because of its defense. The Gators held Mississippi State to just 43 total yards in the second half, dominating the point of attack and constantly harassing Fitzgerald. The defense also helped Florida win the field position, as did Tommy Townsend by air dropping several punts inside the MSU 15.
Meanwhile, Mullen continued to flummox his ex team's defense with a wicked adjustment: the quick passing game. With a weak offensive line and a limited quarterback, the best way to move the football is to force them to do as little as possible. So Franks began taking the snap and firing screens and flares to his ultra-talented cast of receivers, and Florida began taxiing down the field. Evan McPherson then kicked a field goal to up the lead to 13-6.
However, with two minutes to go, Mississippi State had one final opportunity to spoil Mullen's homecoming. Back to back defensive penalties by the Gators gave the Bulldogs 25 free yards and out of the hole Townsend had dug for them. Fitzgerald then rifled a pass to Deddrick Thomas to the Gator 45 with a minute and a half showing on the clock. But as soon as the Bulldogs crossed midfield, the Gator defense stiffened: three straight incomplete passes set up a last gasp fourth and ten.
And Donovan Stiner knocked the Bulldogs' final bit of air out with a soul-crushing sack to turn the ball back over to Florida and end the game.
BALLGAME!!! DONOVAN STINER BLOWS UP NICK FITZGERALD AND THE #GATORS HAVE COME ON THE ROAD TO STARKVILLE AND PULLED OFF THE UPSET!!! pic.twitter.com/5TeR7VZlRw

— InAllKindsOfWeather.com (@AllKindsWeather) September 30, 2018
This Florida team is not perfect. The offensive line is still inconsistent, Franks is still limited as a downfield passer and a decision maker and this defense still missed a few tackles.
But it takes some combination of guts, heart and determination to come into a notoriously nasty place like Starkville- where Florida has a particularly ugly history- and get a win.
And Florida did just that.