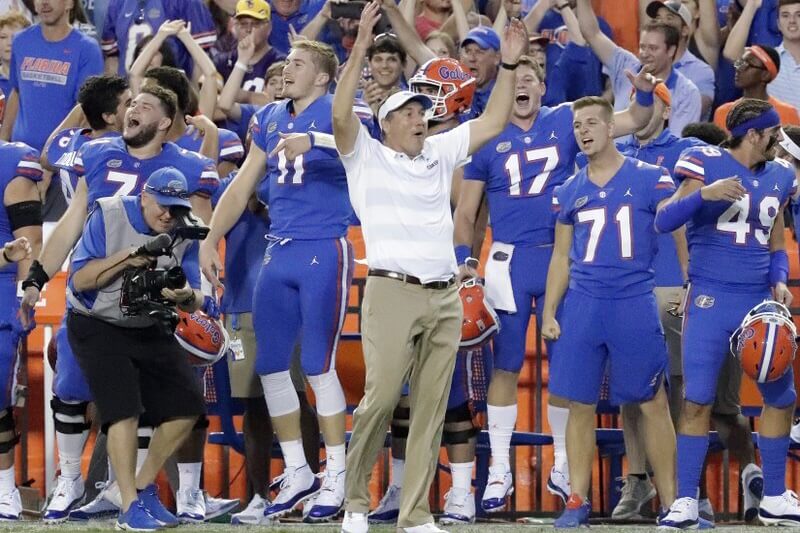 Florida's win against LSU touched off one of the wildest postgame celebrations I can ever remember seeing or hearing about. Having been in Gainesville for the game and experiencing part of the postgame party, I can personally confirm that Mick Hubert wasn't exaggerating by calling it "an insane asylum."
Similarly, there's no minimizing the job Dan Mullen has done. Florida was a four win team last year, and needed a lot of things to go their way to even get that many wins. But halfway through season one of Mullen's tenure at Florida, and it's clear that the culture has changed dramatically.
I spoke to a few players after the game on Saturday night. Some I knew personally, while others I met for the first time, so some of them opened up about the details more than others. But the overall theme was identical. Jim McElwain didn't know how to coach a football team. Dan Mullen does.
For starters, how to handle different players. Mullen knows when to get in a kid's face, when to be his best friend, and when to leave him alone completely. In order to be a successful coach, you have to make sure the good moments don't get your players too high, and the bad moments don't get your players too low. And Mullen is a master at this.
After losing to Kentucky, Mullen made a point to both his players and the media that his team didn't deserve to win, and even if Kentucky had handed them enough mistakes in order to win, they wouldn't have deserved it. But he also told his players that no Gator team has ever gone undefeated (which is technically not true, as Florida went 5-0-1 in 1911, but the point was made) to end his speech. He challenged his players to go forward and make people forget about the loss with subsequent victories.
However, it's clear that merely winning a game isn't enough for Mullen. He wants his team to play well enough to win, too- and there's a huge distinction. Right after both the 48-10 win over Colorado State and the 47-21 win over Tennessee, Mullen's first words were- and I'm paraphrasing here- "Good job. But we can do an even better job." The idea was to inform everybody that if they wanted to take the program to the heights that we all want them to reach, the team still has a ways to go. In other words, he congratulated his players on scoring more points than the opponent, as opposed to playing a winning brand of football.
And that ability to keep his players grounded after a pair of wins in which the Gators looked decent led to a pair of hard fought wins against opponents of comparable strength. Mississippi State and LSU were both ranked higher than and favored to beat Florida in the weeks leading up to the game. Both opponents wanted blood in their own way, MSU because of the well documented departure of Mullen last November and LSU because of their (objectively inaccurate) belief that Florida somehow screwed them over two years ago with the Hurricane Matthew debacle. Mullen made his team know that they were going to have to take their last two opponents' best shots to win.
Which they did.
Of course, Mullen was much happier after the last two wins than the two that preceded them. Even after the LSU win, though, he clearly let his players know that they could not be satisfied with their performance and plateau at the level they played at. Yes, there were the well documented dance moves that made their rounds through the Gators' Twitter handle, as Mullen was clearly proud of his players for winning such a high stakes game. But Mullen was able to simultaneously convey the message that this team still has improvements to make while recognizing that what they just accomplished was big.
For example: Feleipe Franks. He's played worse games, for sure, but he completed just 44% of his passes and threw a horrible interception in the end zone that cost Florida a potential two score lead. He also one hopped open receivers multiple times and threw the ball away when he had a wide open Van Jefferson crossing over the middle. He did some positive things, too, dropping in a pair of beautiful deep balls to Jefferson and Josh Hammond, but the sum of his performance was somewhere between below average and average. Which, yes, is better than what he did last year, but still not the standard at Florida.
On top of that, Florida's defense was on the whole exceptional. But the Gators still got roasted on the first play of the game, which led to a lightning quick LSU touchdown before fans had even settled into their seats. Sure, that drive was crafted days in advance, and yes, Florida's defense would then bear down and silence LSU the rest of the way, but just because there's a valid excuse for that drive happening and it was the outlier of a stout performance doesn't mean it's not something Florida can improve on.
This is the key with Mullen. He and his coaching staff will not allow the Gator players to act as though a performance that was overall stellar did not contain some things that need to be worked on. Happy as he, or you or I may be after a win like that, there's always room for improvement. That's exactly why Florida didn't get complacent after its big 13-6 win in Cowbell Country, and instead followed it up with an even bigger win. And that's why he's a great coach.
Compare that to Jim McElwain. McElwain's biggest win was in Death Valley in 2016, in which his 21st ranked Gators upset 16th ranked LSU 16-10 to clinch the SEC East. Put aside the emotions of the Matthew situation; that was a solid win for his team, given how decimated by injuries the Gators were. However, Florida really won that game because of an array of LSU miscues, including a fumbled kickoff at its own 21 that Florida recovered and cashed in for a field goal, a fumble from Derrius Guice on a play that began at the Florida 7 which Florida also recovered to snuff out a scoring drive, and a botched field goal attempt that led to a desperation heave into the end zone that fell incomplete.
A good coach would have recognized that while the effort from his short handed squad was admirable, the overall performance was by no means the standard that the Gators should strive for. Instead, McElwain opted to inform LSU that "they got what they deserved," which would have been fine if he and his team could have used that win as a stepping stool to further greatness and build off it. But that's not what happened; the Gators went on to get shelled 31-13 by FSU and 54-16 by Alabama in their next two games.
McElwain's problem was that he seemed to think SEC East titles are the ultimate goal at Florida. Which they are absolutely not. But under McElwain, the entire program seemed to echo this thought, going as far as adorning the Swamp with "SEC East title" banners after his program won the division in each of his first two years. Yes, McElwain became the first coach to ever guide a team to the SEC Championship Game in each of his first two seasons- a stat that's a bit unfair because Steve Spurrier's Gators won the SEC in his first two seasons in 1990 and 1991 before the conference added South Carolina and Arkansas, split into two divisions and implemented the SEC Title Game- but still. That's a feat that Urban Meyer, Mark Richt, Nick Saban, Gus Malzahn, Les Miles, Kirby Smart and Dan Mullen (at Mississippi State) each had theoretical chances to do and didn't do it. However, each of those men are quantifiably better coaches than McElwain simply because they don't call it good enough when they win the division. Each of those coaches aside from Mullen has at least one SEC Championship trophy, and give Mullen some time and he's as sure a bet as any to join them in that department.
Because Mullen gets it. Mullen knows what it takes to build a program that doesn't plateau at the level of "good," but instead keeps striving to keep climbing, no matter what it just accomplished in its most recent game. He's building a foundation in Gainesville that his players are absolutely overjoyed to be a part of.
The best part? This season, and this team, is likely to be as bad as it's ever going to be. Feleipe Franks was the quarterback best suited to win immediately that Mullen inherited; every quarterback that Mullen will use after him will be his guy, who he personally recruited and envisioned to be the prototype to run his offense.
And if this season really is the worst it will be under Mullen, the future is brighter than ever before.