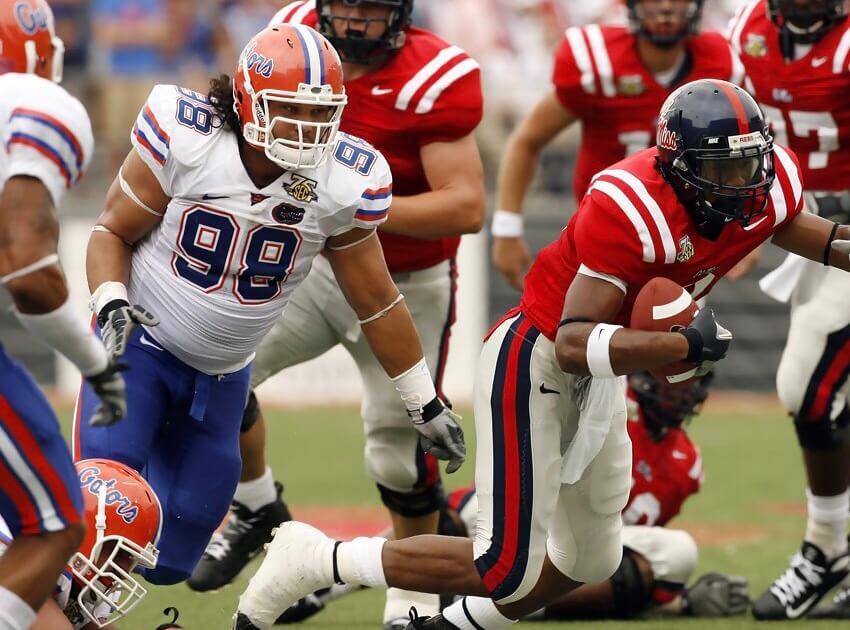 On the eve of Florida's 2019 home opener against Tennessee-Martin, I caught up with former Gator defensive tackle Clint McMillan, who, as fate would have it, will be returning the Swamp tomorrow- as an opponent. Clint was gracious enough to grant me an interview, and we spoke about the path he took from the Gator football team to their next opponent, his feelings about switching sidelines in Ben Hill Griffin Stadium, how he earned his rather unusual nickname, and more.
Enjoy!
Me: Hey Clint, great to talk to you today. Thank you for taking time out of your schedule.
Clint: Of course! Anytime.
Me: So Clint, for those who don't know: how long have you worked at UT-Martin, and what is your official title with the Skyhawks?
Clint: This is my third season with UT-Martin. I'm the defensive line coach here, and on top of that, I'm the co-special teams coordinator.
Me: Where were you before you started coaching at UT-Martin, and how did you wind up there?
Clint: After I left Florida, I worked in the insurance industry and I hated it. Was making good money but… again, I just hated it. I started coaching high school football and then joined Doc Holliday's staff at Marshall as a grad assistant under Coach Chuck Heater and then left for UT-Martin in spring of 2017.
Me: How do you like living in Martin, TN? I hear there is not much to do there.
Clint: Yeah, there isn't really much here but I think that's a good thing. It gives these kids a chance to focus on just football and school without many distractions.
Me: Now, I would be remiss if I didn't mention the fact that you have the very unusual nickname of "The Lion Tamer." Where and how did that originate?
Clint: Well, growing up near Oviedo (outside of Orlando), I lived on an exotic animal conservatory. We trained lions, tigers, and other exotic animals. We trained animals for movies, commercials, and for educational purposes. When Coach (Charlie) Strong came to recruit me he had the time of his life hanging out with the lions and tigers. So in a sense, I am a lion tamer.
Me: Awesome. So getting back to football…. how excited are you to get back in the swamp and play your alma mater?
Clint: Ah, man… it's gonna be awesome! I can't wait! I love coming back and seeing all my old coaches, and it's gonna be so special. It's just gonna be different being on the other sideline.
Me: So Clint, you being the defensive line coach for the Skyhawks, I know you've had a chance to watch film on Florida's offensive line. Many critics say that the offensive line is the weak spot on Florida's team… have you noticed that watching these guys?
Clint: If you think Florida's offensive line is weak or not very good then you don't watch football. That simple. Coach John Hevesy is one of the best in the country at utilizing his talent he has. He takes NFL talent and replaces those guys with more NFL talent. This is a tough task for us.
Me: Now, you got to go against Dan Mullen in practice every day when you played for the Gators in 2006 and 2007 and obviously you know him and his offense very well. So tell us: from your experience, how good of a coach is Mullen?
Clint: Ah man… he's so good. He learned from Coach Meyer who I think is the best coach in college football history. He believes in a physical brand of football and that is why his teams are so good up front. Among other things, he is elite at both evaluating and developing talent. He definitely has the Gators going in the right direction.
Me: Among your other titles, you are also the recruiter for Florida for the Skyhawks. For those who don't know, you have over a dozen players from the Sunshine State. Can you talk a little bit more about that?
Clint: Absolutely. Florida is so easy to recruit. You can go to any corner in a city and find a division 1 football player. We have kids from Tampa, Jacksonville, Deerfield Beach, Orlando. All over Florida.
Me: Let's end it with by throwing it back to your playing days. Who is the best offensive lineman you've ever faced off against?
Clint: No question… Mike Degory. He was so talented and so intelligent. He was in practices calling out coverages of the defensive backs on top of the protections for the offensive line. I just ran into him while I was recruiting and he looks like he can still play.
Me: Clint, it's great to talk to you. Good luck this weekend.
Clint: Thank you.