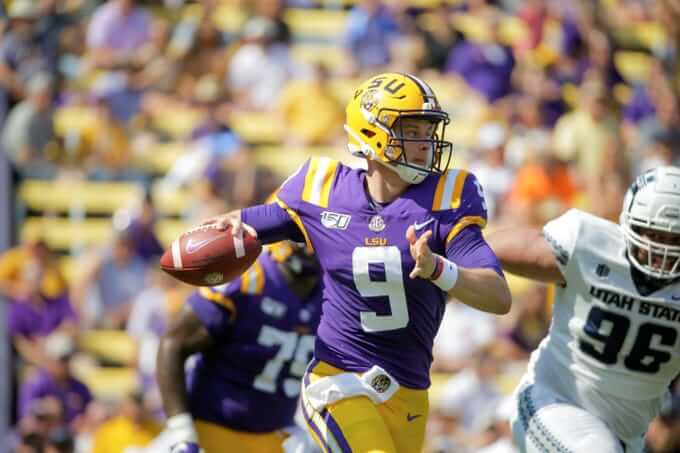 Welcome to life in the SEC, where winning a big game just means that your next big game is even bigger, as Florida's win over Auburn has just made the stage tomorrow night that much bigger.
Let's get to know that next opponent a little bit better.
Defense
The first thing that jumped out to me about LSU's defense was this look. It's not their base defense, but they do like to show this look on occasion (3-4 with the outside backers on the line of scrimmage vs. playing off the ball), and it's a bit of a concern for me considering how Florida's offensive line has played (and we'll just leave it at that). Since Florida runs a spread offense, they are used to seeing three and four more fronts. This five man front could present a challenge for the OL in any venue, but especially so on the road in terms of communicating who has what defender.
Now, there are ways to counter this, assuming LSU runs with this look at any point. Putting guys in motion pre-snap to get LSU to declare what they are running or sliding LaMical Perine/Malik Davis/Dameon Pierce out wide to get them matched up with one of the linebackers would be one of them.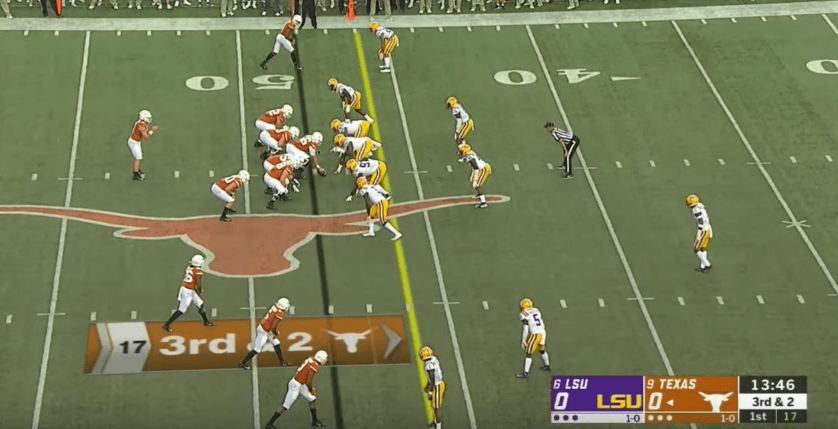 This is LSU's primary defensive look vs. spread teams. Three defensive linemen with their hand on the ground, one defender standing, two linebackers and five defensive backs.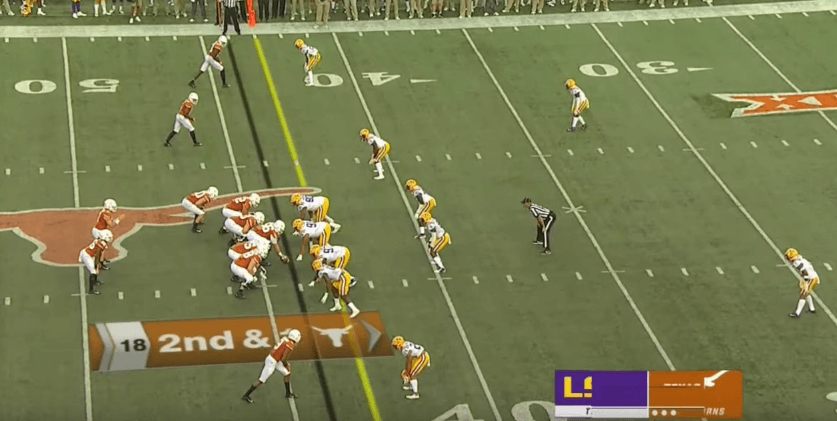 LSU plays a lot of man defense. Likely more than Florida does, and they trust their outside corners to play 2-3 yards off the WR, but I noticed that they do give quite a bit of cushion to slot receivers. That could work in Florida's favor with the way that Kyle Trask relies on his slant route.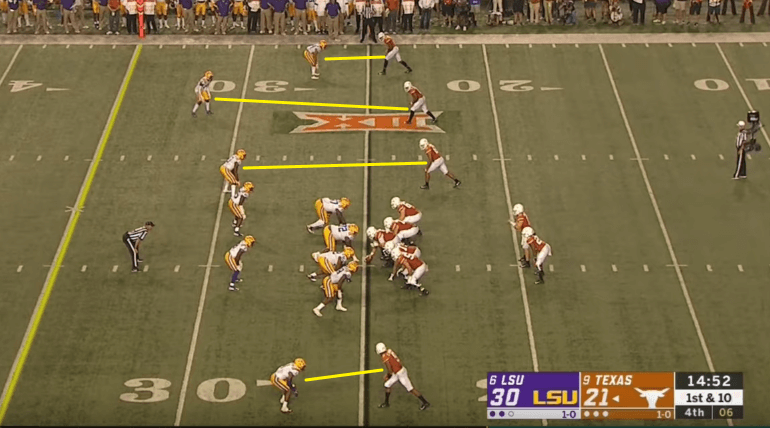 Speaking of that slant route: it can be lethal once offenses figure out how to incorporate it. For instance, Texas QB Sam Ehlinger was having issues consistently hitting his X and Z receivers, so Tom Herman's big adjustment at halftime was attacking the slot receivers with quick routes, like this one below. This slant route ended up turning into a TD for Texas.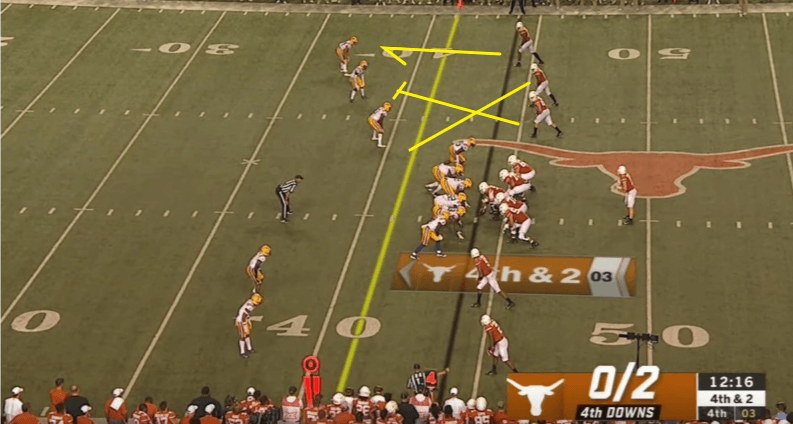 K'Lavon Chaisson is really their only true threat as a pass rusher on the defensive line, and though he's certainly respectable, he's not remotely as fearsome as Derrick Brown was for Auburn. So that's the good news. Here he is with a nice power move that got the LT off balance.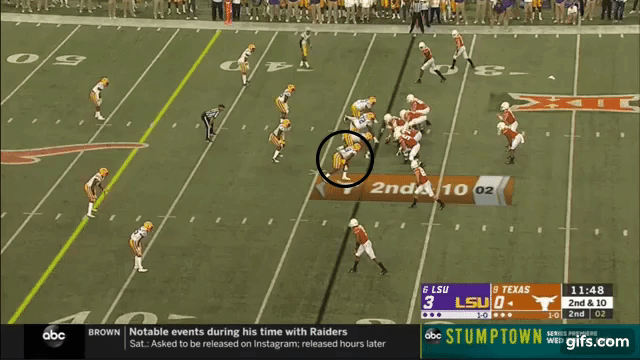 Here Chaisson is on a simple stunt, again. It's really nothing complicated or overly impressive; he really does not have an impressive set of pass rush moves, but he's agile and has good footwork here to quickly turn and get through the gap for the sack.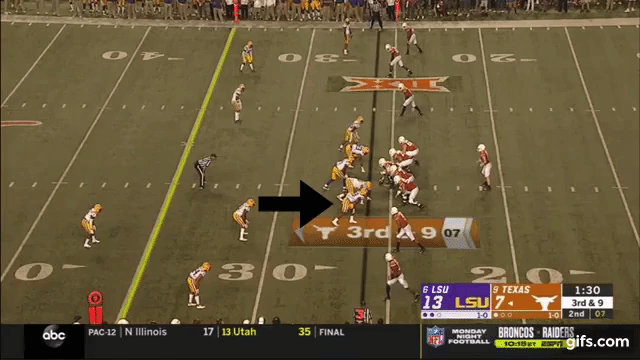 Grant Delpit is, in my opinion, the best safety in the country. It will be interesting to see exactly how Florida schemes for him because Mullen and company love to call screen plays and this kind of play happened numerous times in the 3 games I watched.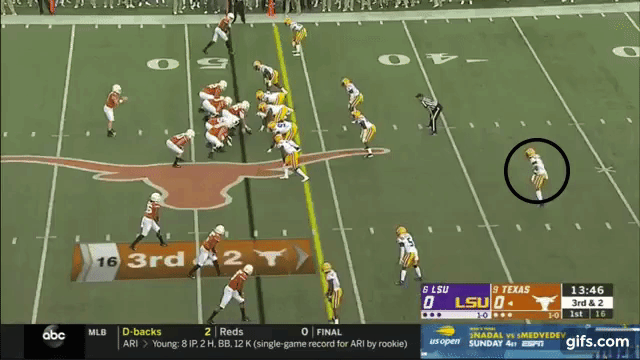 LSU's corners are fairly young, but really good. They are trusted to play a lot of man and they do a good job of running WRs routes right along with them and then attacking the ball in the sky. Here is a freshman corner, Derek Stingley Jr., who high points the ball for the interception.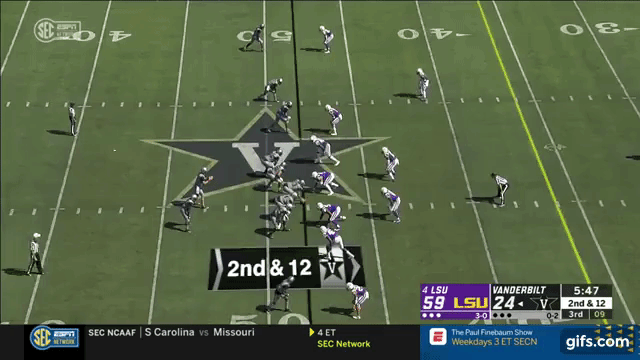 And this is Stingley again with a very similar interception as the highlight above. Despite the fact that Stingley is a freshman corner starting in the SEC, it seems like there isn't a lot of room to pick on the young corner, I've rarely seen him out of position. He's one of those guys that just seamlessly adapts to the next level.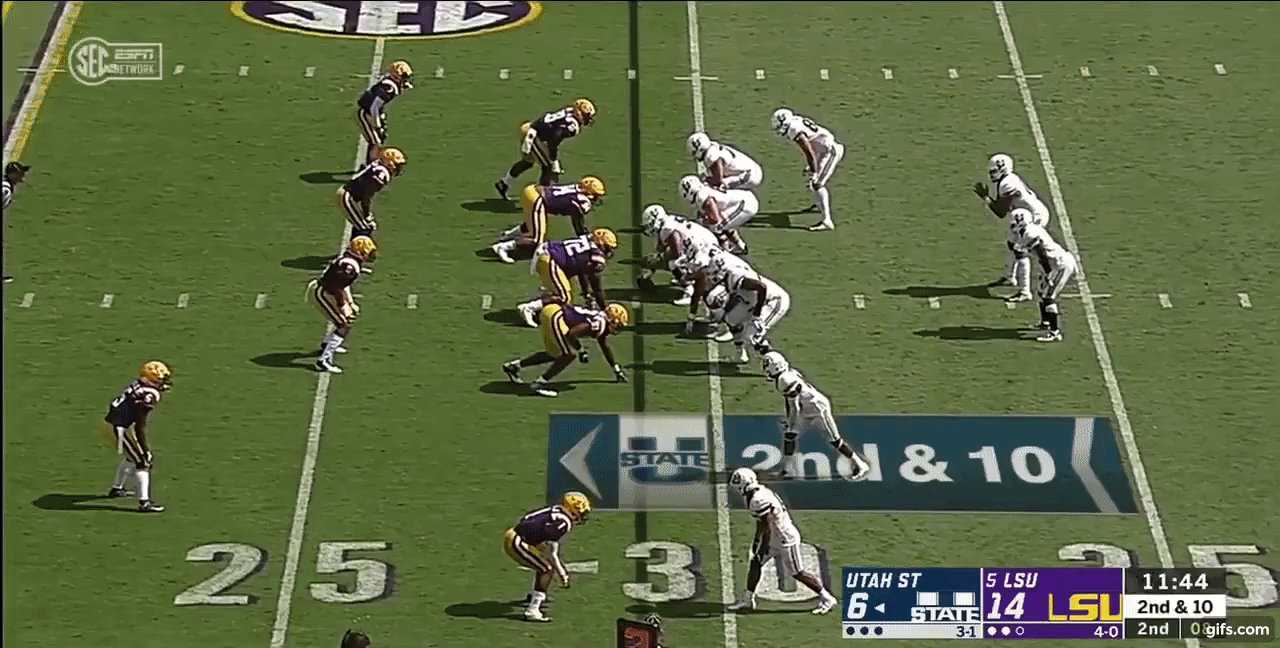 The numbers
SP+: 3
Scoring: 29 (19.8 ppg)
Rushing: 8 (81.00 ypg)
Passing: 52 (206.8 ypg)
Total: 17 (287.8 ypg28
Sacks: 41 (18 sacks)
Interceptions: 40 (5 INT)
3rd down con. allowed: 18 (30.14%)
4th down con. allowed:  18 (28.57%)
Opp red zone conversion: 8 (66.67%)
DEFENSIVE SUMMARY
LSU has a solid defense, as usual… but they aren't as intimidating as prior Tiger defenses have been when Florida played them. Their pass rush is a noticeable step down from Auburn so Florida's offensive line should have an easier day than they did vs. Auburn. The issue for me in terms of whether or not Florida's offensive line actually plays well is the communication on the road in a night game environment that is one of the five loudest places to play. The Florida line has struggled to communicate and block effectively at home, and it seems that playing Florida's line gets the best out of your pass rush, so we'll see how that plays out.
I didn't touch specifically on the rushing defense of LSU with any highlights simply because they haven't really been tested over the course of an entire game, but that's not to suggest it's not a critical piece of their defense. They have size on their defensive line and they have good speed at linebacker, they stopped Texas on multiple 4th to go situations and did the same to Vanderbilt as well. So many LSU games result in LSU jumping out to a comfortable lead that teams that would like to run the ball haven't been able to stick to their plan and have to throw for more, if not the entire 2nd half to attempt to get back into the game. So I don't expect for Florida to be able to run the ball consistently on LSU, because Florida hasn't been able to run the ball consistently on anyone, but I think there is potential for Florida to find some room and maybe break a big one if the game stays close.
Offense
One of the first things I noticed when watching LSU's offensive line is that they don't handle blitz packages very well, specifically the interior of their line gets lost in who to pick up and pressure gets to Burrow. This is only a four man rush, but the blitzing linebacker takes a step towards the RG and then steps back over into a gap next to the C and LG and forces Burrow to scramble.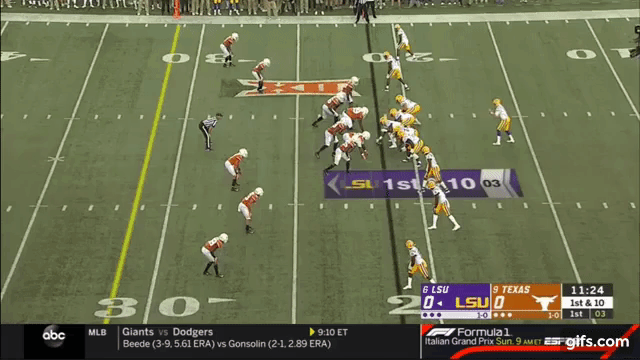 Here is another play where Texas only brings four defenders on a blitz, which means LSU has numbers and should be able to pickup the blitz package.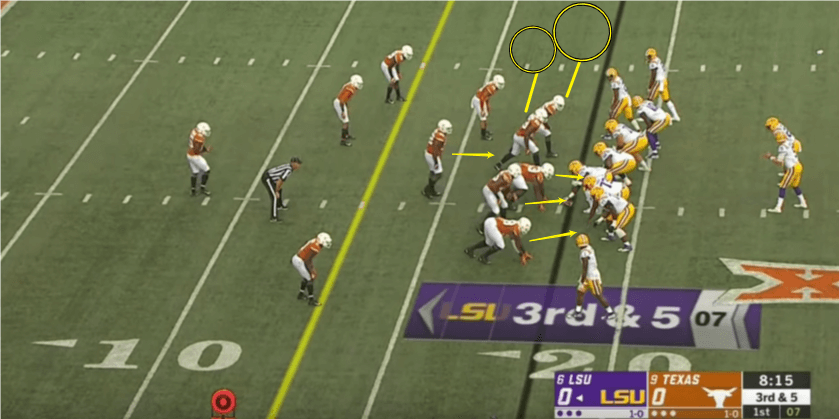 …and they don't. One defender gets through as a free runner and another lineman has lost his battle with a linemen and Burrow has to start running before he gets into his last drop.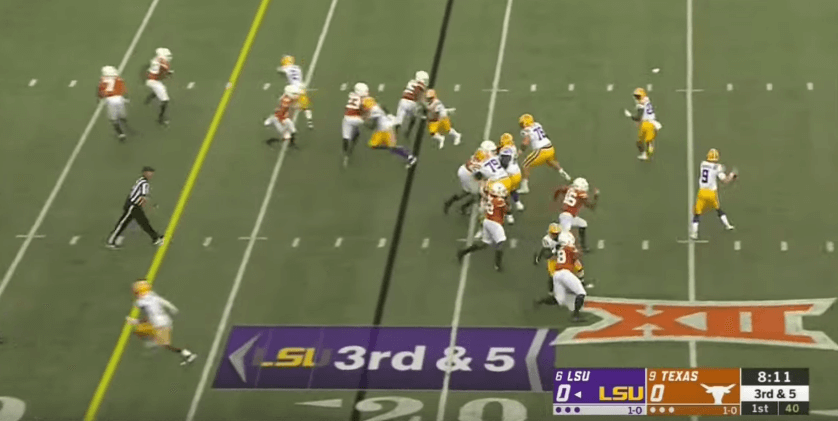 This is another blitz package up the middle of LSU's OL and you can see how badly LSU struggles to pick up the pressure as three defenders get through and surround Burrow.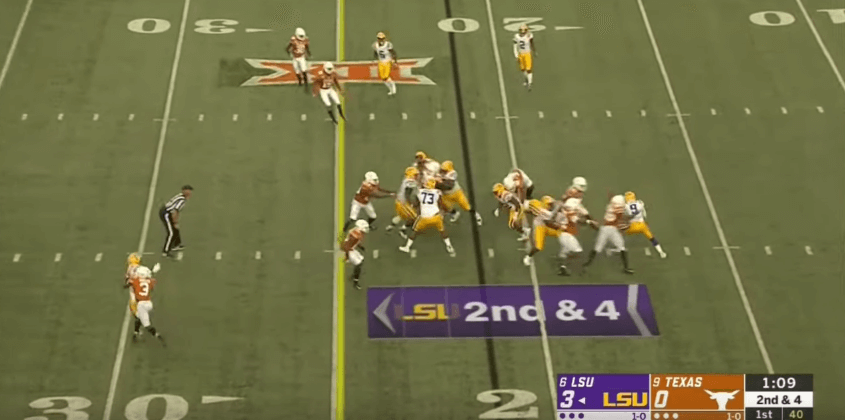 Texas showed quite a number of looks that won't really take LSU by surprise because of how similar they are to what Todd Grantham runs. This being one of those plays, cover 1, there will be five defenders coming for Burrow.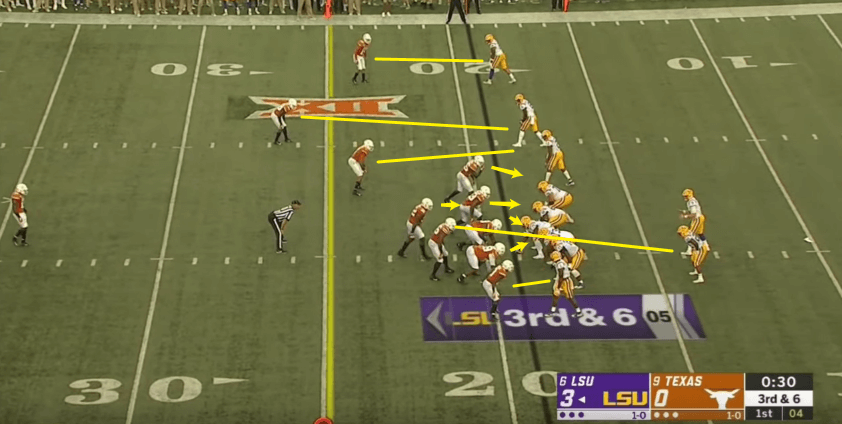 And once again the middle falls apart and flushes Burrow out of the pocket.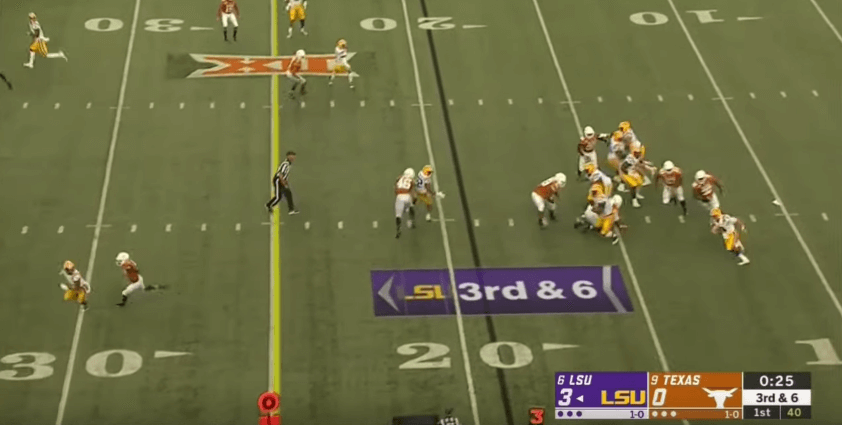 Here is a highlight of LSU trying to block a 6 man rush.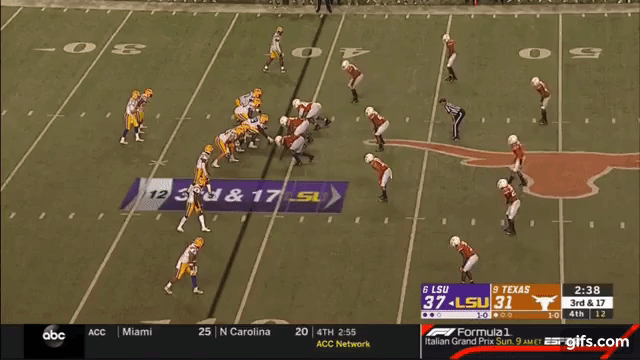 In terms of sacks allowed, LSU is one sack worse than Auburn, but all things considered, LSU has a pretty stout offensive line for the most part. Like Florida, though, their RT is clearly their weakest link. This happened a couple other times where he's lost the pass block battle and looks like Jean DeLance trying to save his QB at the last second.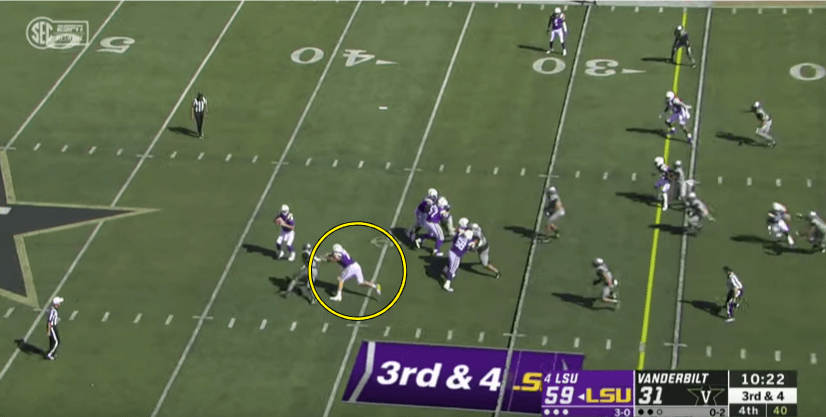 Here he is again getting beat, not quite as bad as above, but the pass rusher is inches from the strip sack here.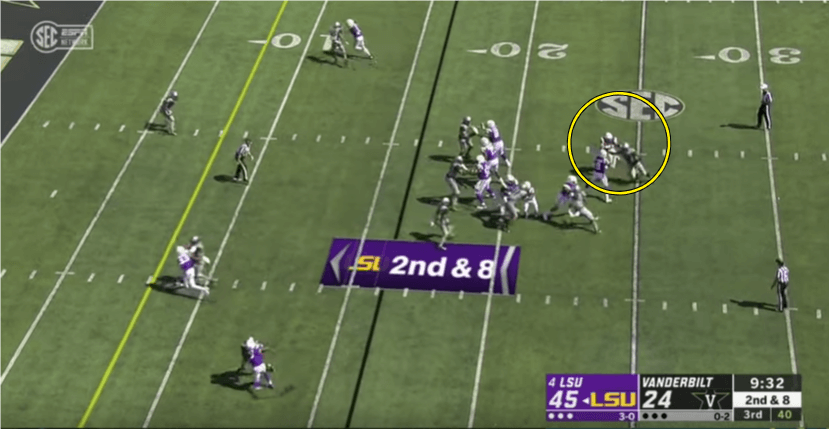 On a personal level, Joe Burrow is disliked greatly by Florida fans, and I have no issue with that because I share that disdain. But objectively speaking, he is a great QB who, despite putting up numbers on terrible passing defenses, isn't a guy people should try and pretend is just a bad QB simply because of the numbers of the opposition.
His ball location is really good, this is pretty solid coverage by the corner who gets a hand up there at the last moment to try and throw off the pass but the ball from Burrow is pretty much perfect. This would be complete vs. most defenses in the top 25, as you cannot defend the perfect pass.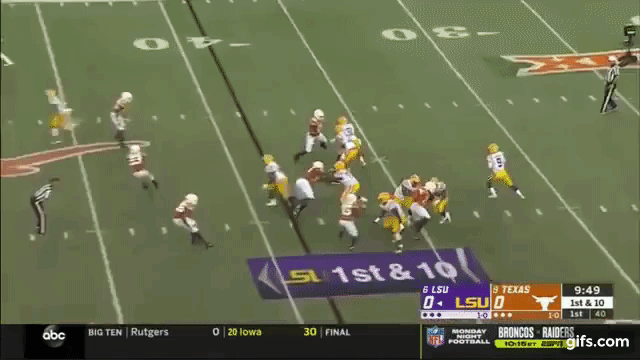 Burrow is great at finding zones to pick apart. Here is a quick screen of Burrow delivering a ball right into the zone of Texas to illustrate that.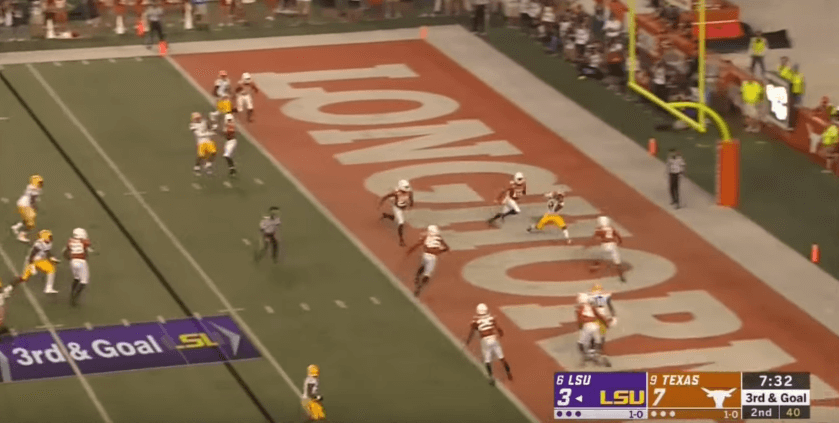 Once again, this isn't perfect coverage, but it's good enough to defend against most passes and Burrow just does a better job of placing this ball up and away from the body of the defender who can't really make a play on the ball even if he turned earlier and tried to make a play on the ball.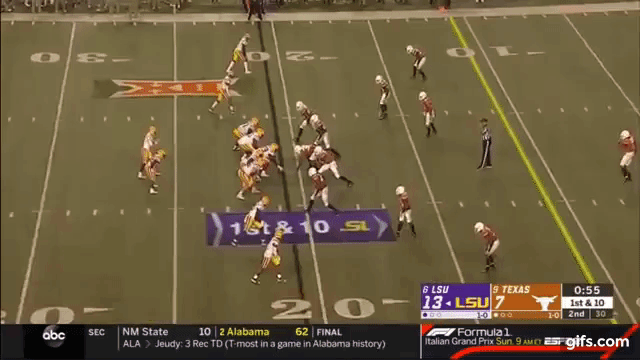 He's putting this ball where only his WR can make a play on it. This coverage isn't worth bragging about, but Burrow again puts the ball where the corner would have had to be to the inside of the WR in order to make a play here.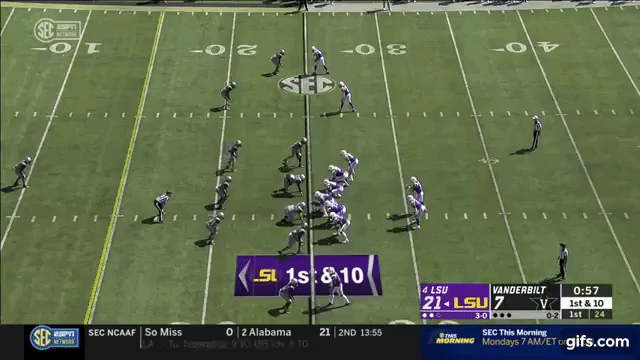 Not-so-random observation: JaMarr Chase is really good. He isn't a huge WR, he's only 6'1″ 200 pounds, but he does a great job of attacking the ball over corners.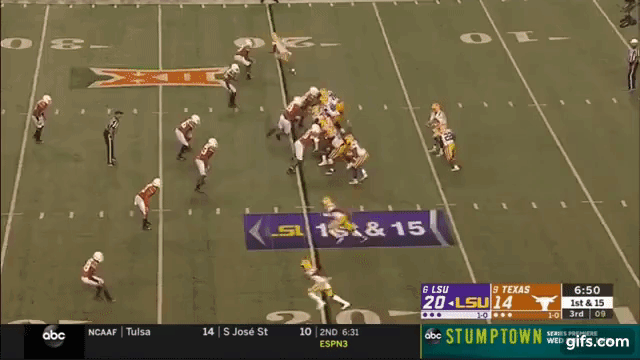 For this one, you could note how little time Burrow had to throw the ball, you can also note how quickly Burrow gets the ball off, but for this one I'm highlighting Chase going up and after the ball and winning again.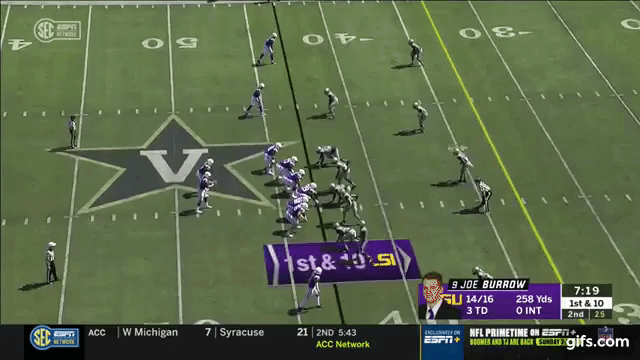 Chase moves around and here is lines up in the slot and takes a simple slant and just runs past everyone on Vanderbilt.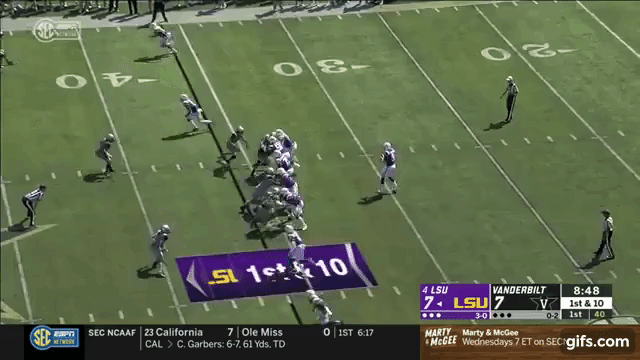 Exact same play, quick slant, easy pass, Chase turns it into a long TD.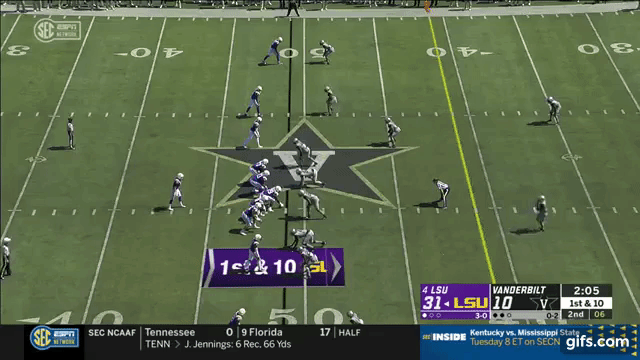 the numbers
SP+: 3
Scoring: 1 (54.6 ppg)
Rushing YPG: 75 (155.00 ypg)
Rushing APC: 76 (4.21 ypc)
Passing: 2 (416.0 ypg)
Total: 2 (571.0 ypg)
Sacks allowed: 50 (9 sacks)
3rd down %: 1 (56.92%)
4th down %: 30 (66.67%)
Red Zone scoring: 1 (100.00%)
offensIVE SUMMARY
I didn't show any negative plays above from Burrow for the simple reason that there just aren't that many to show. And there aren't any that demonstrate a larger point, i.e. are part of a bad pattern for him. I understand I nitpick over Florida football a lot, but with a limited amount of GIFs to utilize in order to not slow your browser down, I didn't think it was necessary to waste any GIFs on one or two bad Burrow plays. Every QB has misses, Burrow is extremely efficient, 3rd in QB Rating and 1st in completion percentage in the country.
Now, this doesn't make Burrow the perfect QB prospect (in terms of the NFL draft he seems to be outside the top ten on most mock draft web sites), but I believe that he is a very good college QB right now and that is more important than his NFL future. Yes, we should definitely take into consideration that the passing defenses LSU has played rank 103, 114, 118, 126 and Northwestern State ranks 117th in the FCS in terms of pass defense. But at some point you can't simply put the production of LSU entirely on bad defenses.
There is nothing unique about LSU in terms of scheme, they run more three WR looks than anything with 4 WR personnel coming after that. I believe the way people talk about LSU and their offense has to do with how long they ran a very generic, scaled back pro offense, so now this new spread, pass happy offense looks like West Virginia running the read option in 2007. As I stated before, Burrow's ball location is great and his timing is really good. He doesn't hold onto the ball for long, aimlessly searching for a WR to throw to, he understands his primary target and he knows who is secondary target is. He slides around in the pocket pretty well, which is important considering LSU doesn't have a great OL that can handle blitz packages very well.
It seems as if the biggest reasoning that Florida fans are motivated to play Burrow and LSU is because of the pick six to Brad Stewart- and the subsequent game-clinching pick to Donovan Stiner- that he threw a year ago. Which is the absolute wrong way to look at things, because that has no bearing on what happens on Saturday. QBs improve. For example, the much maligned Feleipe Franks improved his QB Rating from 143 to 173 from 2018 to 2019 prior to getting hurt. I am aware that Burrow struggled vs. good defenses last year and it wouldn't take me by complete surprise if Burrow was overwhelmed by Florida's defense on Saturday. But I'd prefer for people to find reasons in 2019 that he will struggle and not rely on 2018 for arguments that apply to Saturday. The tape shows enough improvement that it's one of those cases that I want to see Florida step up and shut down Burrow before getting crazy.
LSU has fast WRs more than they have great size in their WRs and it fits their scheme and how fast Burrow gets the ball out. A lot of teams have given their slot guys room to run and their OC has taken advantage by calling simple routes that quickly get a guy open underneath coverage and relies on the WRs running ability to turn the play into a big gain. Chase alone has acquired plenty of YAC in this offense as I showed above.
LSU running backs are good but not great, they don't have a great rushing game, but it's good enough to hurt Florida if Florida doesn't stay patient in their gaps. But I haven't gotten the sense in any game that LSU has an imposing OL that bullies guys out of the way and create large holes. I noticed some stuff similar to the Auburn game in regards to A and B gap runs not going very far and LSU having more success with off-tackle runs, and like Auburn, there are a lot of runs designed to go up either between the center and guard or guard and tackle that requires the RB to make a jump cut outside to make room. Florida handled Auburn pretty well here so I think they are properly prepared for LSU.
Conclusion, and prediction
I believe Florida can move the ball on LSU, their defense isn't great, they field the same athletes all over the field that they normally do and while I do like their secondary and their aggressive man scheme, teams haven't had issues moving the ball or scoring on them. Texas put up 38, Vanderbilt's offense put up 31 (one of the touchdowns to give Vandy 38 for the day was a fumble recovery in the end zone), and even Northwestern State put up 14. For an idea of just how bad Northwestern State is, Tennessee-Martin clobbered them by three touchdowns this year.
But that said: I don't foresee Florida being able to run the ball. At no point have they consistently ran the ball this year, so I'm not going bring myself to believe that suddenly will change in a hostile environment against the strongest defense they've faced to date.
Defensively, I'm curious to see how Grantham approaches this game. Does he come out aggressive, utilizing cover 1 with some cover 0 mixed in to see if that pressure forces Burrow into making mistakes, or does he keep their offense in front of him and tighten up when LSU gets into the red zone? The issue with aggressively attacking Burrow is you put your corners at a risk of getting burned on the short stuff, which Burrow and LSU have done really well this year. LSU has absolutely not played a defense of Florida's caliber, though, and Grantham did call a nearly perfect game against Auburn. So we'll see.
Now: Jabari Zuniga supposedly returning is a big deal. As good as Jonathan Greenard is, the pass rush for Florida is noticeably better when Greenard and Zuniga are on opposite ends from each other. LSU has a RT that has struggled so it's a good recipe for either Greenard or Zuniga to have a good day opposite said RT. If Florida can't get to Burrow with creative pressure looks, it will be important for Zuniga and Greenard to win with simply beating their man so the corners don't have to play straight man coverage for long every pass play.
The last thing I want to touch on defensively is I would like to see either CJ Henderson or Marco Wilson shadow Chase around the field. You're going to see Jaydon Hill and/or Kaiir Elam play a lot as freshman because of how often LSU runs four WR looks. Trey Dean has struggled a bit this year in the slot and I would be shocked if LSU doesn't try to actively get Chase matched up with Dean; to counter that, I would be much more confident in this game if Henderson or Marco followed Chase around like a true #1 shutdown corner.
My prediction: LSU 34, Florida 27.
I hope to be as wrong on this account as I was on the Auburn game. This has been a game I've predicted Florida to lose all summer. The environment is intimidating, the crowd is loud, and that can be an issue for an offensive line that struggles to efficiently block at home and this is quite an upgrade from Kentucky and even Auburn for Trask.