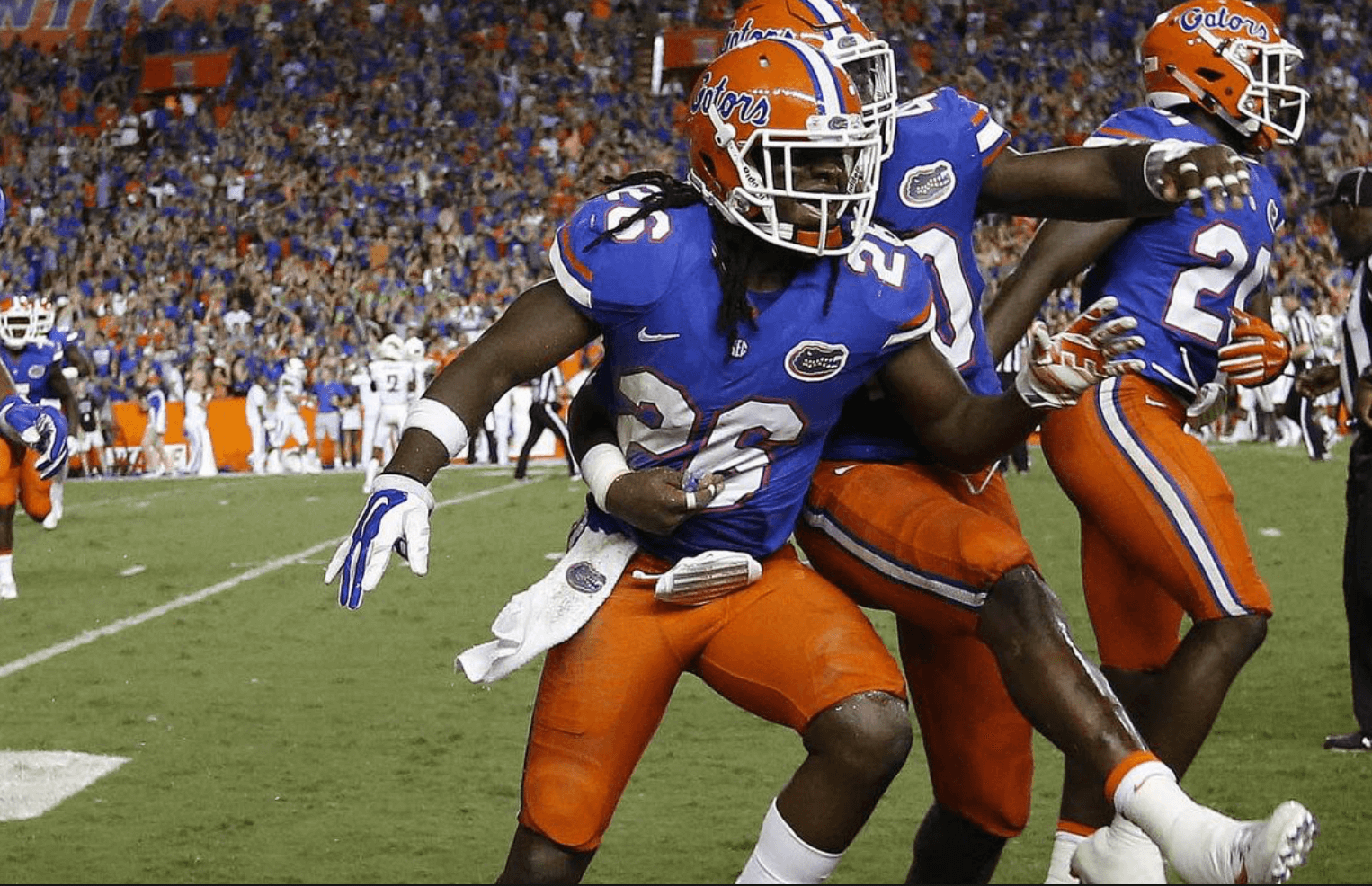 The Gators' rich tradition of placing its players in the NFL continued with five players being selected at the NFL Draft and five more signed as undrafted free agents. UF has now had 344 players get drafted all time, including 52 in the first round.
Yes, Scott Stricklin, that's good.
Here is a list of all the former Gators who have found new homes in the pros:
DT Taven Bryan, JAC, Round 1, pick 29
Positive: Bryan is the son of a navy seal, Brandy, who unequivocally trashed the job Jim McElwain did getting his players into shape. This rubs off onto Taven, who is an absolute freak of nature and made a habit of blowing up both opposing offensive linemen stupid enough to try to double team him. He has a nose for the ball, and is fast enough to be an interior lineman at the next level, but brute strength is by far his best attribute. Right behind it his work ethic. And you'll have a hard time finding players with those two attributes as their best who don't work out.
Negative: as a former offensive lineman, Bryan hasn't played as much DT as most other DTs in the NFL. While that goes to show a high football IQ for him, it also means he's going to have work to do at the next level. In addition to that, Bryan is going to a Jaguar team that's absolutely stacked on the defensive line; as a Giants fan, I'm well familiar with and approve of this strategy from Tom Coughlin, but it may hinder his playing time early on.
Verdict: Bryan is as easy a guy to root for as you'll come across, and though he has a bit of a learning curve, I think most Gator fans will be thrilled with what he does when all is said and done.
CB Duke Dawson, NE, Round 2, pick 56
Positive: There's more to like about Dawson than just being the latest cornerback to Hail from Defensive Back University. Dawson is a jack-of-all-trades defensive back who can play both man and zone coverage well, and is solid in run support to boot. With the ball skills he has, aim plays at him at your own risk.
Negative: his size and speed won't jump out at you. But he found a way to compensate for that in college, so projecting him to fail in the NFL solely because of that is a risky proposition.
Verdict: great pick for Bill Belichick and the Patriots. This guy had the instincts to be an All-American at about 90% of the schools in the nation without Jalen Tabor, Vernon Hargreaves and Quincy Wilson to have to battle for playing time, and they got him with a second round pick.
WR Antonio Callaway, CLE, Round 4, pick 105
Positive: in a word, talent. Though small, Callaway is an explosive playmaker who lit up opponents on a weekly basis on both offense and special teams. His quick feet, sure hands and ball skills make him a first or second round talent, so it's possible that the Browns just grabbed the steal of the entire NFL Draft. Of course, they also may very well not have….
Negative: in a word, stupidity. Callaway is a Gator and so I wish him well, but it's 100% objective to say: holy hell did he make a mess of his college career. Among the issues: admitted repeated marijuana use, driving 30+ mph above the speed limit, and the infamous credit card calamity that killed both his and Florida's 2017 season. If he gets it together, he can be great, but that's a bigger if than in most sentences that start that way.
Verdict: in a way, a fourth round pick seems like the perfect median spot for Callaway to go in the seven round NFL Draft: a first round talent and an undraftable brain. Then again, Cleveland can take this kind of chance, because what do they care if this blows up and makes them look bad? Then they're exactly in the same spot they're in now: a bad franchise with just one more mistake on a laundry list of them.
P Johnny Townsend, OAK, Round 6, pick 173
Positive: he's the best punter in Florida history by every metric there is to judge punters. And Florida had Don Chandler and Chas Henry. No further analysis required.
Negative: none, really.
Verdict: Oakland probably just found their punter for the next fifteen years. Whatever you want to grade a fifth round pick with that statement is cool with me.
S Marcell Harris, SF, Round 6, pick 184
Positive: Harris was probably the second or third best Gator from a pure talent standpoint in this draft, after Callaway and possibly Bryan. Though not as versatile as Dawson, he's bigger and stronger with similarly impressive ball skills and packs quite a wallop when he zeroes in on you. He's a surefire special teams contributor and likely will have a role for himself in the secondary someday soon… if the negative about him doesn't flare up again.
Negative: Harris missed the entire 2017 season after tearing his ACL. That's not always an injury that's easy to come back from (ask John Egbunu) and he will first have to prove that he's healthy enough to play the game of football in shorts before he can do so on game day. Also, he isn't the fastest guy in the world.
Verdict: Harris was able to overcome his lack of speed in the SEC with great play recognition and intelligence, and I'm betting he'll be able to do the same thing in the NFL… if he stays healthy.
K Eddy Pineiro, OAK, UDFA
Positive: I'm a little more hesitant to rank Pineiro as the greatest Gator to ever play his position than I was with Johnny Townsend because Florida had Caleb Sturgis. Still: Pineiro deserves an immense amount of credit for translating his soccer skills into becoming one of the most accurate kickers in Gator history with virtually no prior experience at kicking the American type of football. And his career expectancy is every bit as high as Townsend's.
Negative: I'm drawing a blank here… I guess his biggest negative is that he missed a kick against Vanderbilt that didn't count because of a prior whistle?
Verdict: I'm touting Pineiro as the inverse NFL Roberto Aguayo: an undrafted kicker that goes on to become one of the most dependable kickers in the game's history. Go ahead and blame me if it doesn't happen and I jinx it.
Other UDFAs:
S Nick Washington, OAK
WR Brandon Powell, DET
TE DeAndre Goolsby, DET
CB Joseph Putu, ATL
RB Mark Thompson: unsigned
QB Malik Zaire: unsigned