For the first time in eight years, Florida and Auburn will meet on the football field on Saturday. And for the first time in twelve years, Florida and Auburn will meet in the Swamp.
This matchup has a decided big game feel to it. Both teams are ranked in the top ten for the first time since 1997. College GameDay thought so much of the matchup that it decided to come to Gainesville for the first time in seven years. And the winner will take the first major step toward announcing itself as a true contender for college football's ultimate prize.
Auburn, though, is the team getting most of the ink this week. And there's a good reason why- the Tigers have an array of playmakers on both sides of the ball that will need to be accounted for.
So let's go to the film room and break down what they do.
DL Derrick Brown
Brown is far from the only defensive lineman capable of hurting Florida, (hello, Nick Coe and Marlon Davidson) but is probably the number one reason why I am personally so concerned about this football game. He is 6'5″, 318 pounds, and arguably the strongest linemen in the SEC. In the Oregon game he primarily lined up over their RG, moving over to LG on occasion.
On this play, Brown doesn't make a play on the ball carrier, but the point isn't to show that, it's to show his raw strength as he puts a Pac-12 linemen on his rear end.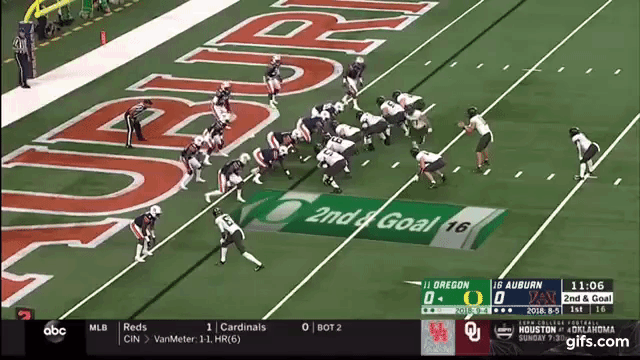 Here I did you the favor of circling him, he is lined up over the LG and pushes the RG over 2 gaps, in this instance he completely clears out a lane for a linebacker to shoot into the gap and make a play on the RB.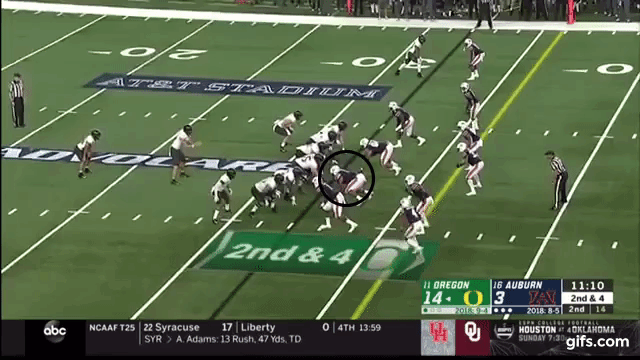 Rinse and repeat. He lines up over the RG, and more of the same. He shoves the LG onto the ground and forces the RB to make a little subtle side step, slightly slowing his momentum but more importantly allowing a linebacker to shoot into the gap.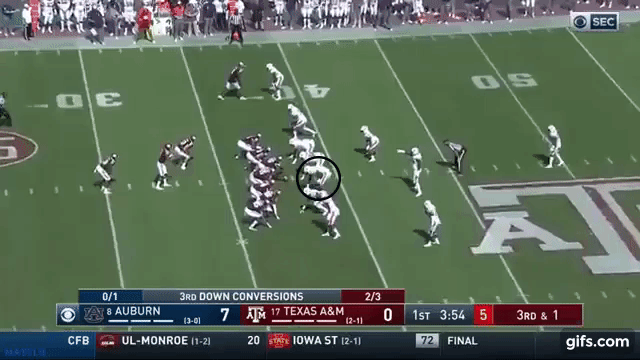 In the MSU game I noticed on a couple of occasions that he lined up as a traditional end. This is even more concerning because I don't for a moment believe that Florida right tackle Jean DeLance can handle the pure power of Brown, and I have no reason to believe that Auburn doesn't get Brown matched up with our worst pass blocker.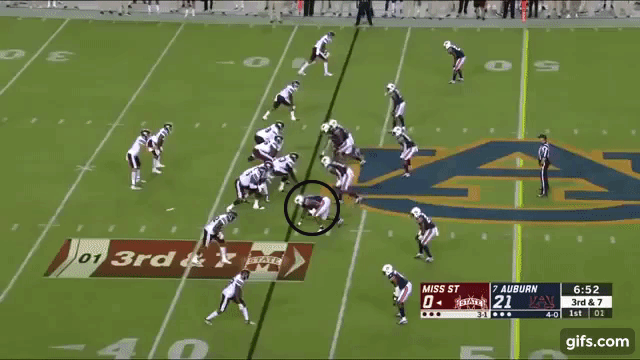 Brown is a big problem, literally. Chris Bleich still has lots of room to grow at RG, and I'm not completely convinced that Brett Heggie is able to stop him either. Richard Gouraige is stronger and quicker than Bleich so I'm curious if the staff flat out starts Gouraige or decides to see how much Bleich struggles with Brown before making any changes.
Now, you can only run the ball away from Brown for so long before Auburn adjusts to that and forces Florida to start running towards Brown; at that point I feel strongly that Florida will have to double team Brown in runs going his direction. And I have some concerns about Florida's ability here simply based off the Towson game where guys would routinely not disengage from double teams and head up to the second level to attack linebackers, and Brown is so strong that he'll eat these double teams and simply allow linebackers to get in and make a play.
So to conclude: Brown is capable of wrecking a game plan all by himself. And that's not to pick on Florida, because he can do this against anybody.
QB Bo Nix
Nix is a guy whose passing numbers are very uninspiring, but when I watched him on film, he is not a bad QB for a freshman. So fail to respect him at your own risk.
Here he showcases his legs, which is a consistent theme with Nix. He has the speed to create with his legs and Gus will call a number of read option plays, and so far, I haven't spotted him running the read option wrong yet. The DE crashes here, so he pulls.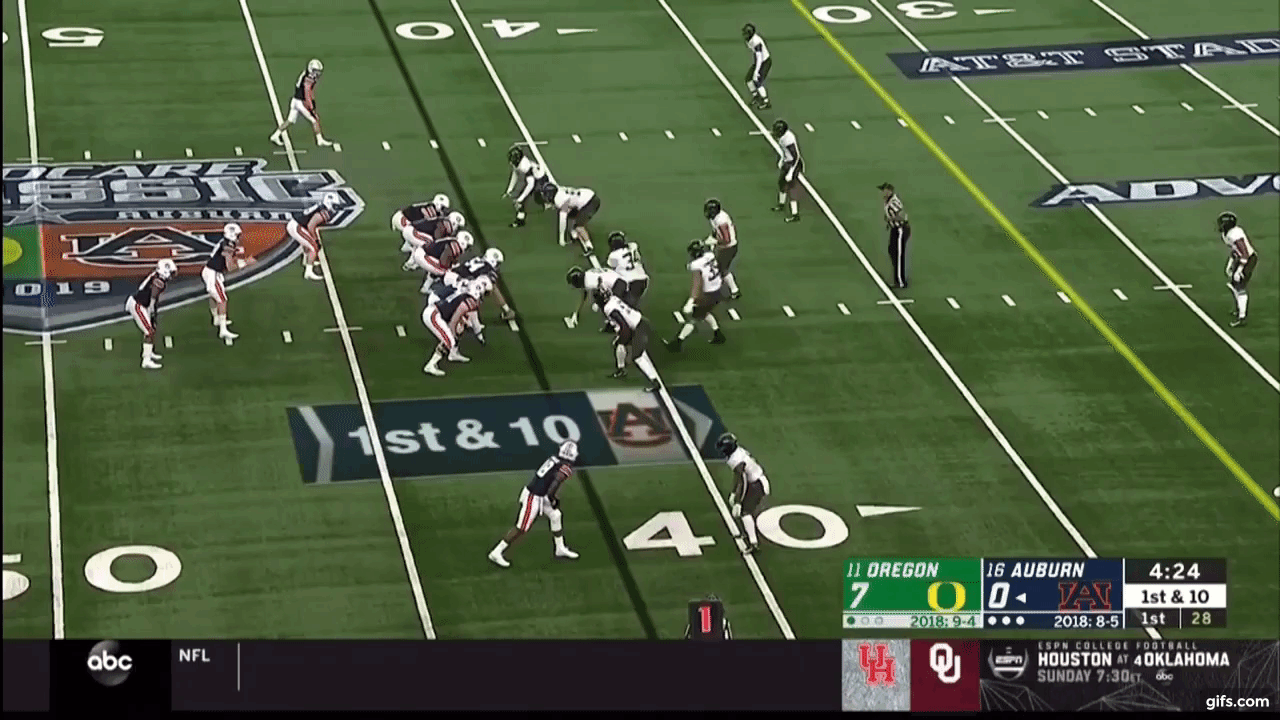 Outside of the game winning TD pass vs. Oregon, in the games I watched, Nix has had mostly easy TD passes. This is a interesting wrinkle that Gus Malzahn designed that Texas A&M played horribly. You have three OL to the right of the C and a TE lined up where a LT would normally be and I don't think the Aggies recognized what Gus did here.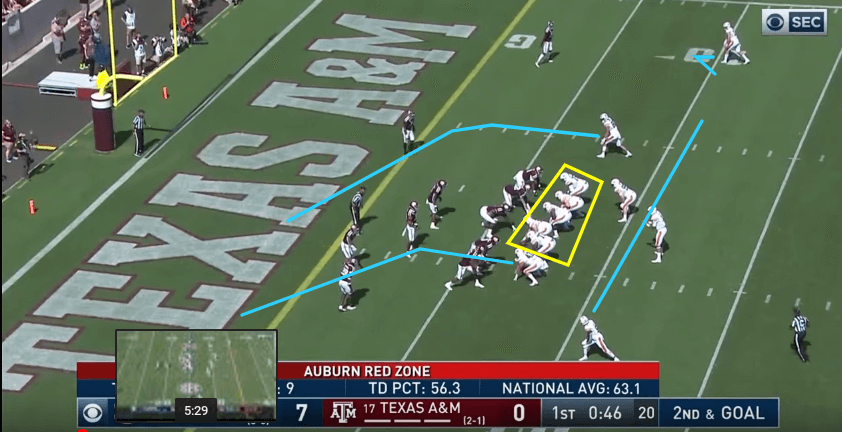 This is the result. Wide open TD pass to the TE.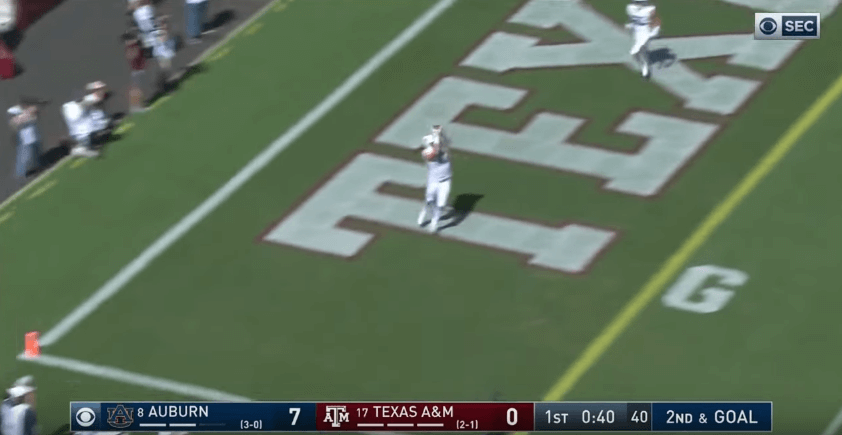 Again, another still of Nix running the read option. The end crashes hard, Nix pulls and ends up gaining a first down.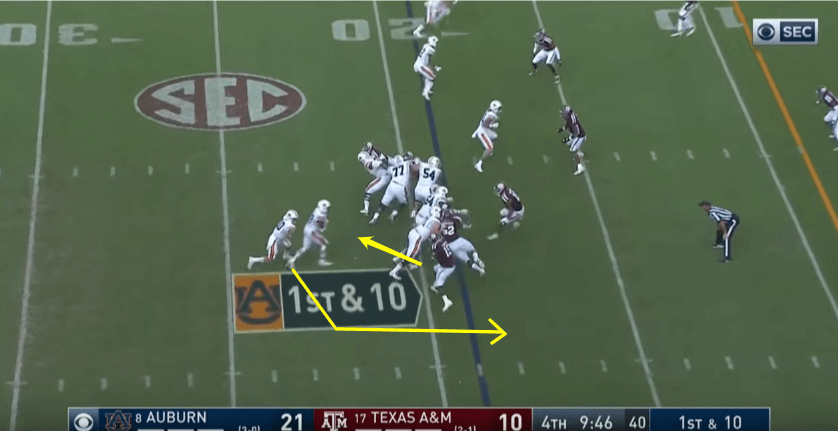 On a couple of occasions I have spotted Nix going through progressions and settling for his 2nd read, which is usually something freshman QBs struggle badly with. He seems to have good enough vision, keeps his eyes down field and trusts his OL and moves up into the pocket well, and again, can hurt you if your defense gets lazy and loses containment on him.
His ball location isn't bad either, but the reality is that Nix hasn't played a secondary like Florida's. With CJ Henderson healthy and Zuniga back, he's going to be rushed into making faster decisions than I believe he's been forced to make to this point.
So Nix is a guy I'd circle as an X-factor. He's largely an unknown because of his lack of reps against a Florida-level secondary. So he's not a proven threat the way Brown is- but screw around with him and he absolutely could be.
Defensive aggression
Auburn is quite aggressive defensively and they can get away with it because of their overall team speed. They aren't shy in terms of looks like this, telling you they are going to blitz and running either a cover 1 or cover 0 look and being happy to bring a lot of pressure and trusting their corners on an island in man coverage.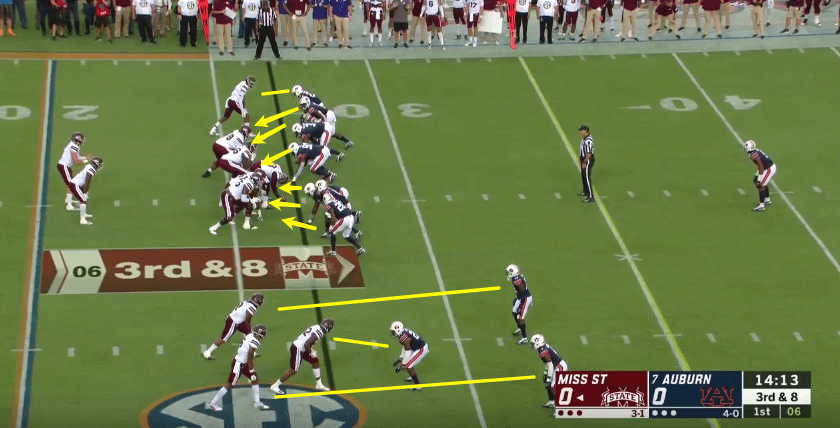 Here is a cover 0.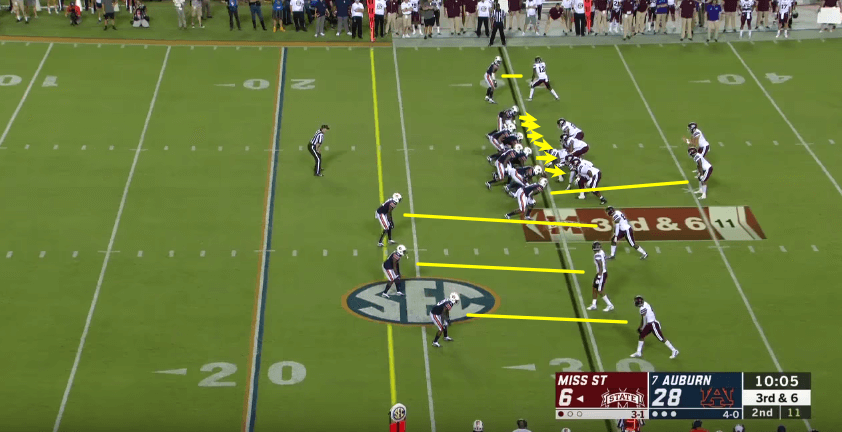 I have mixed feelings on Auburn's aggressiveness. They run a lot of man coverage, and I'm still trying to figure out how that could bode for Florida as I schedule this for publishing. Florida's WR unit is extremely deep and very talented and arguably one of the five best in college football when healthy. Kyle Pitts has proven that he is a very difficult matchup at his size and speed and he can use his body to box out smaller DB's.
My concern with Auburn's aggressiveness stems from the fact that Florida's OL is fine in pass coverage when there is no pressure but really struggles when they have to quickly pass off blocks and communicate against a heavy blitz package. Kyle Trask has done really well considering his lack of playing time up until the Kentucky game at getting the ball out really quickly, but teams have been very zone heavy vs. Trask. He's been efficient as a whole so I don't want to sit here and pretend he's struggled much at all since he has taken over, but with their front 7 speed- not to mention a whole new level of aggression- Trask is going to have to play the best game he's played to date.
RPO
Auburn is a heavy run-pass-option team, which is no surprise for anyone who has watched Auburn under Malzahn for years. Nix is well equipped to run the concept and he makes the right decision more often than not. I don't believe he is as efficient at running the RPO as he is at running the read option concept, but in three games I only noticed two obvious mistakes in his decision making.
This is the most common RPO play I noticed Auburn running, WRs block for the screen and Nix makes the decision to give to the RB or pull and throw underneath where Auburn is hoping for a big YAC play.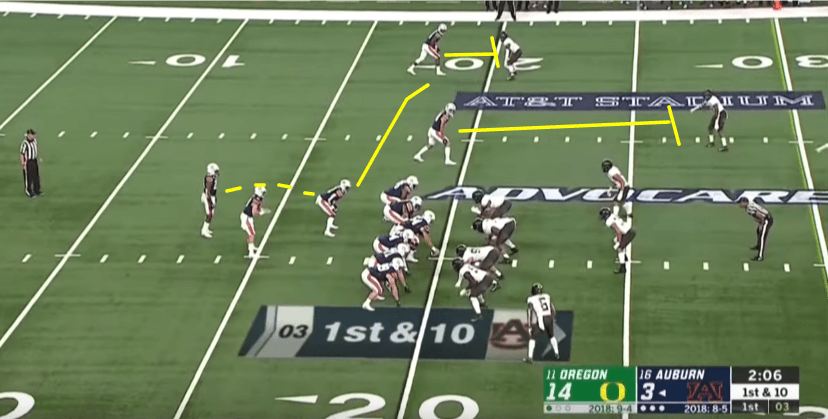 Again, same concept as above but to the other side of the field.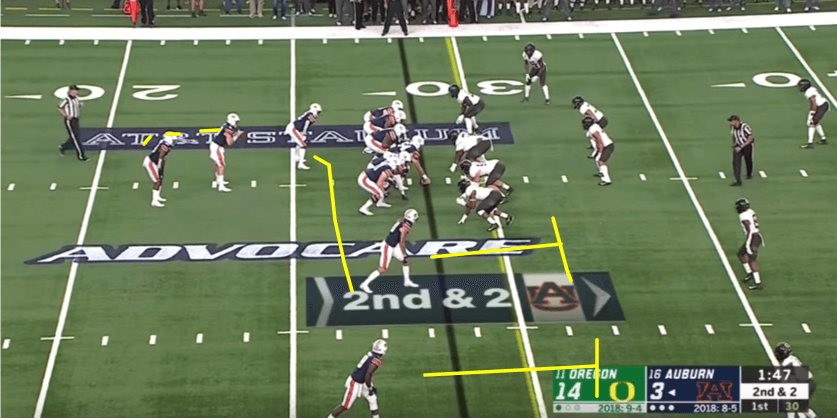 This play is one of the most obvious examples of Bo Nix not running the RPO properly. The OL has cleared a hole for the RB to hit and there is a defender right over the under man leaking out. Play didn't go for much and I believe Nix made the wrong choice here.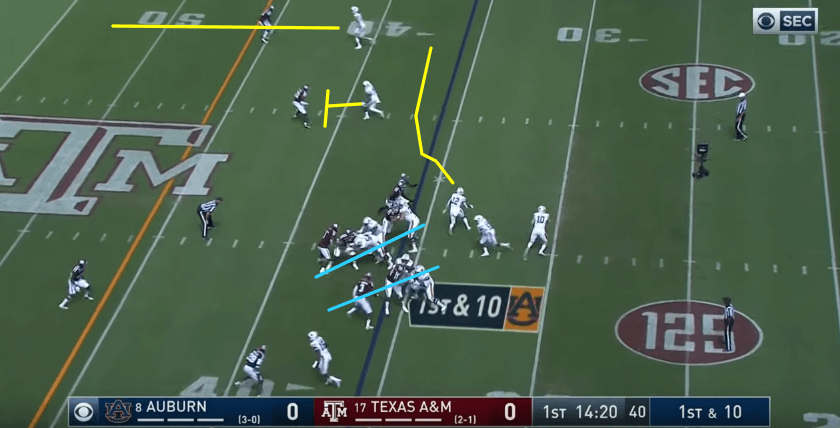 Just like above with their defensive aggression, I'm torn on what to expect vs. their RPO. Amari Burney and Ventrell Miller are better suited for this game because of their speed. Reese presents a problem as a coverage linebacker and while I have all the faith in the world in Marco and CJ in man coverage outside, the Miami game did in fact show that our corners can be bullied if you get physical with them.
So pencil this in as another "I've seen conflicting data, so we'll see" category.
Offensive Creativity
Whatever else you want to say about him, Gus Malzahn is definitely one of the more creative offensive minds in college football. I would say at a bare minimum, 50% of Auburn's offense involves a WR going into motion pre-snap and either crossing the QBs face or doing what you see here, which is lining up as a 2nd RB in the backfield. Nix hit two big passing plays vs. Oregon on wheel routes where the defense got caught up looking in the backfield.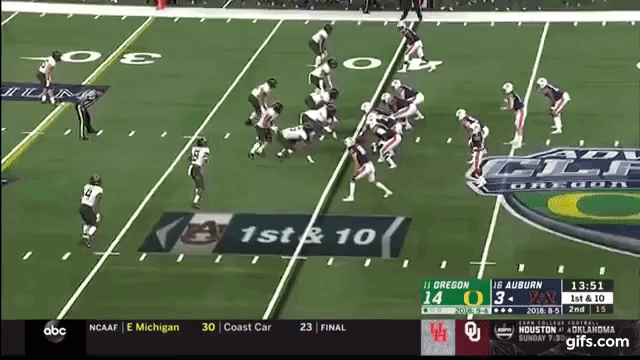 This is the second play that went big for Auburn on the wheel route, except this time there is no motion from a WR, it's a simple 2 TE look with the TEs lined up in a H-Back position and the pass comes off another play fake to the RB.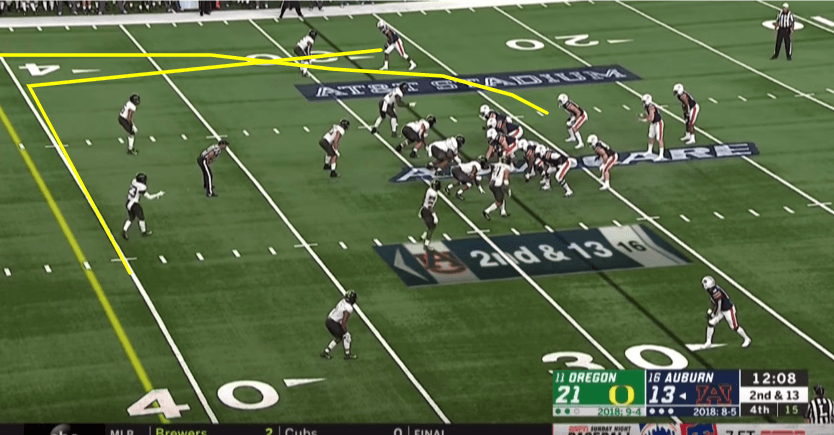 Auburn runs about half a dozen wildcat looks a game. Nix is circled in yellow, RB is circled in light blue. Their favorite jet motion WR in Anthony Schwarz goes in motion and this ends up being a TD for the RB.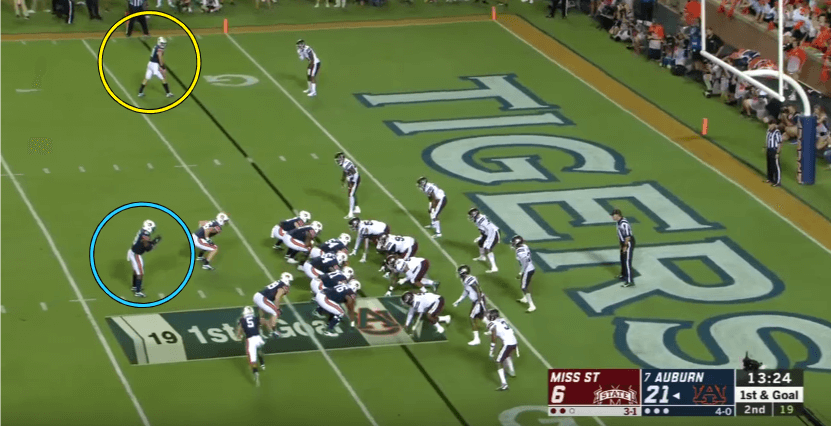 This is the biggest area of concern for me on Saturday, plain and simple. Sure, Derrick Brown is one guy and I think a well schemed game can potentially take him out of it. But I have a lot of questions about Florida's defense despite their statistical rankings, either in terms of base statistics or something like SP+. The defense is… well… mostly really good, and I'm not going to sit here and pretend otherwise, and this includes the fact CJ has been out the last 3 1/2 games and Zuniga has missed time as well.
Floridas defense sits at 17th in total defense, 5th in scoring defense and 1st in opponent red zone scoring conversions. That's elite level defense when opponents get into the redzone.
But where are my questions? This team has shown very inconsistent tackling, they have gotten have to some slow starts and this has been a consistent theme under Todd Grantham where the defense doesn't really start playing at a truly high level until half time adjustments are made. Dean has shown that he isn't a comfortable fit in the slot in the passing game, he's fantastic coming off that nickel spot as a pass rusher, but again, I'm confident stating he's given up more catches than anyone this year and most of those have come on one route (out route). And based off the tape I've seen this year, I question David Reese's ability to fight off blocks and not get sucked into misdirection.
Again, the defense is obviously good and any metric agrees with this, but Florida has played the 91st ranked SOS, per Sagarin, and going from UK, UT-Martin, UT and Towson to Auburn is quite the jump in competition and with Malzahn's creativity, it's hard not to get entirely sucked into these stats put up against bad offenses when you know what Auburn is capable of if you don't play them perfectly.
Slow developing run game
Auburn has a run game that is based on so much motion and misdirection from either WRs in jet motion or OL pulling that if your defensive linemen are quick off the ball, you will see a number of plays like this during Auburn games.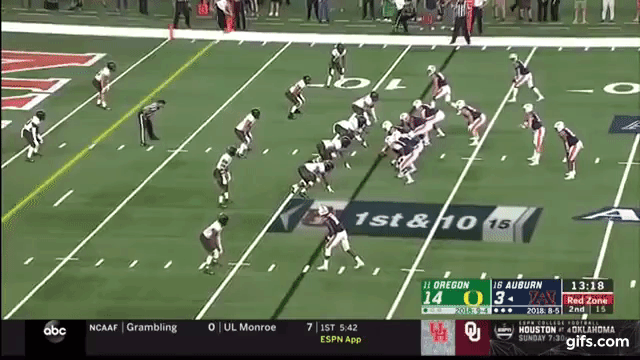 How much of a role this will play in the game, I don't know, but this is definitely something that would be wise to not just discount.
Pocket Movement
This is what I believe Florida is going to have to do in order to keep Trask standing up straight in the passing game. Oregon did this a lot and despite the fact Auburn had 3 sacks in this game, this was one of the better ways they were able to get their passing game going against an aggressive and fast Auburn front 7.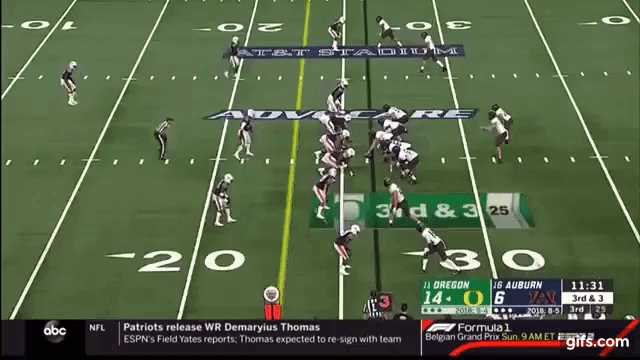 Here we have all five linemen moving the linemen to the right and the H-Back will leak the opposite direction. The play didn't go for a big gain, but I'm only focusing on the concept of what Oregon did quite a bit in this game to keep the Auburn defensive line guessing.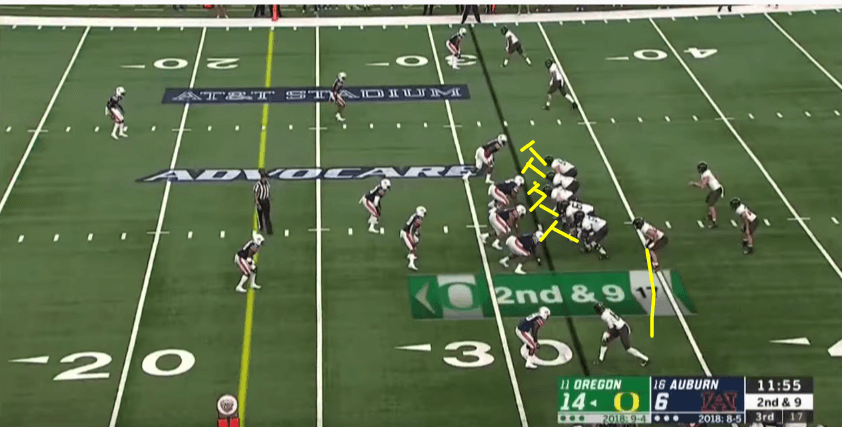 Auburn adjusted to this over time in this game by blitzing linebackers right into the side they assumed the pocket was going to move and got to Justin Herbert a couple of times. So it's not a foolproof way of beating Auburn, but I do believe Mullen is quicker at spotting adjustments than most offensive coordinators are so assuming Florida moves the pocket like this at all vs Auburn, it'll be interesting to watch the chess match as Auburn gets more aggressive towards that concept like they did after Oregon ran it a lot in the first half.
Running Game
(As opposed to the slow developing run game.) Most of Auburn's running success has come on plays that went off tackle. This is a nice big hole going wide in the run game.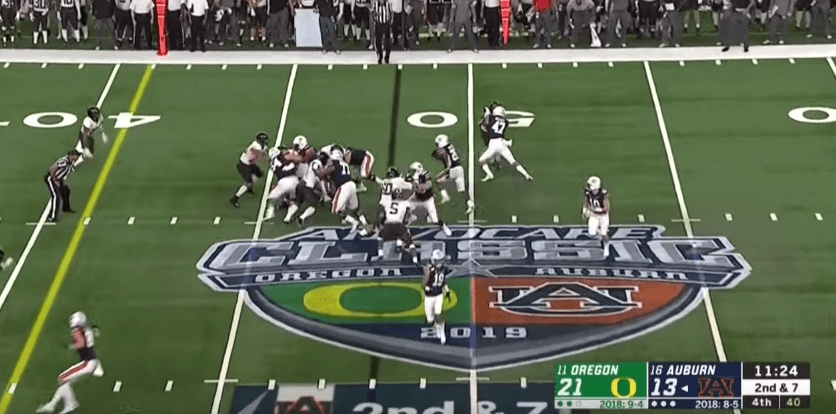 Auburn loves utilizing their small but very fast WRs in the run game, or in this case, the passing game. They love to stretch the defense wide, especially since Gus will wait for the defense to shut this play down once so he can get a play action based off this exact look where he will then roll Nix to the right.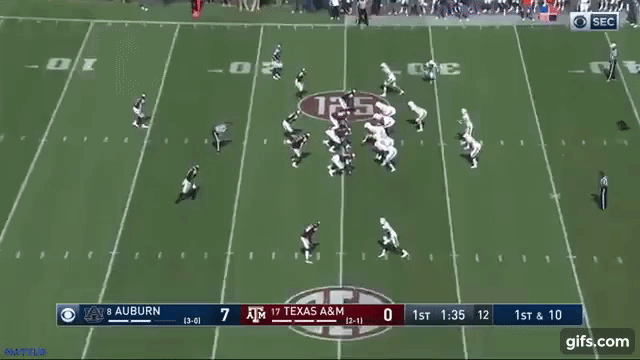 A consistent theme in every Auburn game is how much success they have running wide. HB toss and Auburn's WRs are pretty good at blocking despite not being very big, but they also like to line up a TE out wide in order to get a big body on a smaller defensive back. It's going to be extremely important for Florida's secondary to play this properly, they can't have another game like they did vs. Miami in this respect.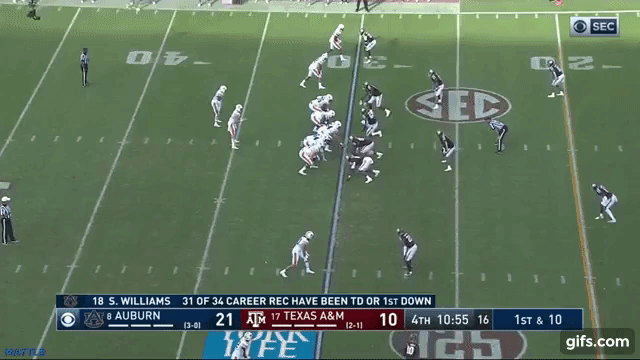 Here I am illustrating what I noted above, Auburn really struggles at run blocking on A and B gap runs. The gap this is supposed to go to is in the yellow and… um… there is no running game.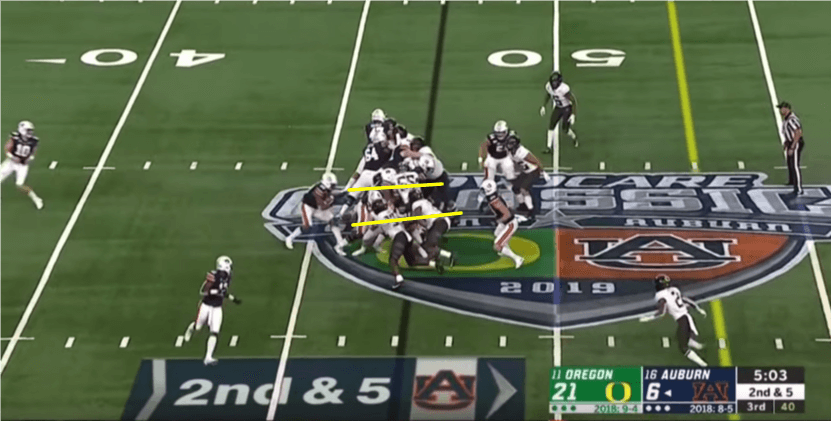 Same thing as above. The RB has to pop the run outside and start creating because the Auburn offensive line consistently lost battles on any run up the A or B gap.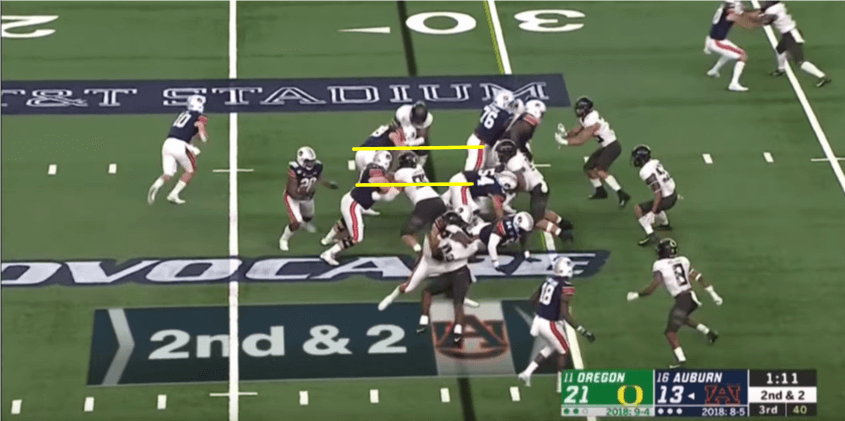 Auburn's line did a better job vs TAMU in the middle runs but only on a couple plays, here the RB has holes to choose from.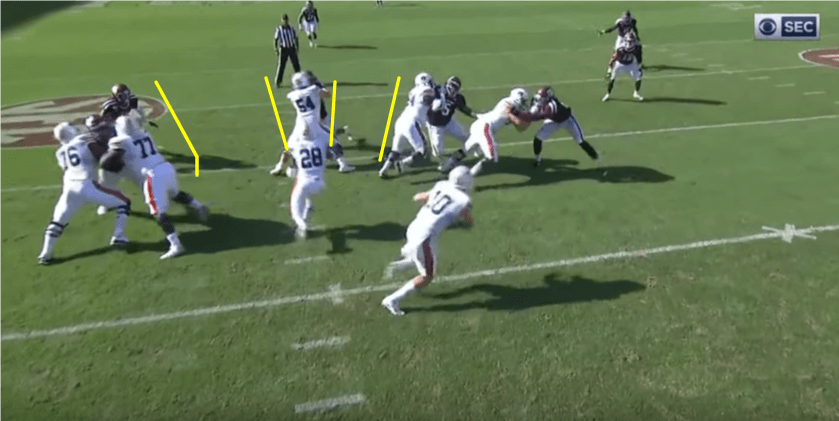 Here we have a very similar play from the GIF up above and again its going to Schwartz, a WR who has olympic level speed (Gator fans with valid driver's licenses, think Jeff Demps but at wide receiver) and Gus creates a lot of space for him to run behind with 3 lead blockers.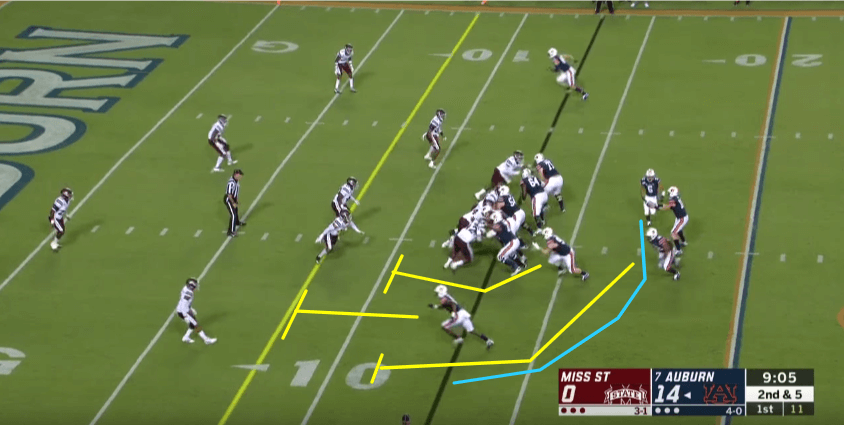 Auburn's running game is as bipolar as Feleipe Franks was. They rank 14th in rushing yards, 25th in YPC and 8th in rushing attempts per game, and they've played a much tougher schedule than Florida has to this point (5th, per Sagarin), so Florida's defense isn't likely to overwhelm them. They have 5 players with over 100 yards rushing, with WR Anthony Schwartz sitting at 82 yards on 4 carries (this doesn't include the pop pass plays that mimic rushing games that would otherwise put Schwartz at probably about 150 yards).
But what's bipolar about their rushing game? They are consistently great at running the ball wide. They have consistently struggled at running up the A and B gap (though there has been noticeable progress from the Oregon to TAMU to MSU games) and many of the runs that I deem as drawn up for those gaps tend to have the RB bounce runs outside as he searches and hopes that he turn nothing into something. I don't have yards after contact numbers for Auburn, but I wouldn't be surprised if it's pretty high.
Conclusion
I've gone back and forth on this game a lot this week. Auburn is very good, has great team speed, is aggressive on defense and has Malzahn's creative mind on offense to worry about.
On one hand, I like to believe that Florida isn't going to lose to a true freshman QB starting in The Swamp; on the other hand, I don't believe Malzahn is going to put this game in Nix's hands to make it that cut and dried. He was only 12 of 20 for 100 yards and a TD at Texas A&M and with Henderson returning I imagine Florida's secondary makes life difficult on Auburns perimeter passing game. But as I noted above, this is where the jet motion can hurt Florida. Getting defenders moving one way and a wheel route going the opposite direction of the jet motion to create mismatches with a linebacker covering a TE or WR and create easy throws for Nix.
And keeping it on the defensive side for a moment, I am not a fan of concerning yourself with history in terms of future games. What Florida has done in the past is irrelevant to Saturday. But saying this, it is hard to ignore Todd Grantham's history vs Gus Malzahn. That history I speak of? Todd Grantham's defense has allowed the following in 5 games vs Gus Malzahn:
2010: 49 points, 463 yards
2011: 7 points, 195 yards
2013: 43 points, 566 yards
2015: 31 points, 327 yards
2017: 49 points, 511 yards
If you're one for averages, that's 35.8 ppg and 412.4 yards per game. It's fitting that we're 5 games through the season, because those numbers right now, in terms of rankings? Would net you the 113th in scoring defense and 89th in yards per game. It's just a different way to put how bad Grantham's defense historically is vs. Malzahn in context. And as Neil said on Twitter yesterday: those who fail to remember history are doomed to repeat it.
Now moving onto Kyle Trask: this isn't ground breaking analysis but it's obvious that Trask needs to play his best game yet. Auburn is going to blitz him a lot until Trask makes them pay consistently and I expect for Brown to move around the OL and take advantage of multiple mismatches, specifically at our RG and RT position.
Another less-than-bold prediction: I will be shocked if Florida RBs total more than 100 yards in this game. Auburn's rush defense ranks 20th in the country, allowing only 95 yards a game, and they now play a Florida offense that ranks 88th in rushing the ball. I have held firm that Florida either needs to turn to Pierce as the workhorse back in this game or throw the ball 40 times at a bare minimum to win the game. I struggle to see how Florida wins this game by attempting to keep the game plan at a 50/50 split in terms of the run/pass ratio.
Lastly, special teams. Florida is ranked 3rd in the country in opponent punt return yardage allowed and Auburn is 20th in punt return yardage. I didn't feel it was necessary to bog down this preview with any additional pictures of GIFs of punt returns, but Auburn has been consistently dangerous in that aspect of the game; it's nothing I'm too concerned about because of how good Tommy Townsend is combined with Florida's gunners being superb at getting downfield in a hurry and not allowing any returns to happen in the first place.
My final score prediction?
I'm still sticking with Auburn here. I have some trust issues with the defense, particularly Grantham's play-calling and not many teams in power conferences who have bad running games will win these kinds of games.
Now here come the disclaimers: this is football, anything can happen on any given Saturday and so on. By no means am I saying Florida has no chance to win this game, because that's simply not true. Trask could have the game of his life and throw for 400 yards. The offensive line could make the week six leap forward it made last year and open up some major holes for our backs to slice through. Or Nix could simply throw four picks and give the game away. Any of that is within the realm of possibility, and so completely writing Florida off is foolish.
But I don't make predictions based on what's within the realm of possibility; I make predictions based on what I think is most probable. And since I think the most probable outcome of all the telling statistics is that Florida will finish with less than 100 yards rushing, I cannot objectively believe the Gators will pull it off.
Auburn 30, Florida 23