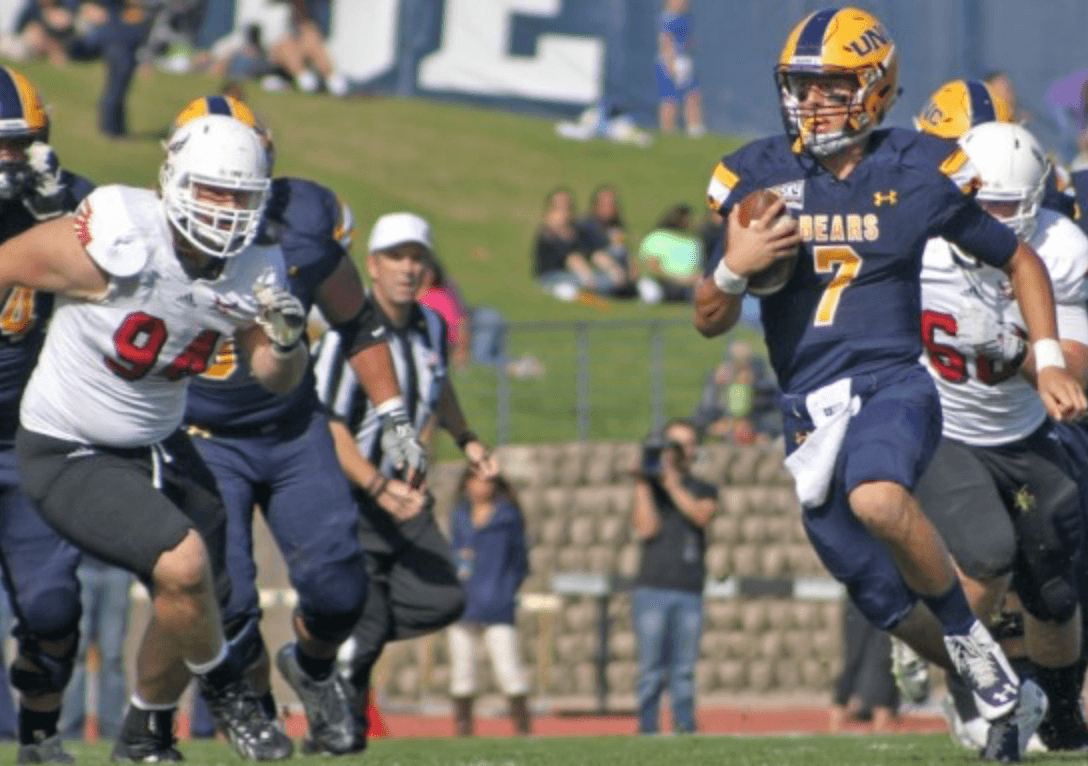 The Gators are off to a 1-0 start in my projections, having taken down Michigan in Cowboys Stadium in their opener. Next, the Gators will return to the friendly confines of Ben Hill Griffin Stadium for a quick tune-up before SEC play begins. Some call the school participating in this tune-up game "the other UNC," others like to stylize their name as "uNc," and the rest call them Northern Colorado.
Me? I just call them a paid win.
NORTHERN COLORADO BEARS (2016: 6-5)
Head Coach
Returning starters
2016 offense
2016 defense
Earnest Collins, Jr.
6 offense, 4 defense
417.8 YPG/34.27 PPG
480.4 YPG/36.2 PPG
21-46, 7th year
52%, 39% of stat production
25th/15th in FCS
115th/111th in FCS
Series history: First meeting
Last meeting: First meeting
Synopsis: Florida's typical season opening sacrificial lamb gets pushed back a week this year. Northern Colorado finished in the middle of the Big Sky last year, which is typically one of the stronger FCS conferences, but now they have to replace their starting QB, by far their best wide receiver, and over half their defense at once… and a bad defense at that. The Bears are almost certain to take a step back in 2017, and their second game of the year is going to take place in the Swamp. Good luck.
Offensive breakdown: The most critical loss for the Bears has to be quarterback Kyle Sloter, who threw for 2,656 yards a year ago and for lack of a better term, ran the show. UNC will turn to former starter Jacob Knipp once more, and there's some promise with Knipp, who threw for 1,998 yards as the starter in a more run-oriented attack in 2015. But Knipp also threw ten picks in his 265 attempts that year, and he's yet to face a defense like Florida's. So, yeah. He can't do that against the Gators.
There's some promise in the running game, too. Top rushers Trae Riek and Brandon Cartagena (1,171 yards between them last year) both return, and they might help take the pressure off of Knipp. Riek in particular is dangerous, and might be what keeps the Bears in more games than they should be in this year- including this one. And with three of the five linemen from a year ago returning, the Bears could actually have a solid running game. (Relatively speaking, of course.)
The offense ultimately hinges on the receivers. Knipp is going to need somebody to throw to, and he won't have last year's leading receiver in Stephen Miller. For some perspective on how big the loss of Miller is, his 1,007 yards were more than twice of second leading receiver Hakeem Deggs' 449. Deggs is back, and so is third leading receiver Alex Wesley, but one or both of them have pretty big shoes to fill.
Offensive Grade: C-. With a proven passing game, I might be a bit more wary of the Bears' offense. Without it, this unit falls under the category of "they might make the game interesting, but pose no serious threat to actually beat Florida."
Defensive breakdown: Losing six of your top seven tacklers is never a good thing for a defense, and it's made worse by the fact that the Bears' 2016 defense was one of the worst in the FCS last year. So in an understatement, UNC better figure out how to replace those guys if they want to compete in any game they suit up for.
The front seven is a complete mess, with only defensive lineman Morris Kiefer returning from last year. I'll be honest: given the lack of publicity or film from Northern Colorado's spring and summer workouts, it's hard to find much about who will be stepping in. What I do know is that not only is Kiefer the lone returning starter in the first two levels, but he's the only one who's seen the field in more than two games. Ever. They're that thin.
The lone bright spot in this defense is its secondary. Redshirt sophomore Marshaun Cameron had a strong 2016 season and might be a future NFL Draft pick if he bulks up a little bit, and he's joined by fellow redshirt sophomore Michael Walker. Those two figure to lock down the two starting CB jobs. And safety Stone Kane has seen considerable action in each of the last two seasons, so that helps too.
Defensive grade: D. The secondary might give Tyrie Cleveland and Antonio Callaway some problems- or they might get a rude introduction to SEC football. Either way, it won't be too long before Jim McElwain figures out that he can beat whatever the gaudy spread for this game turns out to be by running the ball fifty times.
Key matchup: Northern Colorado running game vs. Florida front seven. If there's going to be a path to the upset, the Bears will need to get their running back tandem of Riek and Cartagena going. Shortening the game by bleeding large chunks of time off the clock is the only foreseeable way UNC could even make a contest of this. And that alone still won't be enough for them to win, but it might at least keep things interesting into the fourth quarter.
Florida wins if… they don't turn the ball over. The same caution from the Michigan game bears (no pun intended) repeating now. Northern Colorado cannot possibly match Florida scoring drive for scoring drive if they have to go 70 yards or more to do it, but giving the Bears short fields might make up for that. Even if UNC can get its running game going, they still don't possess enough firepower to beat Florida- unless they get help.
Northern Colorado wins if… they can put together long, slow punishing drives and create short fields for themselves with which to score from. We saw what happened against Massachusetts last year when the Minutemen hung around on sheer guts and grit, but couldn't create a single turnover or generate enough offense. Had they done either one, they would have undoubtedly beaten Florida that night. For an even weaker Northern Colorado team, they'll have to do both- but remember that UMass game in case you dismiss a loss as a possibility.
Overview: Having lived through the Muschamp years, plus McElwain's teams' struggles against FAU and UMass, I know better than to completely write off any opponent- even one as seemingly weak as Northern Colorado. It used to be fun to guess how many points Florida would score in games like this. It used to be. That was a different time.
But on the other hand, the Bears' defense easily qualifies as the weakest D Florida will face all year, and it's impossible to not acknowledge that fact. The UNC running game might keep them alive for a drive or two, yet what are they to do if Florida just goes flying right down the field again and again? There may be an FCS team out there somewhere that's capable of beating Florida on any given day if everything goes their way on that given day, but it's not this one.
So, want a prediction? Sure: the team with exponentially more talent from top to bottom wins the game with ease. Despite what figures to be a vanilla game plan so as not to tip their hand with SEC football on the horizon, you can expect an abundance of highlight fodder in Gainesville.
Projection: Florida 41, Northern Colorado 9