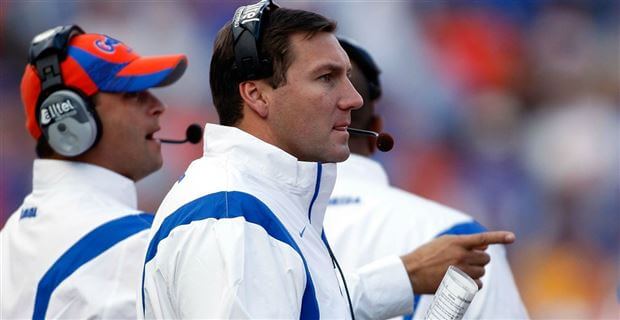 NOTE: this will become the ticker for all updates regarding Florida's pursuit of Dan Mullen. The original post still stands in its entirety below the updates.
Florida has zeroed in on Dan Mullen to be the Gators' next head coach, per multiple reports. And a report from Gatorssports.com says that a deal is imminent.
UPDATE 4:58pm: ESPN's Brett mcMurphy has reported that Mullen and Florida have reached a deal.
Hang in there as I track down confirmation.
UPDATE 4:30pm: per a source, the Gators are prepared to pay Mullen $7 million a year, plus bonuses should he reach certain benchmarks- namely, winning the SEC, reaching the College Football Playoff and winning a national championship. The deal would make him the second highest paid coach in the SEC, behind only Alabama's Nick Saban ($11.125 million per year.)
UPDATE 4:11pm: Mississippi State, Florida and Mullen are currently in the process of negotiating Mullen's buyout, per sources. And according to Graham Hall, Mississippi State is about to have a team meeting:
Source close to Mississippi State program says team meeting has been scheduled for 5 p.m. CT

— Graham Hall (@GrahamHall_) November 26, 2017
(Original post begins below.)
---
After the way the chase for Chip Kelly ended in disaster- namely with him signing a deal and then backing out of it- I'm going to wait until the UAA announces it to fly the "mission accomplished" flag. But if Mullen is indeed the Gators' next coach, it would be as fantastic of a hire as UF could possibly get.
A source has told me that the hire may not be announced tonight because of the Gators' impending high profile basketball game against Duke, but confirmed that Florida was "set to hire Mullen" and that the announcement "could be tomorrow."
Mullen has all the right kinds of experience. He has experience in the SEC. He has experience at Florida. He has experienced success and then sustained it, and he has experienced success at the highest level. He has all the boxes you could realistically expect to be checked off in a head coach checked off.
Objectively speaking, Mullen is a home run hire, albeit not the grand slam Kelly would have been. But given Kelly's unpredictability and potential to jump to the NFL for a third shot, he presents a risk, too- just the way Scott Frost, Matt Campbell, Charlie Strong and Willie Taggart present risks given their lack of success as a head coach at the highest level. Mullen is the lowest risk, the safest choice and the highest floor among the pool of potential coaches.
And that's why after Jeremy Foley bungled the last two hires by reaching for unproven coaches, this has to be seen as the attempt to learn from that mistake.