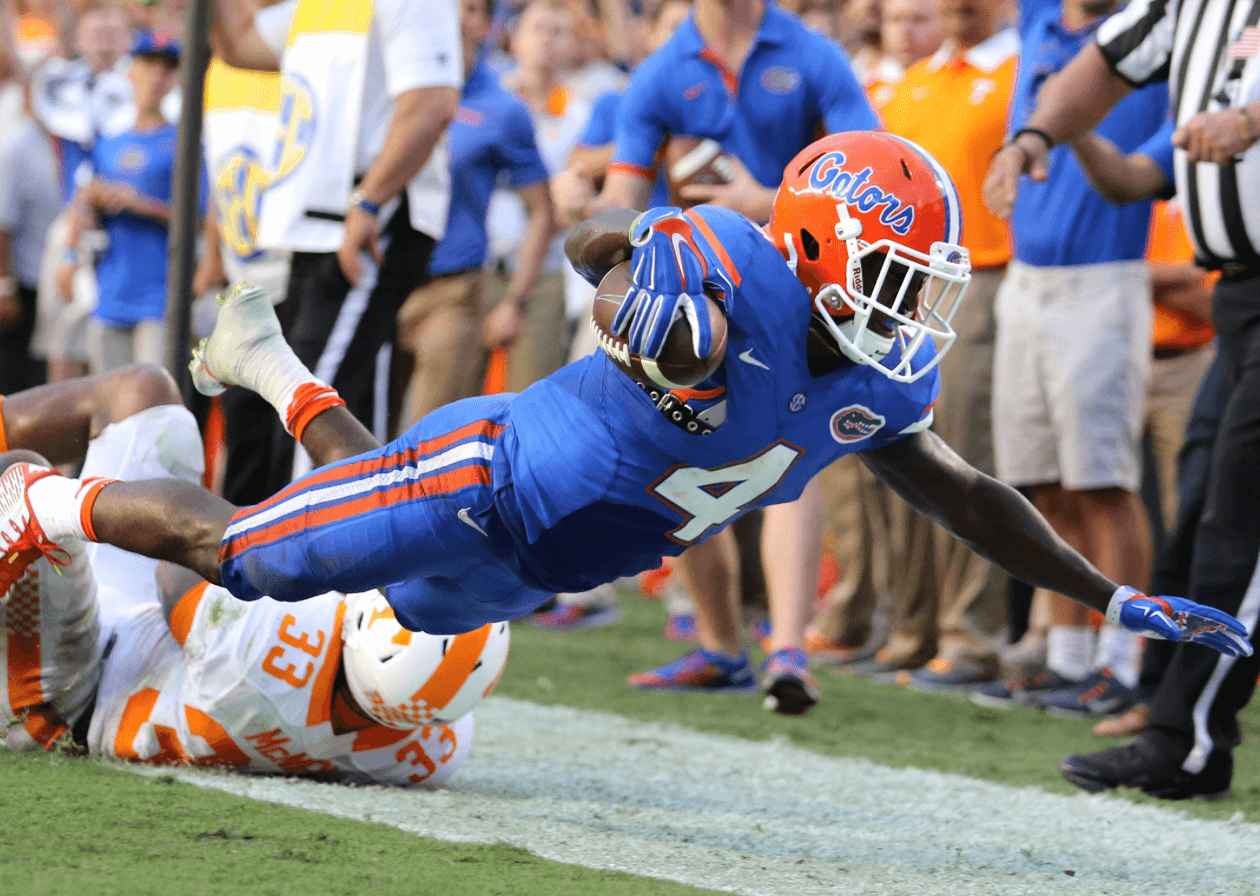 In the midst of Hurricane Irma, Florida athletic director Scott Stricklin wisely took a wait and see approach regarding the Gators' scheduled home opener against Tennessee next week. Now that Irma has finished wreaking havoc upon the Sunshine State, the first steps of action are being taken.
The SEC has released a statement saying that the league is in communication with the Florida and Tennessee administrations regarding the location of the game. Per a source, the decision regarding whether or not Gainesville is suitable to host the game should come within the next 24 hours or so, and possibly as early as the end of today. If Gainesville cannot host the game, the next option is to play in Atlanta. If the game is moved to Atlanta, or anywhere else, Florida will remain the home team "in every imaginable way other than the stadium," the source added.
The source adamantly stated that moving the game to Knoxville is not currently an option, and that "something else and new would have to happen between now and tomorrow" for that to even be considered. I have returned that email asking what that something could possibly be, and am awaiting a response as of this publishing.
There's a lot that goes into this decision other than the debris caused by the storm. The University needs to be able to place an adequate number of security guards and police officers throughout the stadium, which means there cannot be an excessive, absolute need for them elsewhere in the city of Gainesville. And while of far less importance than it was a week ago as people were trying to evacuate, this game will cause an increase in traffic that hinders the ability of people to return to their homes south of Gainesville. In addition to that, potential gasoline shortages and poor road conditions could also play a factor.
But put simply, the University of Florida is really, really tired of having its games messed up by weather, and thus is willing to do whatever it takes to play this game in the Swamp. The city of Atlanta has offered to host the game, and that's very nice of them, but I get the feeling UF sees that offer more as them wanting the game for selfish reasons than benevolent ones. Gainesville has an economy, too, and it ticks because of Gator football. This economy has already taken a major blow from the Northern Colorado game being canceled. UF will be damned if it loses a second home game for the second consecutive year, and the fifth in the last four years if it can do anything about it.
Of course, there's nothing we can do but wait and see. But after seeing what Irma did- or more accurately, didn't do- to central Florida, I'd say Gainesville has a 90% chance of hosting the game.