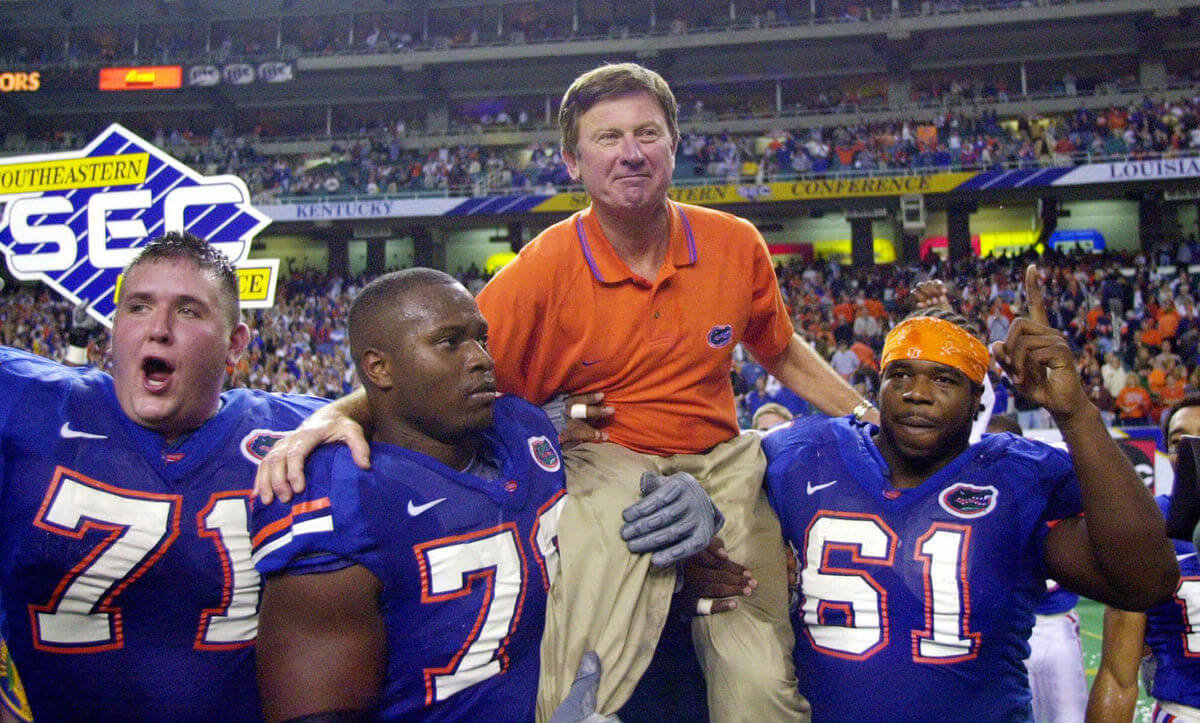 Steve Spurrier has been elected into the College Football Hall of Fame.
Again.
Thirty years ago, Spurrier was first voted into the College Football Hall of Fame as a player. In his playing days at Florida, Spurrier guided Florida to an Orange Bowl win and claimed the Heisman as a senior, which was more than than enough to earn him Hall of Fame honors as a player.
And now Spurrier has been voted into the Hall of Fame as a coach. His 122-27-1 mark as the Gators' head coach would have done it alone, but he pretty much locked up a spot for himself by winning six (or seven, depending on how you view vacated wins) SEC Titles and a national championship. He also had the Gators finish ranked in the top ten in all but two of his twelve seasons.
Spurrier becomes just the fourth person in history to gain induction as both a player and a coach. Amos Alonzo Stagg, Bowden Wyatt and Bobby Dodd are the other three.
If you're keeping score, Florida now has 13 Hall of Fame inductions, counting Spurrier twice, and four coaches. And it's no stretch to say that the Gators will soon have at least two more inductions when Tim Tebow and Urban Meyer become eligible.
But this is about Spurrier more than anything else, and it's a fitting final chapter to his story. He was the guy who brought Florida out of its everlasting dark age and gave them glory for the first time. He laid the foundation for guys like Urban Meyer and Jim McElwain to build on top of. Whatever success Florida has for the rest of eternity can fairly be credited at least in part to the HBC, because without him, who knows what happens to Florida football? Who knows if Urban Meyer wants that job coming out of Utah? Who knows what type of prestige future coaches would be able to sell to recruits?
And while he also enjoyed some success at Duke and South Carolina, Spurrier's return to Gainesville as an ambassador proves his everlasting loyalty to the Gators. So it's with no hesitation that I call Spurrier the greatest Gator of all time, and praise his entrance into the Hall of Fame as validation of all he's done.
Congratulations, coach. And thank you.