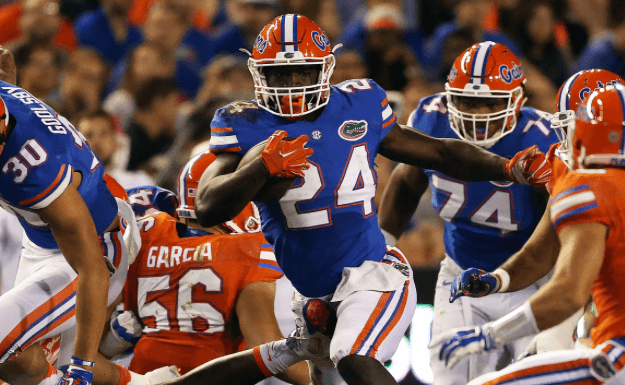 While the quarterback position will be getting all the buzz, Jim McElwain could quietly oversee one of the nation's most underrated stable of running backs.
Florida has three guys that could legitimately be the workhorse in the ground game this year. The two Jordans (Cronkrite and Scarlett) got their feet wet last year in backup roles behind Kelvin Taylor, and with incoming JUCO back Mark Thompson added to the mix, the Gators have more than maintained their solid stable of ball carriers. There isn't a whole lot separating the three right now, and so at the very least, Florida will have plenty of depth.
Now, for some consistency…
The leader: Mark Thompson. A rare combination of speed, vision, agility and power had Florida coaches clamoring to snatch Thompson out of the JUCO ranks and add him to their team. He displayed all of those traits in the Orange and Blue game, most notably on a 24 yard touchdown run, but also flashed his weakness- ball security. Thompson has struggled holding onto the football throughout the spring and he put the ball on the ground again in the spring game. There's no other way to put this: it's a big concern. But he's shown enough glimpses of just how dangerous he can be to be tentatively set as the starter heading into summer ball.
The second in command: Jordan Cronkrite. It's hard not to like Cronk. He just puts his head down and goes to work. Though small, he became a short yardage bull at times a year ago for Florida. When he wasn't being used as a battering ram, he was snatching easy picks out of defensive backs' hands and turning them into touchdowns. He'll always get what's blocked for him, and is both fast enough and strong enough to then get more. Call him an all-purpose back, and assume he's sitting at second in the pecking order for carries right now.
The dark horse: Jordan Scarlett. This dude is freakishly talented. Time for him to show it. Scarlett put on a show last year in the week leading up to the LSU game, when he put on the scout team and asked to play the role of Leonard Fournette. He didn't do a bad job resembling him in game situations, either, breaking off a 60 yard run against Georgia and a 20 yard run the following week against Vandy. Then he got himself into trouble (marijuana) and was suspended for the Citrus Bowl. But while not as fast as Thompson, Scarlett is fast enough, just as shifty and perhaps even more powerful. Watch out for him.
The key to success: ball security. This is more directed at Thompson than the other two, though obviously it's not going to help matters if either of the Jordans start to have trouble holding onto the ball. But really, the only thing holding Thompson back from vaulting himself into Doak Walker Award contention is his fumbling habit. He's got everything else you could realistically ask of a running back. If he stops putting it on the ground, there's no reason to think he won't rush for over 1,000 yards.
The outlook: Mostly sunny, with the one cloud lurking in the distance that symbolizes fumbling. Which has been beaten to death by now. But anyway, not only do the Gators have a potential star back in Thompson, they've got two really good ones behind him if he gets tired or hurt. No great rushing team does so with just one back of star quality, and so we could see one if not both Jordans get five or six carries a game to keep hammering away at a defense while Thompson takes a breather. Oh, and each of the three are above average blockers- something Kelvin Taylor struggled with at times. So there's an abundance of reasons to feel good about Florida's running game.
The verdict: If the offensive line can grow and mature as I'm inclined to think they will, Florida could be scary good here. Give them the summer and a game or two to get things together, and then sit back and watch them go. The Gators' defensive line and secondary will get most of the hype, but the running back position could eventually become the best unit on the entire team.