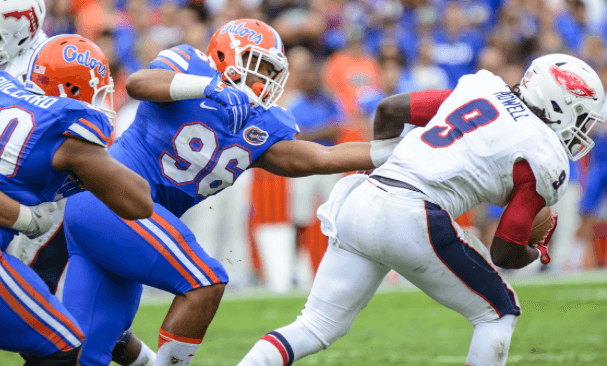 Today, we take a look at the Gators' defensive line. It's a unit that's suffered heavy personnel losses from a year ago, but one that's also brimming with promise. There may be three first round picks on this line in their respective NFL Drafts, and so there's a lot to be excited about this year
The leader: Caleb Brantley. Brantley is an interesting guy to watch on film. This defensive tackle has a dizzying array of moves that most others don't have, including a spin move that you only see in running backs (and, well, Terron Sanders against Georgia). He gets by offensive linemen with almost stunning ease, and that usually means a sack or tackle behind the line of scrimmage. The day where he fought Kelvin Taylor at practice seems decades ago now, as he's matured into not just a star, but a legitimate leader on this line. All-SEC honors seem imminent for this guy.
The second in command: Cece Jefferson. Jefferson's father was more than annoying during his son's recruitment process, most notably orchestrating a really long delay in signing Cece's letter of intent. But Cece's on field play has more than made that day of aggravation worth it, displaying equal levels of dominance on the interior and on the end ever since he's stepped on campus. His versatility, meaning his ability to do equally heavy damage whether he lines up as a tackle or an end, makes him a wild card for Florida, and a nuisance for opponents. Above all, he's just a ferocious presence on the line, and after a tremendous freshman season in 2015, the sky's the limit in 2016.
The dark horse: Bryan Cox. Brantley and Jefferson will get all the buzz because they're more naturally talented. But overlook Bryan Cox at your own peril. He's a very intelligent kid with deceptive closing speed and brute strength. This coach's son has been through the wars of the SEC before, and along with Joey Ivie, is by far the most experienced of the defensive linemen. Look for him to put all the pieces together as a senior.
The other guys: Joey Ivie, Antonneous Clayton. As was the case for the offensive line, just because there wasn't a place for either of them in the cookie cutter format of this preview doesn't mean they won't play huge roles. They're opposites, of course: Ivie is the experienced senior tackle with impeccable football smarts, and Clayton is the wide eyed freshman end with worlds of potential. But depth at this position is essential, and these two guys give them quality depth.
The key to success: stopping the run. Florida looks OK in terms of run defense in 2016. But look at the gauntlet of tailbacks they're going to face: Stanley Williams, Jalen Hurd/Alvin Kamara, Ralph Webb, Leonard Fournette, Nick Chubb/Sony Michel, and Dalvin Cook. They cannot allow opponents to run the ball consistently against them, because if they do, their friends in the middle level of the defense may wilt due to a concerning lack of depth. The guys on this unit are all adept at getting into the backfield, and the more they can blow up running plays before they get started, the better.
The outlook: NFL talent is everywhere you look on Chris Rumph's defensive line. I'd be stunned if any of the five aforementioned guys didn't get a shot with a pro team, and so there's plenty of reason to be optimistic about their performance in 2016. In fact, the defensive line is probably the strongest overall position on the team.
The verdict: Opposing offensive lines, watch out. You're dealing with a slew of future NFL starters at once here. Between Jefferson, Brantley, Ivie, Clayton and Cox, the Gators have five individual defensive linemen who are capable of wrecking a game plan all by themselves. With all five of them on the same unit, and up to four of them playing at a time, the Gators pose a serious threat to camp out in opponents' backfields. Not only is this probably the best defensive line in the SEC, it's up there in the discussion as the best defensive line in the country, too- and that's the first time I can say that about any Gator unit since the 2009 team's secondary.
Previously previewing: