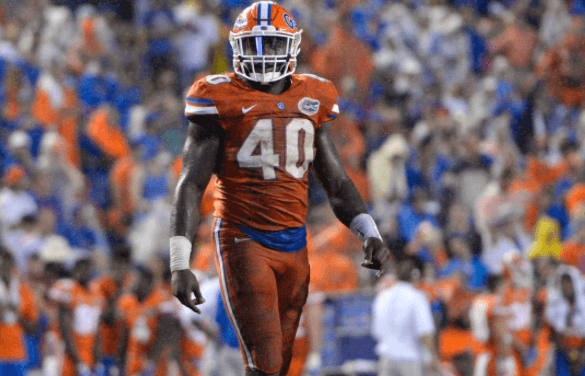 Florida's linebacker unit may be the biggest concern in 2016. There's no doubting this group has talent, but after losing anchor Antonio Morrison, there's an overall lack of experience that raises lots of question marks.
The leader: Jarrad Davis. The former three star commit stepped up and had a solid 2015 campaign, and then passed up millions to return for his senior year. Now he'll be the unquestioned leader of this unit after Morrison's departure. He's a smart player with the ability to lead by example, always making the sure tackle and often flying all over the field in order to do so. He should make an even bigger impact in 2016, and will be counted on to help mentor the younger linebackers as well. In other words, Davis is exactly what you're looking for in a team captain.
The second in command: Alex Anzalone. Talent is not and never was the question with Anzalone. But can he finally stay healthy for a full season? His underrated strength and speed give him the potential to be a star in Gainesville, and indeed, he has shown flashes of it. That said, the profound lack of depth behind him puts a lot of pressure on him to not just avoid further injuries, but produce big time on the field as well. If he does avoid getting bitten by the injury bug, he could be up for all-SEC recognition.
The dark horse: David Reese. At one time considered little more than a nice steal from Michigan and Jim Harbaugh, Reese has subsequently proven to be in the mix for a starting job as a freshman. Screw his three star ranking. His great range and play recognition make him an ideal middle linebacker, and if he continues to make strides, he could see a lot of playing time.
The other guys: Daniel McMillian, Rayshad Jackson, Kylan Johnson. McMillian pretty much has the other outside linebacker slot locked up, which gives the Gators a pretty respectable starting linebacker unit. But depth is an issue, and Matt Rolin's decision to leave the team earlier this month certainly didn't help. Johnson has drawn some praise from coaches, as the former hard hitting safety brings that physicality to the middle level of the defense. And keep your eye out for Jackson to get some reps, too.
The key to success: developing quality depth. To repeat: Florida may have a pretty good starting linebacker corps, but depth is an issue. Florida has just seven scholarship linebackers with the loss of Rolin. The long term solution is to recruit a lot more linebackers (which obviously doesn't help for this year) but the short term solution is to see to it that each of the potential backups get enough meaningful reps that they're able to step in and fill some shoes rather seamlessly. Failure to do so could spell trouble for this team late in a tight game.
The outlook: NFL talent is abundant here, but experience is not. Davis is the only true returning starter, and most of his backups have little to no real game action under their belts. How well the younger and newer faces can develop into serviceable players will go a long way in determining the unit's overall success. And given the endless string of talented running backs the Gators will face in 2016- Jalen Hurd, Leonard Fournette, Nick Chubb and Dalvin Cook, just to name a few- there's definitely reason to be worried.
The verdict: It's hard to think of this unit as a real weakness because of Jarrad Davis. And Daniel McMillian and David Reese could be studs, as could Anzalone if he stays on the field. But there were too many uncertainties in that last sentence, and so it's just not realistic to expect a whole lot out of this group.
Previously previewing: