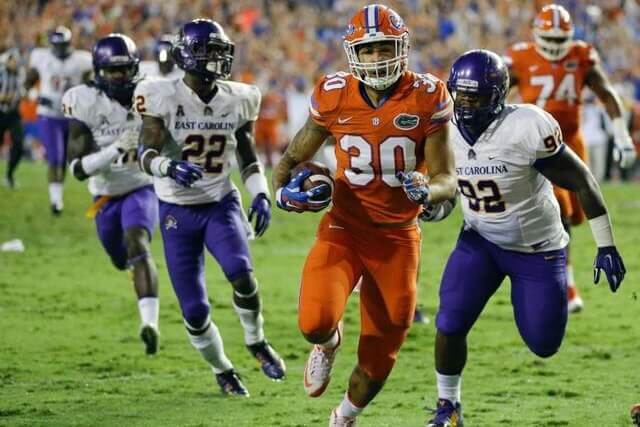 As a unit, Florida's tight ends may have actually had a better year catching passes in 2015 than the wide receivers. A deep group of outstanding tight ends only sees Jake McGee leaving, meaning there's still plenty of reason to be optimistic about this position.
The leader: DeAndre Goolsby. I wish the "Baby Chico" nickname would go away, just because it's offensive to compare Goolsby to a serial killer. But there's no denying he brings similar athleticism to Aaron Hernandez, and in fact may be the most explosive pass catching tight end since Hernandez. He doesn't just have great hands, but possesses a wicked collection of moves to evade tacklers, such as jukes, stiff arms and spins. Basically, everything kids love to school their friends with on Madden, Goolsby can do. Putting a linebacker on him in coverage is an excellent way to give up large chunks of yardage at a time, and it wouldn't shock me if he was up for the Mackey Award by year's end.
The second in command: C'yontai Lewis. Lewis would be a dependable number one TE on two thirds of the teams in the country, but not on a team with Goolsby. Still, there's reason to fear and respect him, as he made a habit of burning any team that got careless with him. He's got all you can ask for: solid blocking skills, solid hands, and more than solid shiftiness. He's bolstered his case for more touches with a fantastic spring, which he capped with an excellent spring game. At least until and unless more wide receivers step up, look for Lewis to be featured regularly in this offense.
The dark horse: Camrin Knight. Knight got buried last year behind McGee, Goolsby and Lewis. But as the third tight end in a system that often relied on three of them anyway, look for him to step into an increased role. He's a dependable blocker with good hands, and may not possess quite as much shiftiness as the two guys ahead of him. But it still wouldn't be smart to drop a linebacker on him in coverage, and perhaps because of how relatively unknown he is at this juncture, he could sneak up on some teams and catch them napping.
The key to success: consistency. We know Goolsby and Lewis are extremely talented, and have proven so before. Can they keep it up? With a smart but relatively unknown quarterback in Luke Del Rio and question marks all around the wide receiver position, it's imperative for these tight ends to become the rocks of the offense.
The outlook: Bright as the late July Florida sun. There's a lot to like about this unit and not a whole lot to worry about. The Gators are blessed to have three tight ends of star caliber on their roster, and a more than capable fourth tight end in Moral Stephens if needed. They're in good hands here.
The verdict: Florida's tight ends will carry this passing game. Three legitimate weapons to work with gives Luke Del Rio a strong confidence boost and Jim McElwain three mismatches to play with. Goolsby is already being touted for Mackey Award hype and Lewis could easily vault himself into that discussion as well. With personnel like that, it's fair to call this unit a strength.
Previously previewing:
Wide Receivers