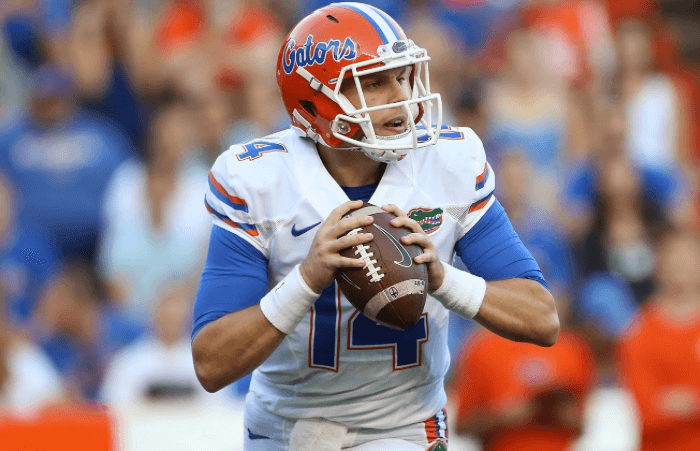 On the eve of the 2016 season opener, I decided that bringing back the "ten predictions" segment from a year ago would be the best way to get you through the last day of the offseason- and going forward, the last day of game week, which can drag on oh so slowly.
So let's get to it:
1) Luke Del Rio throws for over 250 yards. This is not so much an indication of anything to come for Del Rio as it is a challenge to UMass's defense to show any signs of improvement from a downright horrible defense in 2015. Then again, maybe losing seven starters from that defense can't possibly make things worse… can it?
2) Multiple Florida wide receivers will catch a touchdown pass. Same deal as prediction #1, with the added notion that Del Rio will spread the ball around a bit. And a bit of faith that Del Rio won't lean solely on Antonio Callaway and tight end DeAndre Gooslby for production.
3) Florida's defense will intercept at least three passes. Jalen Tabor won't join in on the fun, but who cares? UMass starting quarterback Ross Comis has thrown all of 21 passes in his collegiate career, none of which were released against a defense of this caliber. Plus, Florida's defensive backs figure to manhandle the Minutemen receivers.
4) Florida will eclipse 30 points by halftime. I do expect some early jitters from the Gators, but they should be off and running after the first drive or two. UMass's defense is woefully unprepared to stop Callaway, Dre Massey and Goolsby, and they aren't physical enough to stop the Gators' ground game.
5) Florida will rush for over 200 yards. Between Mark Thompson, Jordan Scarlett, Jordan Cronkrite, and the Minutemen's aforementioned weak front seven, this should be a relatively easy feat. Just don't fumble the ball, Mark.
6) UMass will score a touchdown at some point. Maybe they catch the Gators napping early, maybe their starters score against Florida's backups, or maybe something totally unpredictable happens, but the Minutemen will find the end zone somewhere along the way.
7) Florida generally plays conservatively, but will utilize Brandon Powell and Dre Massey on the outside. Powell is a converted running back, and Massey's explosiveness has drawn praise throughout the offseason. I don't expect Jim McElwain and Doug Nussmeier to totally tip their hand here, but I'm expecting to see them call an end around, jet sweep or reverse at some point.
8) UMass will have more negative plays than 10+ yard gains. Not to do the "SEC! SEC! SEC!" thing here, but the Minutemen simply don't have the personnel to consistently move the ball against an SEC defense. They may break off one or two big plays if Florida falls asleep, but expect them to go backwards more often than not.
9) Jim McElwain gives three quarterbacks playing time. This means that Florida will both break the game open early and get enough production out of Del Rio that McElwain can comfortably pull his starters midway through the third quarter. And after the backup QB, Austin Appleby, is done lighting up the Minutemen, either Kyle Trask or Feleipe Franks will get a drive or two at the end.
10) Florida wins by 45+ points. It just won't be competitive. There really isn't any more extensive analysis needed when you pit an SEC school gunning for its second trip to the conference title game against a team that was so bad it qualified for second to last in the Mid American Conference. The latter team promises to be little better this year, with only seven returning starters, and… yeah. It's not going to be pretty.
Projection: Florida 62, Massachusetts 10