UPDATE Tuesday, July 19: Wells and Cleveland are not expected to face lengthy suspensions, per the Palm Beach Post. The pair of receivers will probably miss the season opener against Massachusetts (neither would have started anyway), but the rest of the discipline will be doled out internally. Translation: these guys can expect to do a lot of extra conditioning and community service to work back into Jim McElwain's good graces and get the crimes wiped from their records.
UPDATE 3:20pm: the two wide receivers have been released on their own recognizance.
Jim McElwain's first full recruiting class was largely considered a success because of the way he stole Tyrie Cleveland away from the hometown Houston Cougars, and Rick Wells was credited with helping bring him to Gainesville as well.
Five months later, those three names are appearing in articles once again- but for the wrong reason.
As first reported by the Orlando Sentinel, Cleveland and Wells were arrested early this morning for a wild BB gun battle inside their dorm over the weekend. According to the UFPD report, a policeman was sent to Keys Residential at 11:30 pm on Friday night to discover three shattered windows, each containing a small, round hole in each. Surveillance videos showed the two freshmen shooting at someone at around 6:45 pm. The whole thing added up to two felony counts each- criminal mischief for damaging property of more than $1,000 (third-degree felony) and shooting a missile inside an occupied dwelling (a second-degree felony.)
Here's the arrest report on Wells: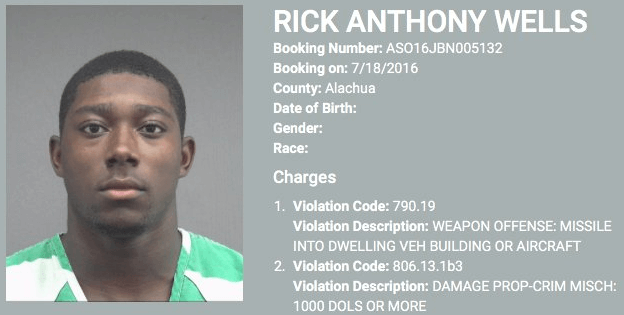 And here's the arrest report on Cleveland: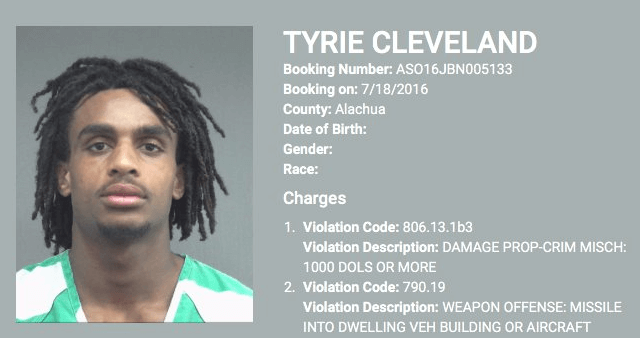 Wells and Cleveland both grew up in Jacksonville, before Cleveland moved to Houston for the end of his high school career. The two are close friends, and that friendship played a big role in Cleveland returning home to sign with Florida. But this isn't exactly the type of reconnecting activity McElwain was looking for, to be blunt.
Not smart, guys.