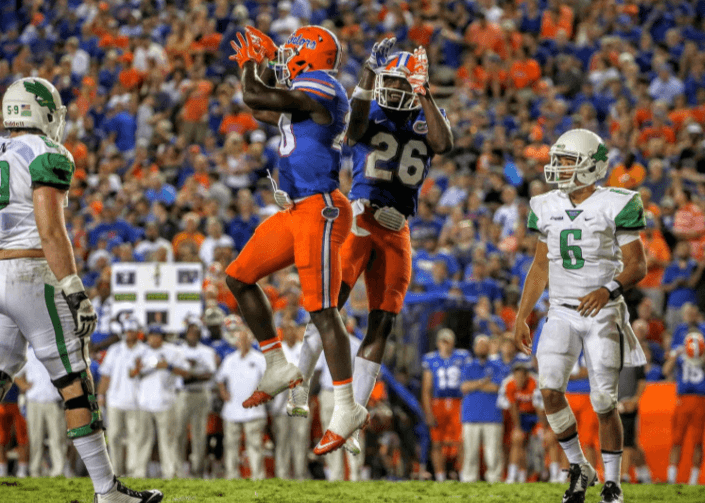 The 2016 college football season just ended, but it's never too early to start thinking about next year, right?
So let's make some predictions:
Michigan:
If these two teams played last year, it would be a different story. But Michigan replaces 18 starters, including 99% of its statistical production on defense, from last year. Not even close to the same team that's won ten games each of the last two years. Florida may be breaking in a new QB, but Michigan's entirely new front seven won't be able to stop Jordan Scarlett. Florida erases a fourth quarter deficit and salts this one away late.
Prediction: Florida 31, Michigan 21
Northern Colorado:
Yawn. The Gators' point total in this one will be more of an indication of how merciful Jim McElwain is than how good Florida's offense is. If the QB position hasn't been settled by this point, though, McElwain will probably use this game to do so.
Prediction: Florida 59, Northern Colorado 6
Tennessee:
Losing Derek Barnett early to the NFL was a big blow, and with Tennessee also losing Cameron Sutton and Jalen Reeves-Maybin, the Vols' defense will struggle. On the other hand, I'm confident that Florida's offensive line takes a step forward this year, even without David Sharpe. Even without Josh Dobbs, Tennessee will find ways to score points, but their defense won't be able to keep them in the game. The Gators will be hungry for blood against the Vols, and barring a second half meltdown like last year, they'll win fairly easily.
Prediction: Florida 38, Tennessee 20.
Kentucky:
The Cats seemed to take a big step forward after getting clobbered by Florida last year. But there's always some reason why Kentucky can't beat Florida. The streak is at 30, and unless the Boom Williams-less Cats figure out a way to generate some offense by the end of September, it'll continue. Make it 31.
Prediction: Florida 41, Kentucky 16
Vanderbilt:
The Commodores have been quite pesky for Jim McElwain to deal with, and they appear to be on the upswing. For them, anyway. But even remembering how the last two Florida-Vandy games in the Swamp played out, I have a hard time believing the Dores can spring the upset.
Prediction: Florida 21, Vanderbilt 9
LSU:
Don't be fooled into thinking LSU will take a step back without Leonard Fournette. We've said the same thing before when Jacob Hester, Charles Scott, Stevan Ridley and Jeremy Hill left. They just keep replacing their tailbacks with a better one, in this case Derrius Guice. It felt like LSU was the better team in last year's game, but Florida won on guts, emotion and LSU errors. With a slightly weaker defense this year, Florida's front seven will eventually wear out in their first SEC home loss under Jim McElwain.
Prediction: LSU 20, Florida 13
Texas A&M:
Losing Trevor Knight and Speedy Noil together hurts big time, and the Aggies appear to be fading back into the shadows after making an initial splash in the SEC. The Aggies also lose star defender Myles Garrett to the NFL, hurting their chances of stopping Scarlett and Perine in the running game. Meanwhile, Florida will be angry after losing the previous week to LSU, and they'll take it out on A&M.
Prediction: Florida 27, Texas A&M 7
Georgia:
This will be an interesting year for Georgia. Kirby Smart is recruiting well, and his Dawgs appear to be on the upswing, but it all falls back on the development of QB Jacob Eason. Senior tailbacks Sony Michel and Nick Chubb will help carry the offensive workload, but Eason will ultimately have to make plays with his arm. It's a coin flip at this point, so I'm going with the team that's won the last three and 21 out of the last 27.
Prediction: Florida 27, Georgia 24
Missouri:
Mizzou has effectively replaced Vanderbilt as the SEC's punching bag, two short years removed from back to back trips to Atlanta. The Tigers have no real hope for this upcoming season, instead relying on this season to provide hope for 2018. Even in Columbia, this is a snoozer. Missouri has won just three SEC games in the last two years and they won't win this one.
Prediction: Florida 34, Missouri 3
South Carolina:
Will Muschamp's defense was absolutely humiliated to end the season, surrendering 133 points in their final three games- one of which was FCS opponent Western Carolina. In fairness to Muschamp, he took over a dump and he may have found his QB for the future in Jake Bentley. But he's got too many holes to fix this quickly, and his Gamecocks will suffer for at at least one more year before he can possibly turn the program around. Scarlett can name his rushing total in this one.
Prediction: Florida 41, South Carolina 10
UAB:
The only thing standing in Florida's way of winning this game is Mother Nature, which has rudely cost the Gators two easy wins over cupcake opponents in the last three years. Expect Jake Allen, Feleipe Franks and Luke Del Rio to all get their moments in the sun against a UAB team that will be in its first year of football since banning the program several years ago.
Prediction: Florida 62, UAB 9
FSU:
The losing streak is at four and it's going to continue unless the Gators find a QB. And I really think they will this year, whether it's Jake Allen or Feleipe Franks. But with competent QB play, it will be Florida's defense that steals the show, having taken their lumps earlier in the season, by shutting down Jacques Patrick and Cam Akers in the running game and limiting Deondre Francois. FSU is probably the better team in 2017, but it's time. Florida springs the upset in the Swamp in a defensive slugfest.
Prediction: Florida 14, FSU 7
Alabama (SEC Championship Game):
I'm forecasting a 2012-ish season, where the Gators are good, not great, but find ways to win all the close games. That'll end here, with another massive beat down at the hands of a Crimson Tide team that's got a national title in its sights and won't settle for anything less. To beat Alabama, you have to either be the better team, which Florida is not, or simply play a perfect game, which Florida won't do. Jalen Hurts will go off on a rampage in this game to wrap up the Heisman.
Prediction: Alabama 38, Florida 14
Southern California (Peach Bowl)
Sam Darnold is more than capable of lighting up a defense, but with a month to prepare, the Gators will be ready. Meanwhile, Jordan Scarlett will have another big day, and assuming Florida gets just decent QB play, it'll be enough. Florida claims the Peach Bowl and earns its first top ten finish since 2012.
Prediction: Florida 23, USC 14