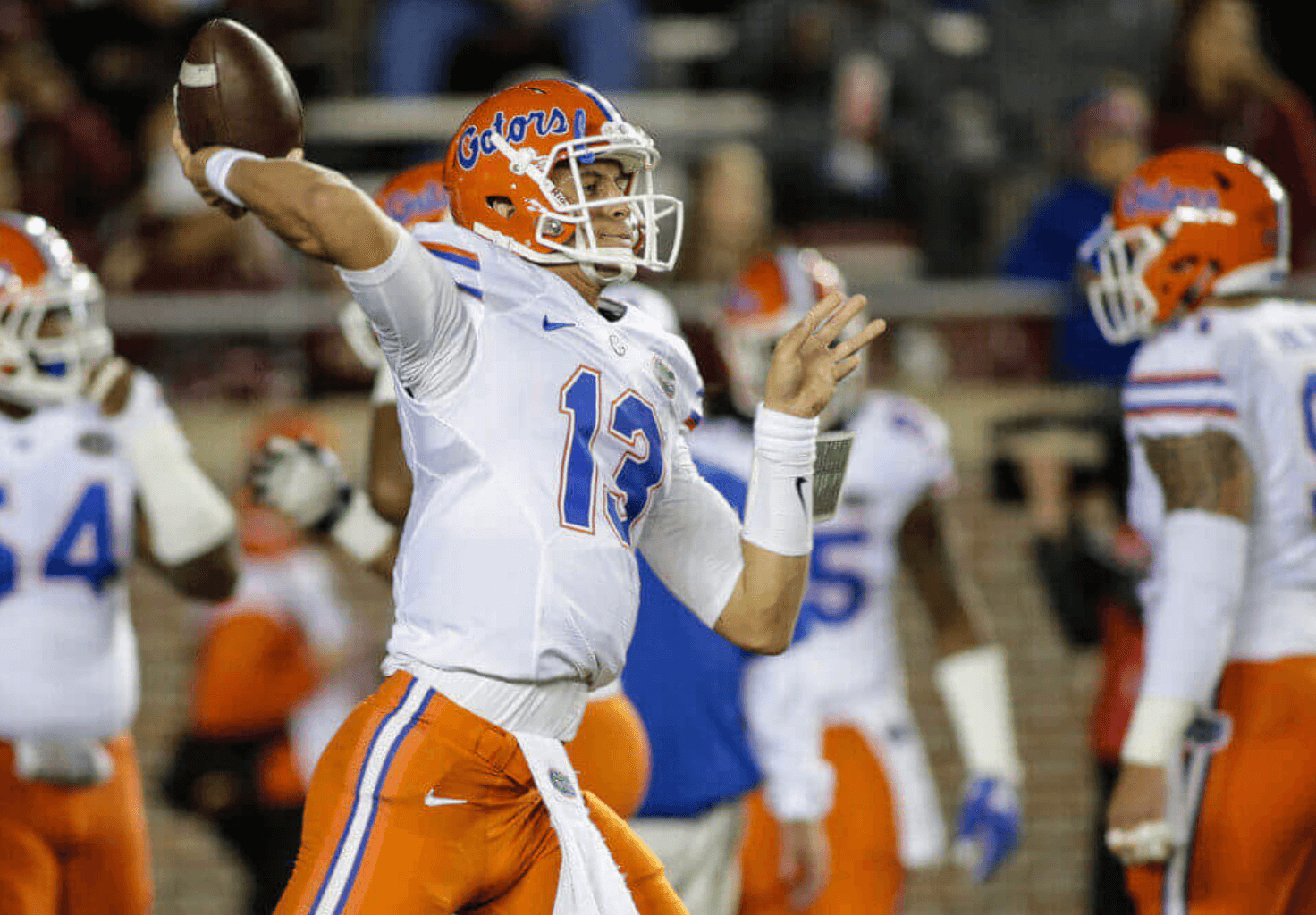 I grabbed a four game lead on NWB after week one when Alabama, South Carolina, Tennessee and UCLA all came through for me. Then Hurricane Irma came along, canceling our week two picks. I then remained four ahead of NWB in week three when Clemson and Purdue won for me, but South Carolina and LSU canceled those out.
Now to try to create some more distance…
NC State @ FSU
NWB: Florida State 23, NC State 7- I think FSU has an elite enough defense to go 9-3 or 10-2 with James Blackmon playing quarterback. But please stop the Jameis' comparisons, Noles. You about to let Cal ruin that. Even on the Bears' home turf.
NS: FSU 21, NC State 6- James Blackmon probably isn't going to emerge as a Heisman Trophy winner, but having three weeks to prepare for this game should help him. Noles struggle early, but run away late.
Washington @ Colorado
NWB: Washington 26, Colorado 23- Pac 12 title game rematch that isn't getting much love for some reason. I get that Colorado hasn't really played anyone yet, but Rutgers, Fresno State and Montana is hardly Murderers Row, and Folsom Field is a tough place at night, in the altitude, against a tough defense. Expect the Buffs to slow down Washington and force field goals. Jake Browning wins this game in the 4th quarter.
NS: Washington 30, Colorado 20- This isn't quite the same Buffs team that fought the Huskies in the Pac 12 title game last year, although they do add the advantage of playing on their home turf in the rematch. But they ultimately won't have an answer for the Jake Browning-Dante Pettis connection, nor Myles Gaskin on the ground. I think Washington wins this game slightly more convincingly than NWB does- but the Buffaloes do make it close for awhile.
Penn State @ Iowa
NWB: Iowa 20, Penn State 17- James Franklin iced a kicker up 56-0. That bad karma, and a jacked-up Kinnick crowd fueling one of the nation's best defenses, is a cosmic recipe for upset that Penn State won't overcome. Remember the Lions won a ton of close games last year. They'll lose this one.
NS: Penn State 41, Iowa 21- Kinnick Stadium is a very tough place to play. Penn State is a very tough team to play. Advantage Lions. Iowa won't have an answer for Trace McSorley or Saquon Barkley as the Lions roll.
TCU @ Oklahoma State
NWB: Oklahoma State 38, TCU 21- Mason Rudolph will finally play four quarters of football here but by the end, even Gary Patterson's defense won't be able to slow down the Pokes at the house T Boone built. Bedlam twice remains a possibility after Saturday's convincing Oklahoma State W.
NS: Oklahoma State 42, TCU 28- The Cowboys are just too powerful with Mason Rudolph firing on all cylinders. They won't be challenged for awhile. And they certainly won't be at home.
SEC GAMES:
Arkansas vs. Texas A&M (Arlington, TX)
NWB: Arkansas 28, Texas A&M 20- I don't think Bielema can get on the hot seat, even with an L, and I think the Hogs have the better QB in Austin Allen. I also think the week between TCU and this game was useful for the Hogs, while Texas A & M almost seems to be regressing, especially on defense.
NS: Arkansas 24, Texas A&M 17- Arkansas is a much better team than that ugly 28-7 score against TCU makes them look. Texas A&M is a much better team than "they blew a 44-10 lead against UCLA!" cries makes them look. The result is an all-time desperation bowl in Jerry's Palace, but Arkansas gets the edge due to the better defense.
Massachusetts @ Tennessee
NWB: Tennessee 45, UMASS 13- Butch Jones is actually really good coming off a loss at Tennessee, and that doesn't change Saturday against a woeful Minutemen team. A big day for John Kelly and the Vols who rally in big way after last week's heartache.
NS: Tennessee 51, UMass 17 It would be hilarious if Tennessee would follow up their devastating collapse against Florida with a choke job against UMass at home. Too bad it isn't going to happen.
Alabama @ Vanderbilt
NWB: Alabama 27, Vanderbilt 10- I do think Kyle Shurmer is about as good as he's played. And I think we may see this game twice, depending on whether the Dores can rally the troops for the trip to the Swamp next week. I also think Jalen Hurts is a different type of challenge for the Commodores defense, and his ability to both extend plays and beat you with your legs hurts a defense that is set up to dominate for four to five seconds. Look for Vanderbilt to keep it interesting for a bit though.
NS: Alabama 21, Vanderbilt 3- It's all fun and games until you play Alabama. Vanderbilt's defense may be one of the better ones in the SEC, but Alabama has a way of making even the really good teams look bad. Vandy clings tough for a quarter or two, but they're ultimately going to be outmatched by Bo Scarbrough and Jalen Hurts.
Louisiana Tech @ South Carolina
NWB: South Carolina 34, Louisiana Tech 24- This type of game- against a potent offense with a young defense coming off a deflating defeat- is the type of game where Will Muschamp struggled at Florida. I think he and Kurt Roper rally the team after the crushing loss of Deebo Samuel and grab a needed W here. I also like the Carolina DL to cause Tech trouble as the game wears on.
NS: South Carolina 21, Louisiana Tech 20- Beware LT QB J'Mar Smith. The Bulldogs traditionally have a terrific offense and Will Muschamp's Gamecocks have looked less than spectacular thus far. They'll pull this one out by the skin of their teeth on the backs of their home crowd.
Mississippi State @ Georgia
NWB: Miss State 27, Georgia 17- Black out in Athens. That's all I needed to be convinced Ryan Fitzgerald and Dan Mullen run Georgia out of the building. I also think a Georgia DL that struggled to move Notre Dame will get crushed at the point of attack in this game. If I'm wrong- I'll admit it next week and start to believe a bit in Kirby Smart. But I don't think I'll be wrong.
NS: Georgia 31, Mississippi State 17- This edition of the infrequently contested Bulldog Bowl could wind up being a prologue to the SEC Title Game. (Hey, someone other than Alabama has to win the West at some point, right?) But as good as Nick Fitzgerald and MSU looked last week, they haven't faced a road test yet. And their first one won't go well.
Syracuse @ LSU
NWB: LSU 35, Syracuse 7- The key to LSU this year is getting Danny Etling clean pockets. Guice (or whoever is at RB) is going to get his. The defense is better than it played in Starkville, when it gave up a bit. Saturday, they'll have clean pockets and much like the BYU game, they'll pull away late.
NS: LSU 38, Syracuse 13- The Orange gave LSU a struggle last year, but they have approximately zero chance to get revenge in the house of a steaming mad Tiger team that got flat out embarrassed last week. Coach O and the Tigers bounce back in a big way.
Auburn @ Missouri
NWB: Auburn 27, Mizzou 20- I keep hearing that Auburn's defense "wasn't that bad" against Mercer. Then I see that they scored 24 points. The MIssouri defense can't be much better than Mercer's FCS defense, but Drew Lock can actually punch back. Auburn. Close.
NS: Auburn 45, Missouri 30- Fun fact: Auburn, nicknamed the Tigers, plays one quarter of its twelve regular season games against opponents also known as the Tigers. They'll even their record against their fellow Tigers to 1-1, with the rubber match against LSU on the horizon. And they'll do so simply because Missouri's defense is horrible for their offense to compensate
Florida @ Kentucky
NWB: Kentucky 24, Florida 20- It has to end sooner or later. Why not Saturday night, on the back of a couple costly Feleipe Franks interceptions and a run defense that Benny Snell exposes late?
NS: Florida 19, Kentucky 10- Get ready for a battle of field goals. I don't trust the Gator offense to do much of anything, but I also believe the fourth quarter against Tennessee will buoy them on moving forward. The Gators absolutely cannot lose this game if they have any intentions of reaching Atlanta for the third straight year, and even though they have not played like a divisional winner by any means so far, they'll keep the illusion alive for at least another week.